Workers gain upper hand for first time in a generation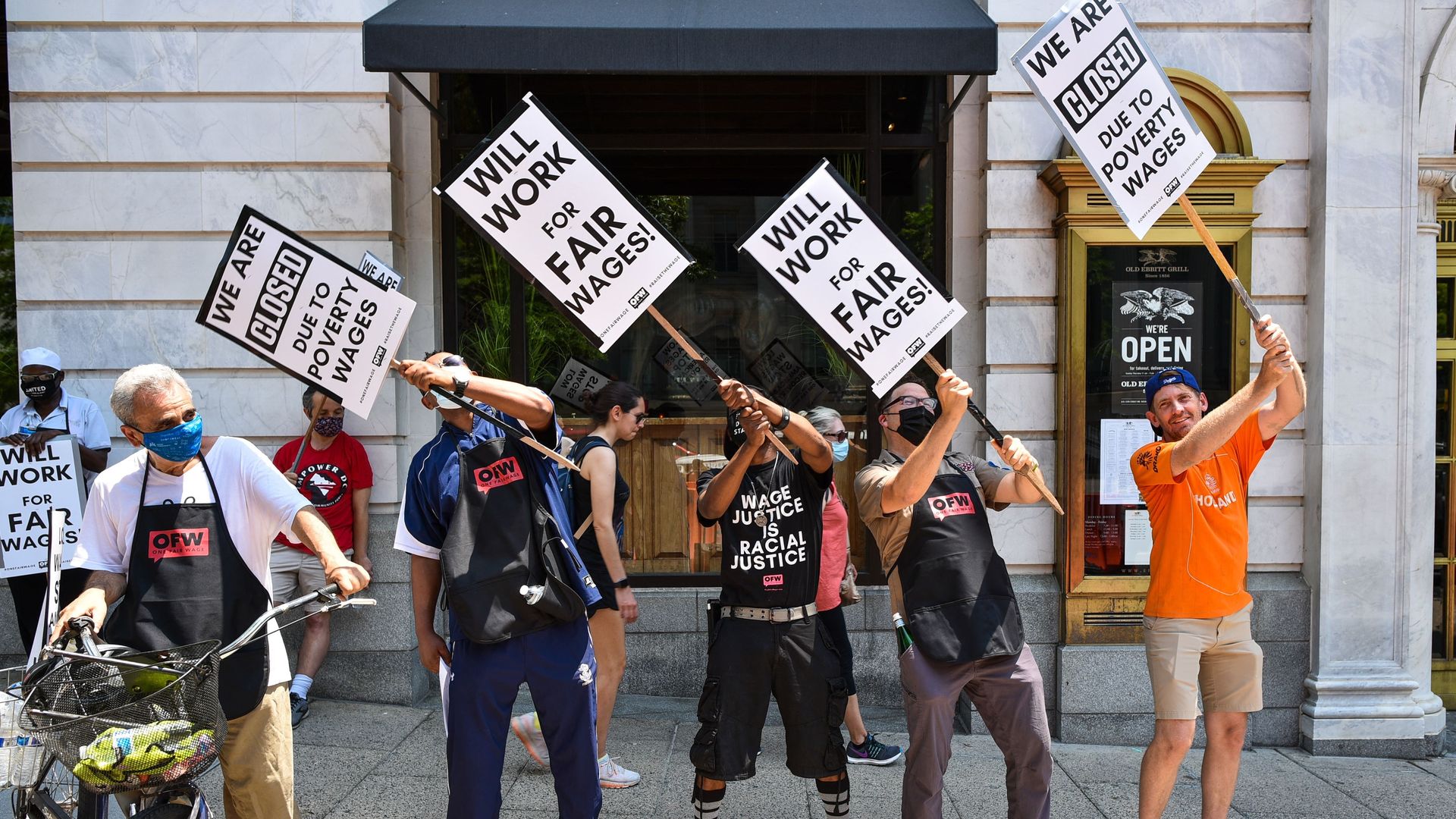 The pandemic has recalibrated the power dynamics between employers and would-be employees in favor of workers, and this shift "could persist for years," the New York Times reports.
Why it matters: With workers having the upper hand, employers are trying to lure them into the workforce by offering higher wages and more benefits, as well as loosening up the stringent requirements for potential applicants.
The big picture: "Up and down the wage scale, companies are becoming more willing to pay a little more, to train workers, to take chances on people without traditional qualifications, and to show greater flexibility in where and how people work," reports the Times.
More and more job listings are sharing posts that say "no experience necessary" or offering signing bonuses.
Higher rates of employees are voluntarily leaving jobs that they find unsuitable or inflexible on issues such as working from home, per the Times.
Of note: The erosion of employer power began "during the low-unemployment years leading up to the pandemic" and demographic trends indicate the changes could be here to stay.
While the size of the work force rose about 0.8% annually from 2000 to 2020, the labor force is only expected to increase 0.3-0.4% annually for the rest of the 2020s, per the Times.
"An important question for the overall economy is whether employers will be able to create conditions attractive enough to coax back in some of the millions of working-age adults not currently part of the labor force," writes the Times.
Zoom in: One consequence is that companies are lowering standards — "thinking more expansively about who is qualified for a job."
IBM execs, for instance, "concluded that the qualifications for many jobs were unnecessarily demanding. Postings might require applicants to have a bachelor's degree, for example, in jobs that a six-month training course would adequately prepare a person for."
What they're saying: Obed Louissaint, I.B.M.'s senior vice president for transformation and culture, noted that the company has also expanded its worker training programs as it has loosened hiring restrictions.
"[I]t's about making managers more accountable for mentoring, developing and building talent versus buying talent," he told the Times.
"Companies are going to have to work harder to attract and retain talent," Karen Fichuk, chief executive of Randstad North America, which closely tracks supply and demand for labor, told the Times. "We think it's a bit of a historic moment for the American labor force."
Go deeper