FBI Director Wray compares ransomware threat to 9/11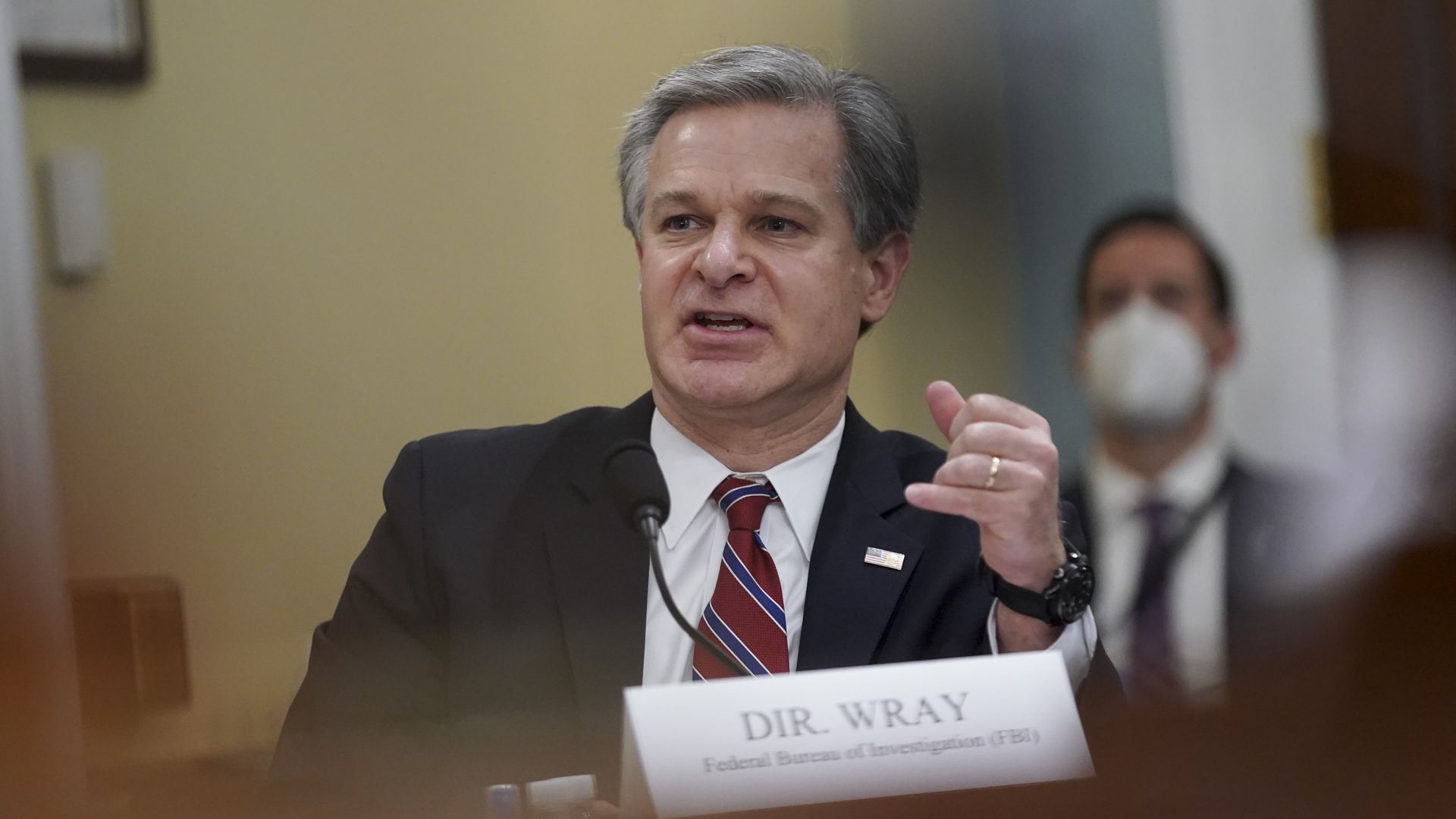 FBI Director Christopher Wray told the Wall Street Journal in an interview that the bureau is currently investigating around 100 different types of ransomware that have been used to targeted between a dozen and 100 organizations.
Driving the news: Wray said the malware attacks were similar to the challenges posed by the Sept. 11, 2001, terrorist attacks, and he called on Russia's government to do more to crack down on cyber criminal groups based in the country.
Context: Cyber criminal groups have launched at least two significant ransomware attacks against major businesses in roughly a month.
In May, a criminal group breached the Colonial Pipeline, the largest refined products pipeline network in the country.
The attack forced the pipeline to shutdown, halting fuel deliveries along the East Coast for days. The company paid the hacker group $4.4 million to regain access to its computers.
A Russia-linked ransomware group forced all of JBS SA's beef plants in the U.S. to temporarily shut down this week, exposing the vulnerability of the world's largest meat processor.
What they're saying: "Now realizing it can affect [Americans] when they're buying gas at the pump or buying a hamburger—I think there's a growing awareness now of just how much we're all in this fight together," Wray told the Journal.
"There are a lot of parallels, there's a lot of importance, and a lot of focus by us on disruption and prevention," he added, referring to the similarities between the ransomware attacks and the way 9/11 changed the U.S. national security apparatus.
"There's a shared responsibility, not just across government agencies but across the private sector and even the average American. The scale of this problem is one that I think the country has to come to terms with."
With less than two weeks until President Biden's summit with Vladimir Putin, Wray blamed Russia for providing a safe haven that allows criminal ransomware gangs to run wild.
"Time and time again, a huge portion of those traced back to actors in Russia. And so, if the Russian government wants to show that it's serious about this issue, there's a lot of room for them to demonstrate some real progress that we're not seeing right now."
The big picture: The Department of Justice has implemented new internal guidance on how it will coordinate its ransomware attack investigations, using similar protocols it uses for terrorism cases.
Meanwhile, the White House is urging businesses to take "immediate steps" to increase their ransomware defenses, giving companies a list of recommended steps they can take to reduce their exposure to cyberattacks.
Go deeper: Ransomware business achieves critical mass
Go deeper