United Airlines purchases 15 supersonic jets from aviation startup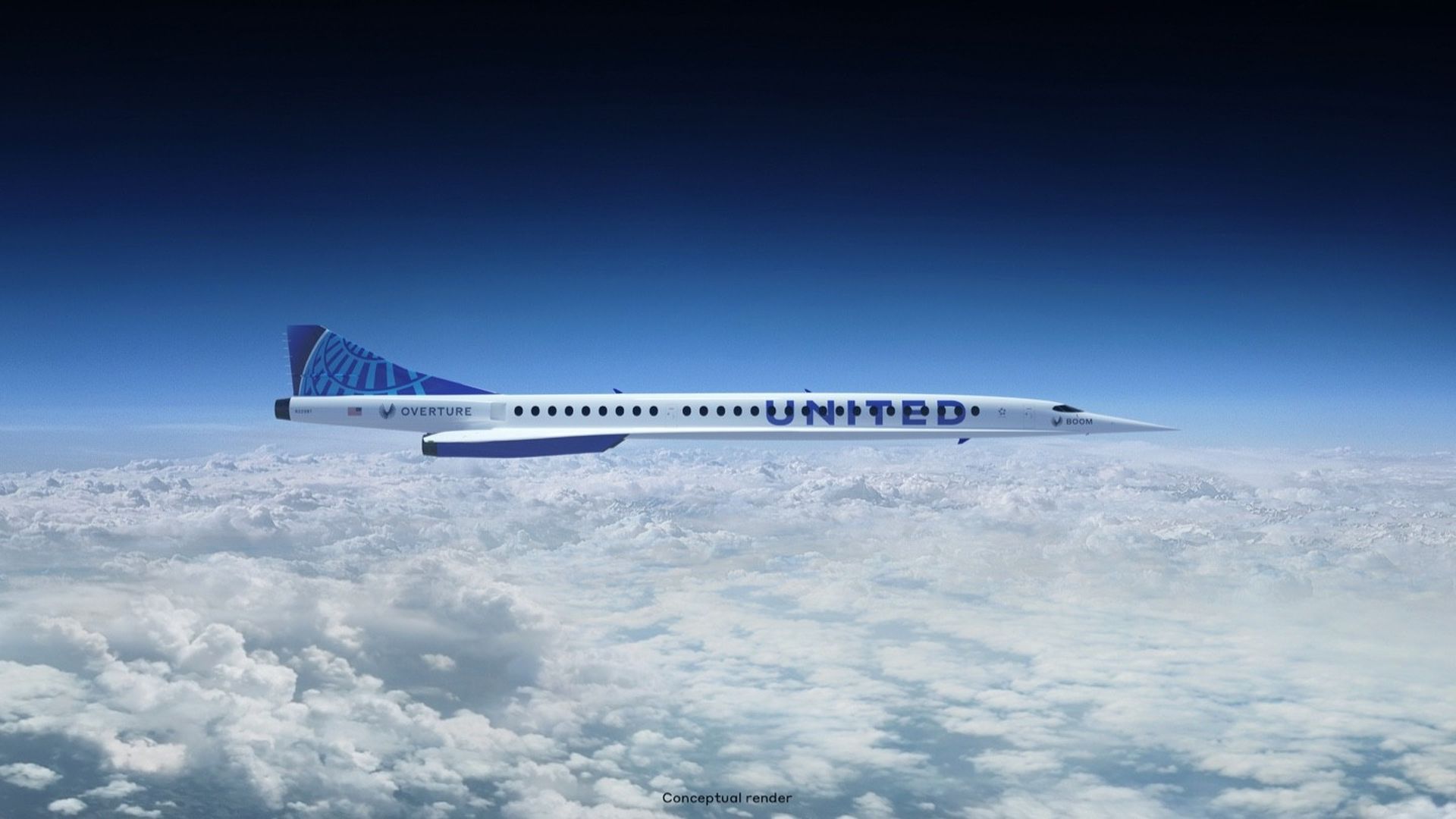 United Airlines announced Thursday it will purchase 15 supersonic jets from aviation startup Boom Supersonic, and will have the option to purchase 35 more in the future, in an attempt to revitalize supersonic air travel.
Why it matters: Supersonic commercial flights haven't been available since the Concorde, operated by British Airways, completed its last trip between New York and London in 2003, according to the New York Times.
Context: Boom Supersonic's commercial supersonic jet, the Overture, has not yet been built and still has to get approval from the Federal Aviation Administration and other regulatory agencies around the world before it can fly.
The company hopes the aircraft will have its first flight in 2026 and will begin carrying passengers by 2029.
The Concorde stopped flying largely because of high costs, safety concerns, flagging demand and noise concerns, according to the Times.
Thought bubble, from Axios Transportation Correspondent Joann Muller: The return of supersonic flight still faces enormous challenges, as evidenced by the recent collapse of one of the sector's leading companies, Aerion Supersonic.
But United seems intent on investing in cleaner forms of aviation, including Archer Aviation, an electric air taxi startup.
What they're saying: "Boom's vision for the future of commercial aviation, combined with the industry's most robust route network in the world, will give business and leisure travelers access to a stellar flight experience," United CEO Scott Kirby said in a statement.
"At speeds twice as fast, United passengers will experience all the advantages of life lived in person, from deeper, more productive business relationships to longer, more relaxing vacations to far-off destinations," Boom Supersonic CEO Blake Scholl said.
The big picture: Boom Supersonic believes it can develop a more efficient and quieter engine than those used in the past. It will run on sustainable aviation fuel derived from organic matter.
The company said the aircraft will be capable of traveling at speeds of Mach 1.7, twice that of today's fastest airliners, while carrying between 65 to 88 passengers at 60,000 feet and will have a range of 4,888 miles.
Go deeper