Copa América moves to Brazil, which faces its own COVID nightmare
Brazil has stepped in to host this month's Copa América, but the issues that caused the former hosts to drop out are roughly as bad in Brazil.
The backdrop: The soccer tournament — originally set for last summer in Colombia and Argentina — was delayed a year by the pandemic. It's now scheduled to begin on June 13.
Colombia lost hosting privileges on May 20 amid mounting civil unrest, which stemmed from an April tax reform proposal.
Argentina followed suit on May 31 after its record-setting COVID spike led to the suspension of its domestic soccer season.
The state of play: Brazil, which hosted and won the 2019 Copa América, swooped in to save the tournament, which is second in prestige only to the World Cup for the soccer-mad countries involved.
Yes, but: Brazil is facing its own COVID nightmare (its 465,000 deaths trail only the United States' 595,000), plus widespread protests due to President Jair Bolsonaro's dismissive approach toward the pandemic.
In other words, Colombia's civil unrest and Argentina's COVID surge have been replaced by Brazil — which is suffering from both.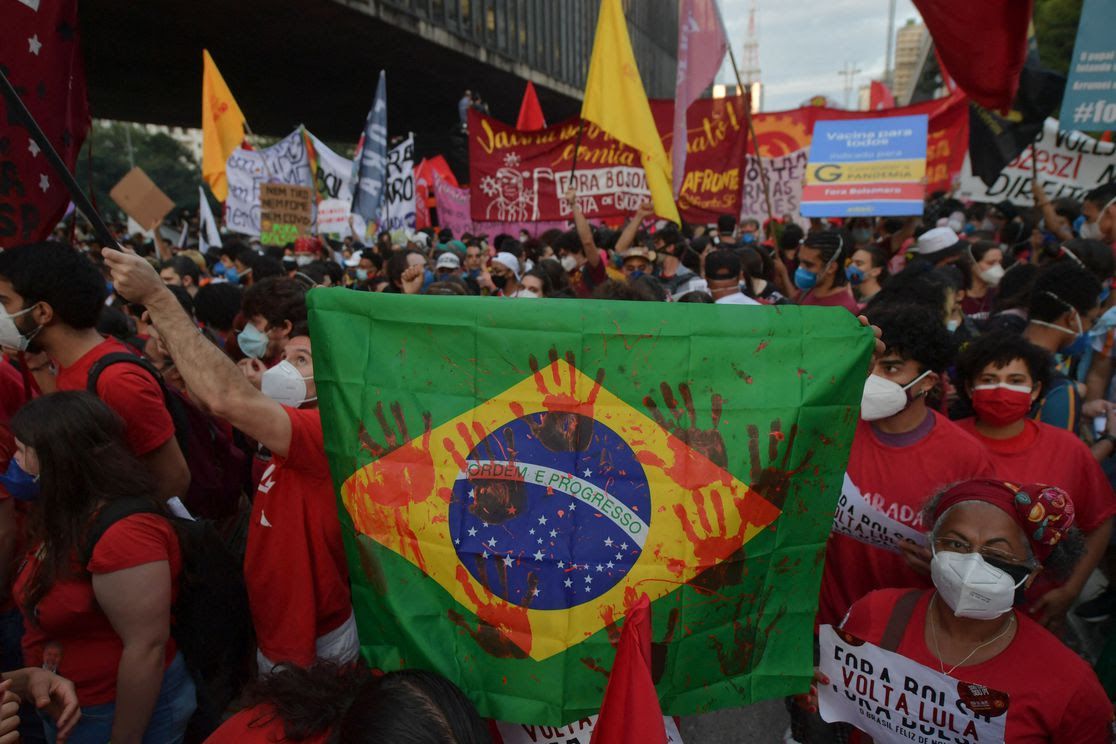 By the numbers: In the past week, there have been 3.34 million new confirmed cases of COVID-19 worldwide. India tops the list (34.4%), followed by Brazil (12.9%), Argentina (6.9%) and Colombia (4.8%).
Snapshot ... A sampling of vaccination rates and cases around the world.
South America: Brazil (11% fully vaccinated; 7,877 cases per 100,000 people); Colombia (6.5%; 6,819); Argentina (6.3%; 8,494).
North America: U.S. (41%; 10,144); Canada (5.8%; 3,705); Mexico (9.9%; 1,897)
Europe: U.K. (39%; 6,725); Italy (20%; 7,004); Germany (19%; 4,448)
Asia: Japan (2.9%; 596); India (3.2%; 2,072); South Korea (4.3%; 274)
The bottom line: Japan isn't the only country set to host an international sporting event this summer with COVID still raging among a mostly unvaccinated population.
Go deeper