Scoop: Houston apologizes to Hispanic family for 1977 police killing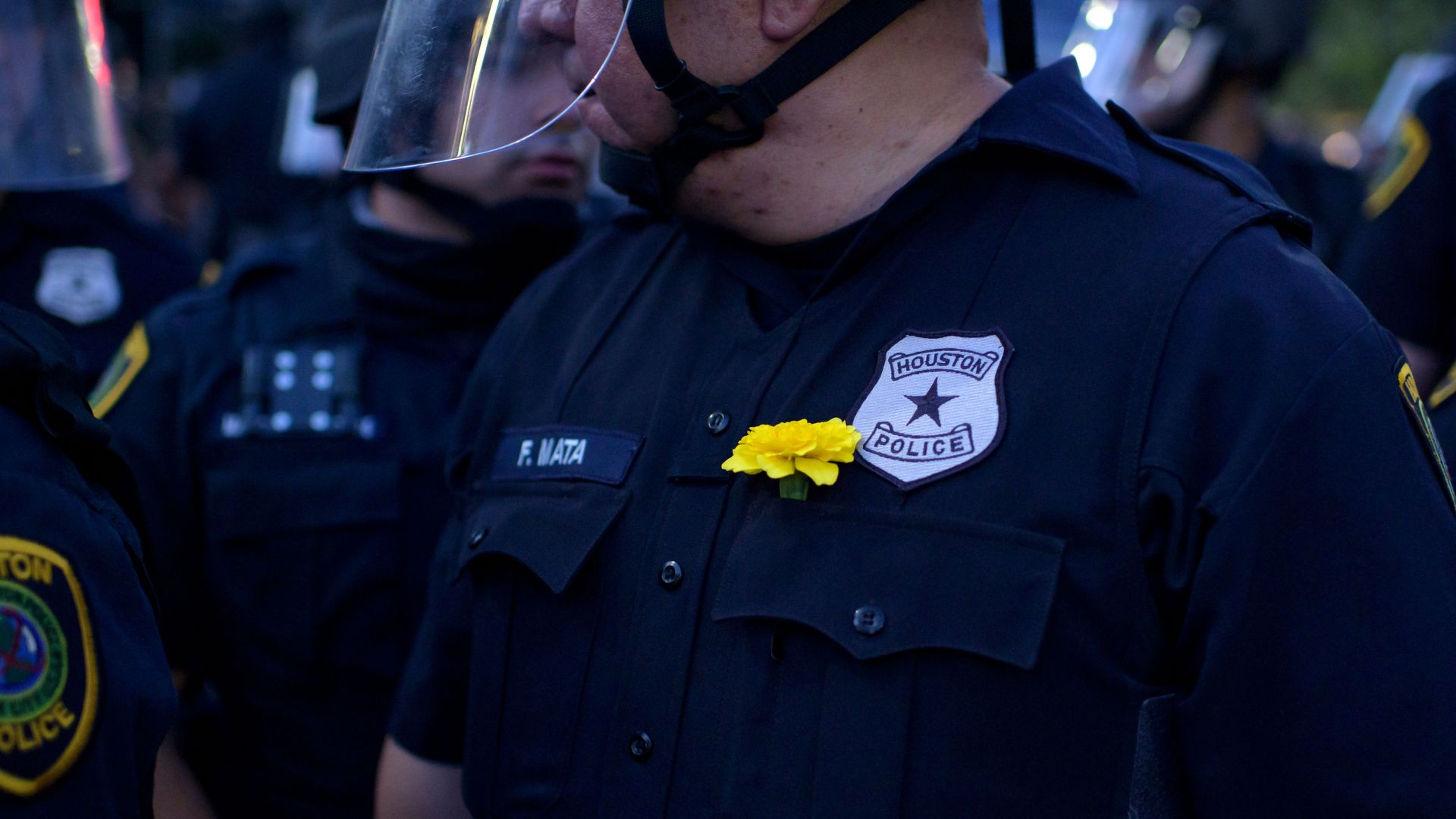 Houston's mayor and police chief have apologized to the family of a Mexican American man who was beaten to death by officers in 1977 and whose killing sparked riots and massive reforms, Axios has learned.
Why it matters: The unofficial apology nearly a half-century after the murder of Joe Campos Torres comes amid a national reckoning following the death of George Floyd — who was a small child in Houston when the Torres was killed and the city erupted in flames.
Driving the news: Mayor Sylvester Turner and Police Chief Troy Finner met privately with the Torres family at the Houston National Cemetery on Monday, Houston Police Department spokesman Kese Smith told Axios.
"They met with the family and the details of their conversation were kept private at the request of the family," Smith said. But they were given an apology, he said.
It was the first time that a Houston mayor or police chief apologized for the death of Torres, a Vietnam War veteran whose death at the hands of police become a symbol for Mexican Americans who demonstrated against racism in the American Southwest.
Richard Molina, Torres' nephew, confirmed the apology but said the family wants a more formal one with the rest of the family present at an event later this year with a possible announcement about a memorial.
The details: Campos was arrested on May 5, 1977, at a bar for disorderly conduct. But instead of taken him to a jail, officers took Campos to "The Hole" -- an isolated area behind a warehouse along the Buffalo Bayou.
There, six officers beat Campos for hours until he was transported to jail. The jail officials ordered the officers to take him to a hospital but officers took him back to The Hole for another beating before throwing his body into the bayou.
Initially, only two officers were charged with murder. An all-white jury found them guilty of negligent homicide—a misdemeanor—and sentenced the officers to a year's probation and a $1 fine.
A year later, on Cinco de Mayo, the Mexican American community of Houston's North Side erupted in riots at Moody Park along Buffalo Bayou.
"A Chicano's life is only worth a dollar!" crowds chanted.
More than three dozen were arrested during the riots as police cars were set ablaze, Latino businesses were looted and burned and a reporter was stabbed in what became one of the worst riots in city history.
Three officers in the beating were later convicted of federal civil rights violations in 1978, and served nine months in prison.
Floyd's family lived in Houston across town at the time.
Editor's note: A previous story reported that this was a formal apology. The family says it was an informal apology and they want a more formal apology later this year.
Go deeper