Dems' dark-money bid aimed to paint Josh Hawley as an anti-gun lefty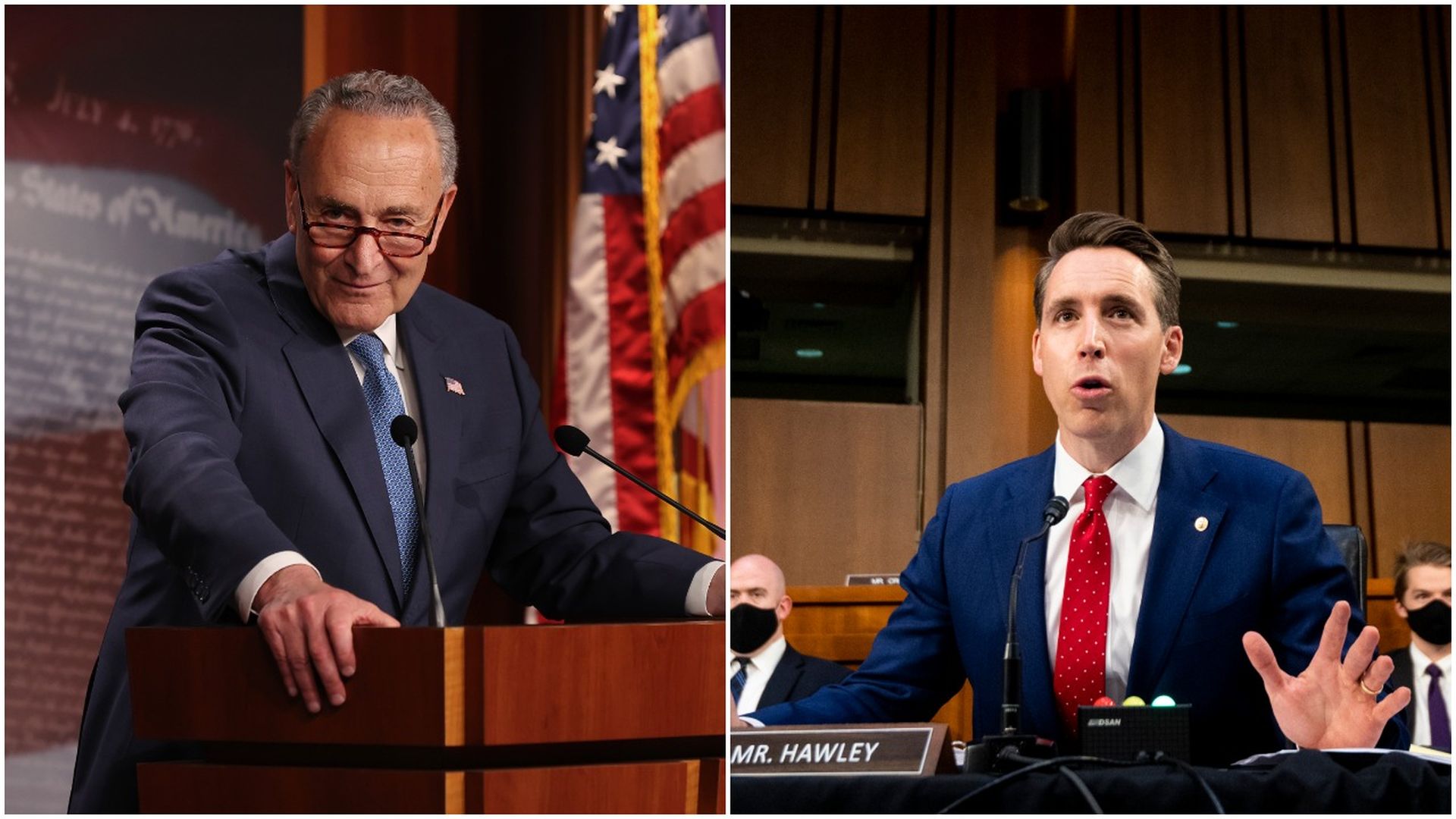 A dark-money group aligned with Senate Majority Leader Chuck Schumer helped pay for deceptive ads aimed at depressing Republican general election turnout in 2018, newly released records show.
Why it matters: These contests were decided more than two years ago, but the details show how partisan operatives exploited gaps in campaign finance laws to attack their rivals while obscuring their true motives — tactics both sides may adopt in next year's pivotal midterms.
Republicans Josh Hawley and Mike Braun, now U.S. senators, were among those targeted. So were then-Sen. Dean Heller and now-Rep. Matt Rosendale, who lost their races.
Details: Majority Forward is the nonprofit arm of Senate Majority PAC, a high-dollar super PAC affiliated with Senate Democrats. Newly released tax records show that Majority Forward gave nearly $2.7 million in 2018 to another nonprofit called the Coalition for a Safe and Secure America (CSSA).
That was the majority of the $4 million CSSA raised that year.
It used those funds to finance direct mail and digital advertising campaigns attacking Republican candidates in some of the nation's most competitive Senate contests.
Majority Forward did not respond to Axios' request for comment.
Background: CSSA's ads ran on a handful of state-specific Facebook pages. They hit those Republican candidates from the right, accusing them of caving on issues central to the conservative political brand.
Between the lines: These attacks came not during GOP primaries, but within weeks of the 2018 general election, as Democrats explored ways to drive a wedge between Republican candidates and their most ideologically committed voters.
The timing suggests CSSA was seeking to depress GOP election day turnout or push Republicans to support third parties (some of the group's ads promoted Libertarian Party candidates).
The strategy shows how Democrats see GOP candidates as deeply vulnerable to their highly ideological political base.
Earlier this year, Hawley led the GOP effort in the Senate to challenge President Biden's electoral college win. Braun had planned to join in the objection but stopped short after the deadly Jan. 6 attack on the Capitol.
The intrigue: Laws allowing nonprofits to engage in limited political activity permitted Majority Forward to finance these ads in a way that made it impossible to trace the money until years after the elections at issue.
CSSA is now facing an IRS complaint from the group Citizens for Responsibility and Ethics in Washington, which says it illicitly concealed political activity in its annual tax filings.
It also recently admitted to omitting legally required disclosures from direct mail pieces in 2018.
Go deeper