CD&R, KKR announce $5.3 billion deal to take Cloudera private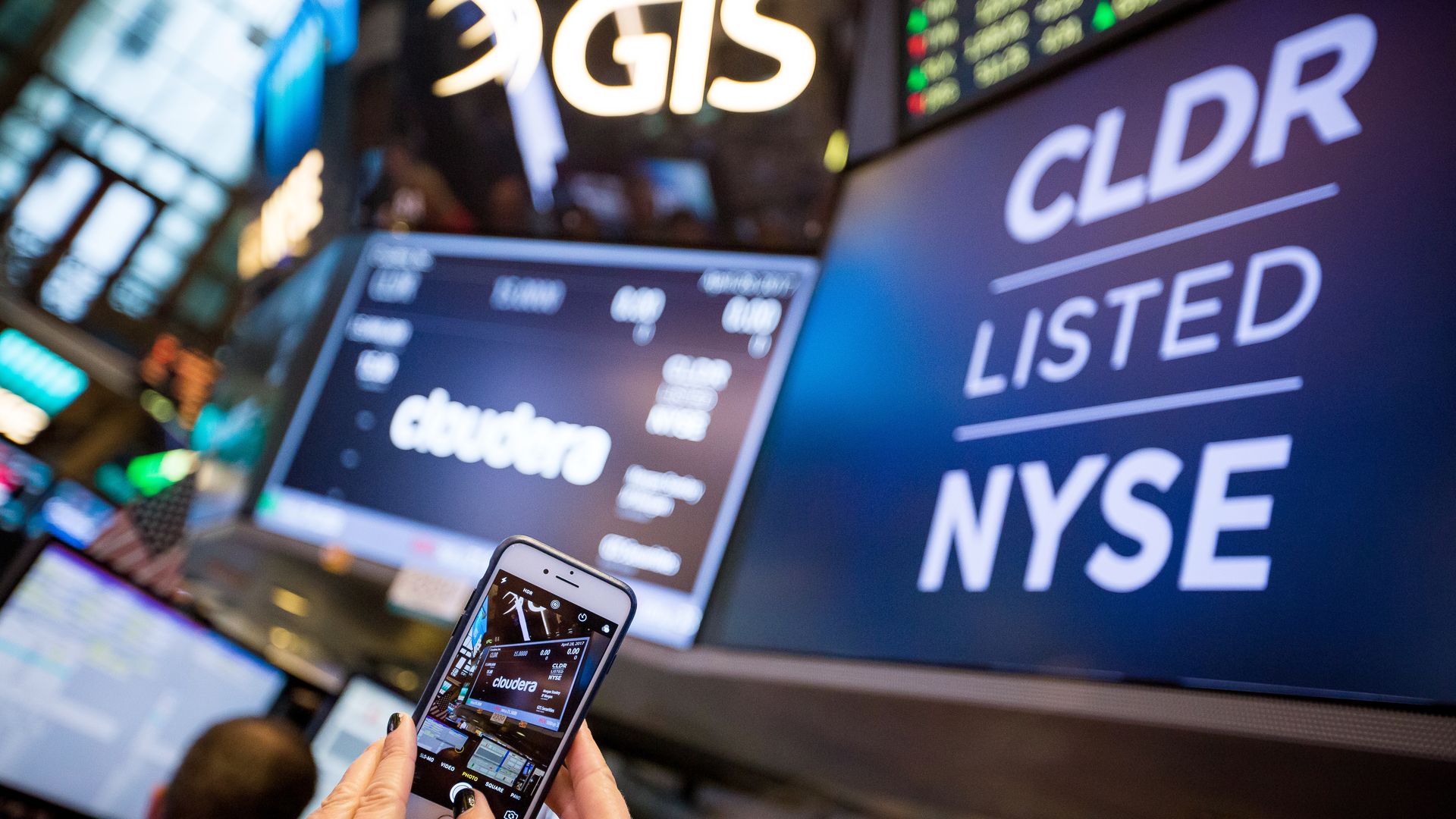 Cloudera is returning to the private markets, after an underwhelming four-year run as a public company.
Why it matters: Cloudera was one of the earliest enterprise software unicorns.
Driving the news: Private equity firms Clayton Dubilier & Rice and KKR this morning announced plans to buy the Santa Clara, Calif.-based company for $5.3 billion in cash, including assumed debt, or around $16 per share.
Each firm will acquire an equal stake, but word is that CD&R led the deal (one of its operating partners will become Cloudera's chairman).
Sixteen dollars is a 24% premium to Friday's closing price. But it's barely above where Cloudera went public in April 2017, and below where it closed its first trading day. And all of that is way below the $30.92 per share that Intel paid to invest while Cloudera was still privately held.
Cloudera's worst of times was mid-2019, just months after completing its merger with Hortonworks. Shares slipped to just $5.29 on disastrous earnings, which ultimately led to a C-suite shakeup and Carl Icahn buying into the company. By last summer, Cloudera was talking with prospective buyers (including CD&R).
Yes, today's deal is yet another case of an activist investor getting what it wants from a Silicon Valley company.
The big question now is how CD&R and KKR plan to help Cloudera achieve the promise Intel originally saw in it, or that public market investors (very briefly) saw from the Hortonworks merger (when the combined value topped $5 billion).
So far, I'm just hearing private equity platitudes about operational efficiency and how Cloudera management will have more flexibility to transition away from its Hadoop roots without public market scrutiny.
No word at all yet on how much extra debt the deal will add to Cloudera's balance sheet (it already has around $500 million of debt and $1.38 billion of total liabilities).
CD&R is a bit of a buyside wildcard. It remains best known for industrial deals, although does have a substantial tech portfolio. KKR has a deeper tech history.
Data dump: Shortly after the deal announcement, Cloudera reported quarterly earnings and beat most analyst expectations.
The bottom line: Cloudera is a reminder of how fast tech trends can change, and how private equity will be there to pounce if companies fail to keep up.
Go deeper