"This was not a riot": Biden commemorates anniversary of the Tulsa Race Massacre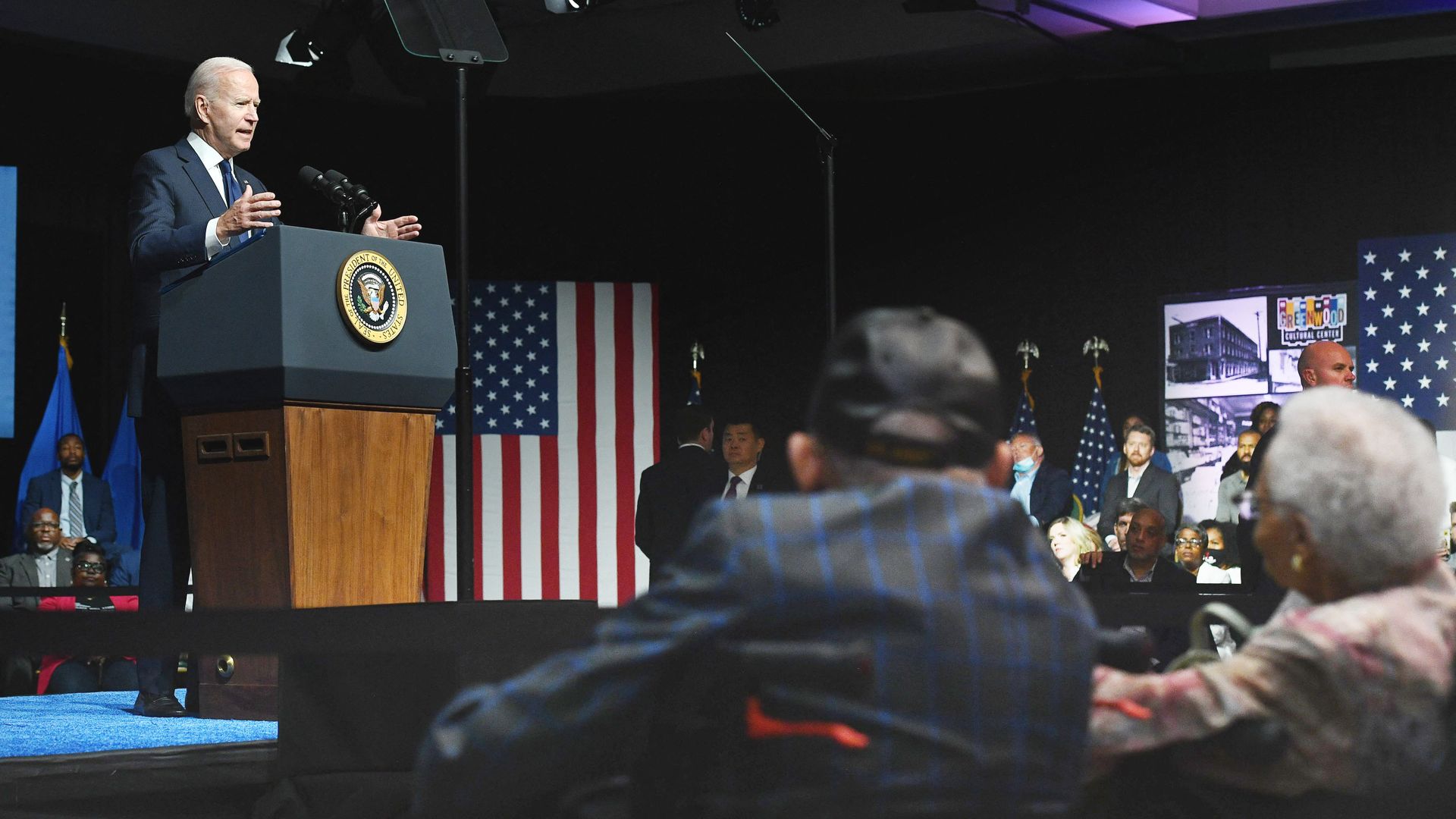 The acts of hate in Tulsa 100 years ago bear a "through line that exists today," President Biden said Tuesday, as he commemorated the anniversary of the Tulsa Race Massacre.
Why it matters: The massacre, which killed an estimated 300 people and burned multiple blocks of the Black neighborhood Greenwood, is considered one of the worst terrorist attacks in U.S. history. Survivors and their descendants have pressed for reparations for decades.
"I still see Black men being shot, Black bodies lying in the street. I still smell smoke and see fire," Viola Fletcher, one of the last living survivors, testified before a House committee in May. "I have lived through the massacre every day. Our country may forget this history, but I cannot."
What he's saying: "For much too long, the history of what took place here was told in silence, cloaked in darkness," Biden said. "Just because history is silent, it doesn't mean that it did not take place, and while darkness can hide much, it erases nothing."
That night, "'Mother' Fletcher says they fell asleep rich in terms of wealth, not real wealth but a different wealth, a wealth in community and heritage," Biden said. "One night changed everything."
"[T]his was not a riot. This was a massacre — among the worst in our history, but not the only one. And for too long, forgotten by our history. As soon as it happened, there was a clear effort to erase it from our memory, our collective memory," Biden noted. "Tulsa didn't even teach the massacre" for years.
"We can't choose to just learn what we want to know and not what we should know."
In his speech, Biden unveiled a set of policies aimed at closing the wealth gap between white and Black people.
Worth noting: Some of Biden's proposals have drawn backlash from the NAACP, whose leader criticized the plan's failure to cancel student debt, the Washington Post reports.
The big picture: Biden met with survivors earlier on Tuesday after touring the Greenwood Cultural Center.
Go deeper