Texas Democrats leave House floor to block voter restriction bill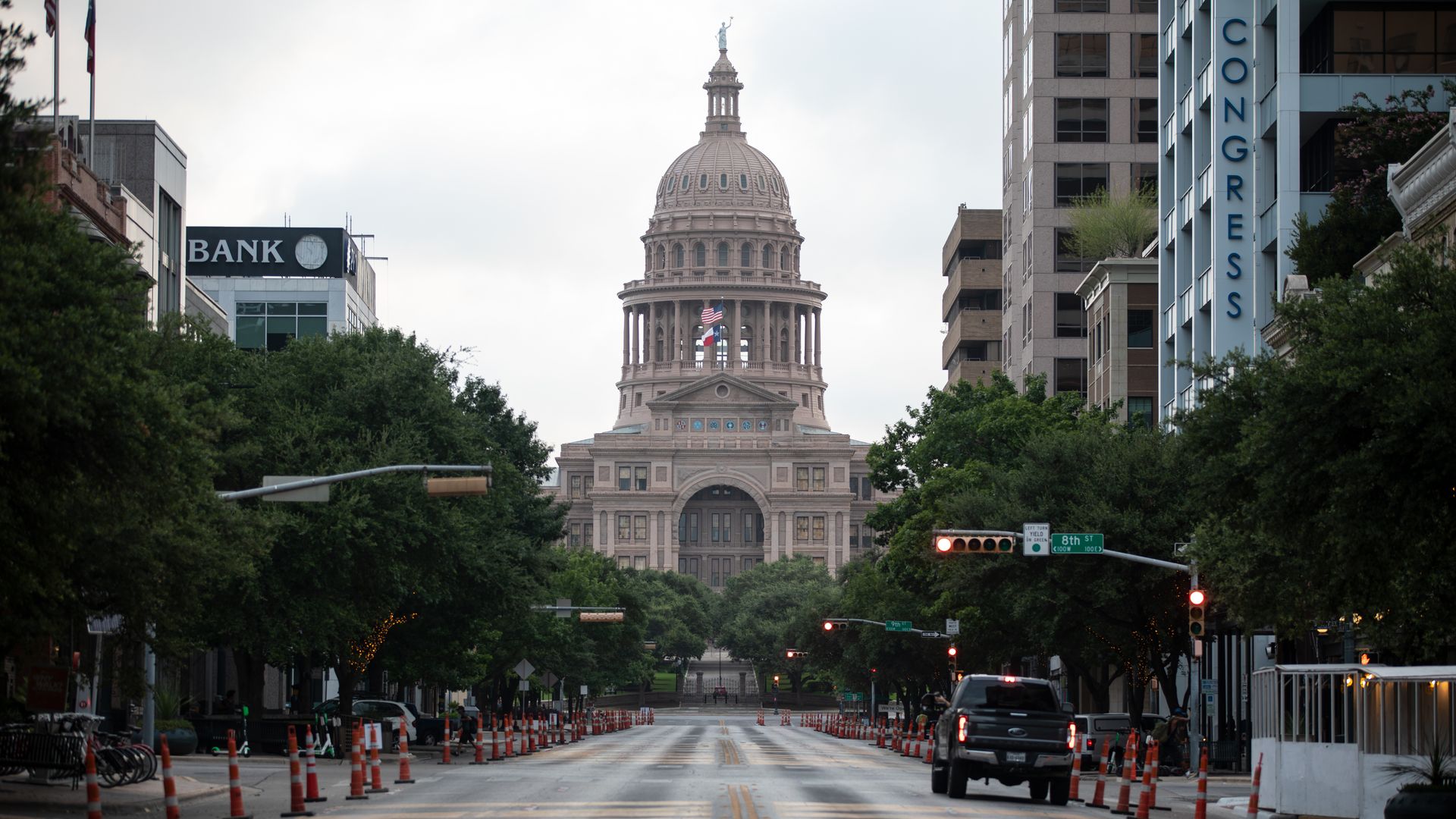 Texas state Democrats left the House floor late Sunday to block a sweeping restrictive voting bill from passing, per the Texas Tribune.
Why it matters: The walkout forced Republicans to suspend the session before a midnight voting deadline on Senate Bill 7. Gov. Greg Abbott (R) said after the surprise walkout he will add the bill to a special session later this year.
The measure was expected to pass along party lines and would have placed limits on whether people can vote early, vote by mail, or vote from their cars.
Driving the news: The walkout happened after State Rep. Chris Turner, (D), the party's House caucus chair, sent a text message to Democratic lawmakers at 10:35 p.m. local time saying: "Members, take your key and leave the chamber discreetly. Do not go to the gallery. Leave the building," the New York Times reports.
What they're saying: "It became obvious Republicans were going to cut off debate to ram through their vote suppression legislation," Turner said in a statement early Monday, per the NYT. "At that point, we had no choice but to take extraordinary measures to protect our constituents and their right to vote."
Abbott said in statements posted to Twitter after the walkout that the bill "STILL must pass" and that it would be "added to the special session agenda."
Background: The walkout followed hours of debate in the House after the Senate approved more restrictions to the bill early Sunday.
Senate Republicans suspended chamber rules on Saturday night in order to review the legislation, 12 pages of which had not been previously considered and were added without public visibility, the Tribune reports.
A tighter window for early Sunday voting was approved, which one state senator said could limit "souls to the polls," a tradition in Black communities where people vote after church.
Details: The bill would ban drive-through and 24-hour early voting as used in Harris County, where Houston is located, in the last election, the Tribune notes. Black and Hispanic voters had cast more than half of the drive-thru votes and extended hour votes in Harris County last year.
It would prevent election officials from sending absentee ballots to all voters, prohibits the use of temporary structures at polling locations and limits voting hours in other large counties.
It would also require citizens to provide their driver's license numbers or the last four digits of their Social Security numbers to request a mailed ballot. Voters would be required to include the same information on envelopes when they return their ballots for their votes to be counted.
The big picture: Texas is the latest Republican-controlled state to push for stricter voting laws in the aftermath of baseless allegations of widespread voter fraud during the 2020 election. Georgia and Florida have already enacted new restrictions.
Voting advocacy organizations, civil rights groups and state Democrats have warned that Texas' bill targets people of color and marginalized groups. Major corporations like HP, Microsoft and Unilever urged state lawmakers to reject it.
The Justice Department found no evidence of widespread voter fraud that would have changed the outcome of the presidential election, former Attorney General Bill Barr said in December.
Of note: Voting rights groups have pledged to challenge the bill in court.
Go deeper: Biden calls Texas voting restriction bill "an assault on democracy"
Editor's note: This article has been updated with new details throughout.
Go deeper