States deploy carrots to drive up coronavirus vaccination rates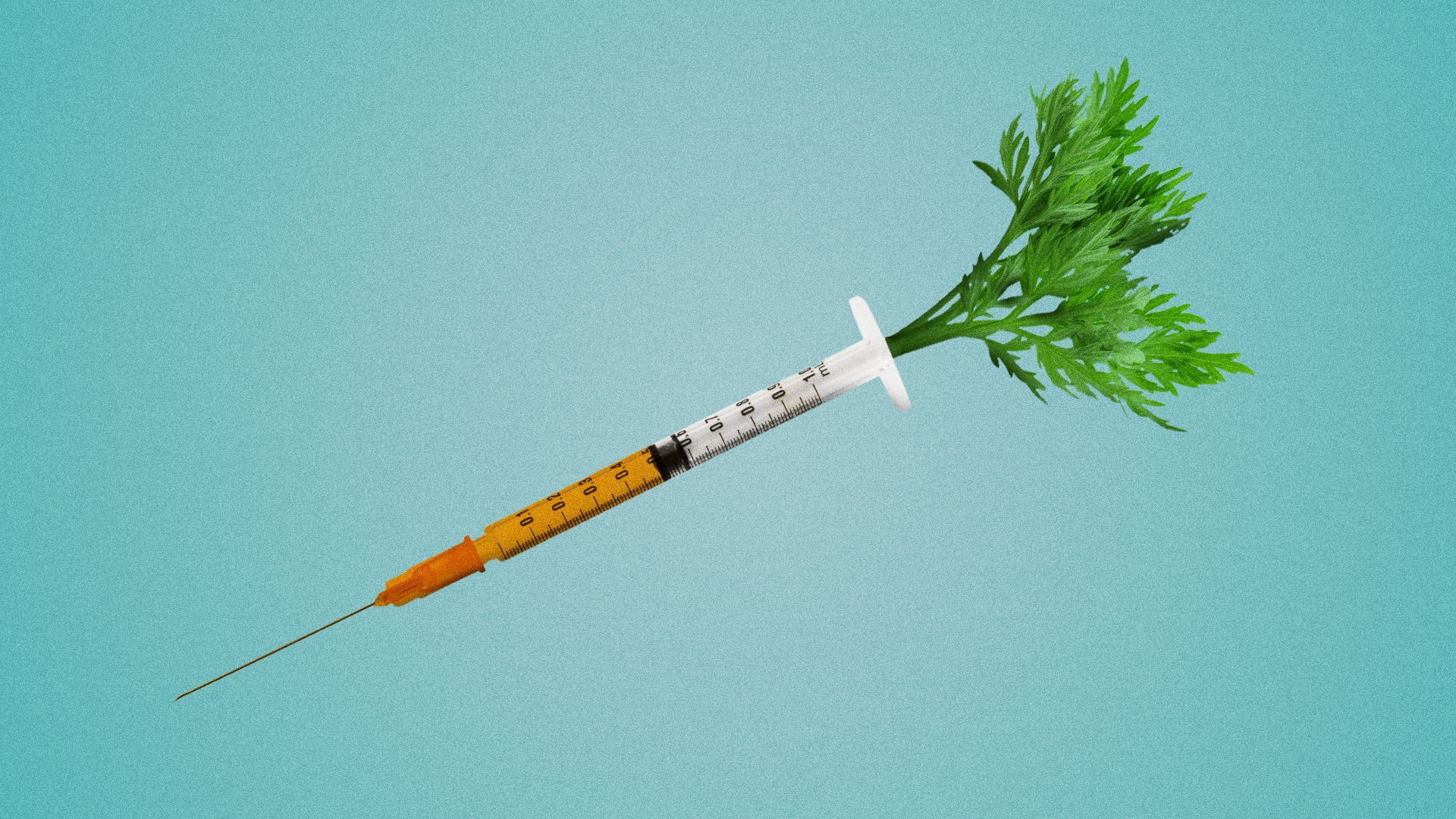 From $1 million cash prizes to a free dinner with New Jersey Gov. Phil Murphy, states and cities are offering incentives as part of their efforts to boost vaccination rates.
Driving the news: U.S. daily administered doses fell dramatically in late April and May, according to Centers for Disease Control and Prevention data.
About 51.2% of adults in the U.S. have been fully vaccinated, while nearly 62.4% have received at least one dose of a vaccine.
The incentives states and cities are offering:
California: Gov. Gavin Newsom announced Thursday that 30 Californians 12 years and older have a chance to win $50,000 if they complete their vaccination.
If a minor wins, the cash will be put in a savings account until they turn 18 years old.
The state is also offering a chance at winning one of 10 $1.5 million cash prizes.
Additionally, the first 2 million people to begin and complete their vaccinations starting May 27 will automatically receive a $50 prepaid or grocery card.
Colorado: Gov. Jared Polis has unveiled the Colorado Comeback Cash Vaccine Drive, a five-week sweepstakes that will award five people $1 million each for getting a vaccine.
Delaware: Delaware residents 18 years and older who get vaccinated between May 25 and June 29 will have a chance to win a variety of cash and other prizes, including vacations and free tolls.
Those 12 to 17 years old will have a chance to win a full scholarship to a state university.
Illinois: Gov. J.B. Pritzker announced on May 13 that Six Flags Great America will offer 50,000 free tickets — valued at $4 million — to newly vaccinated Illinois residents.
Maine: The state is offering a variety of rewards, including a certain number fishing and hunting licenses to any resident who gets at least one dose of the vaccine by the end of May.
Maryland: Any Maryland resident 18 years and older who has been vaccinated in the state will be automatically entered in a daily drawing to win a $40,000 prize. The drawings will be held from May 24 to July 4. One person will win $400,000.
Minnesota: Gov. Tim Walz announced last week that the first 100,000 people who get a vaccine between Memorial Day weekend and the end of June will be eligible for several rewards, including a free state parks pass or fishing license.
New Jersey: The New Jersey Department of Environmental Protection started offering a free state parks pass on May 27.
People age 18 or older can also enter a drawing to win a free dinner with Gov. Murphy and First Lady Tammy Murphy.
New York: Gov. Andrew Cuomo announced that anyone who received a vaccine at a state vaccination site between May 24 and May 28 had a chance to win $5 million or other smaller monetary prizes.
Cuomo also announced that the state would raffle off 50 four-year scholarships to any public college or university in the state for people between 12 and 17 years old who receive the vaccine.
New York City: Big Apple dwellers can choose from an array of incentives for getting a vaccine, including free tickets to Liberty Island, a free Public Theater annual membership or a $25 gift card to NYC Public Markets.
Ohio: As part of the state's Vax-a-Million campaign, five people 18 years or older will win $1 million each, while five 12- to 17-year-olds will each win a four-year scholarship to public college or university in the state.
The state announced its first winners on May 27.
Ohio said vaccinations in the state increased 94% among 16- and 17- year-olds, 46% among 18- and 19-year-olds and 55% among those between 20 and 49 years old after Gov. Mike DeWine announced the lotteries.
As of May 24, more than 2.7 million adults had registered for the $1 million drawings and 104,386 minors had registered for the scholarship raffles.
Oregon: Residents 18 and older in Oregon will have the chance to win $1 million or one of 36 $10,000 prizes if they receive at least one dose of the vaccine by the drawing date.
The state is also offering those 12 to 17 years old a chance to win one of five $100,000 Oregon College Savings Plan scholarships.
West Virginia: People aged 16 to 35 who get vaccinated in West Virginia can receive an $100 savings bond, Gov. Jim Justice announced in April.
The big picture: Andy Slavitt, the White House senior advisor for COVID-19 response, said he supported vaccine incentives during a press briefing on May 25.
Go deeper: Employers dangle rewards for vaccination despite legal hurdles
Go deeper