Ethiopians at pro-government rally criticize U.S. sanctions over Tigray conflict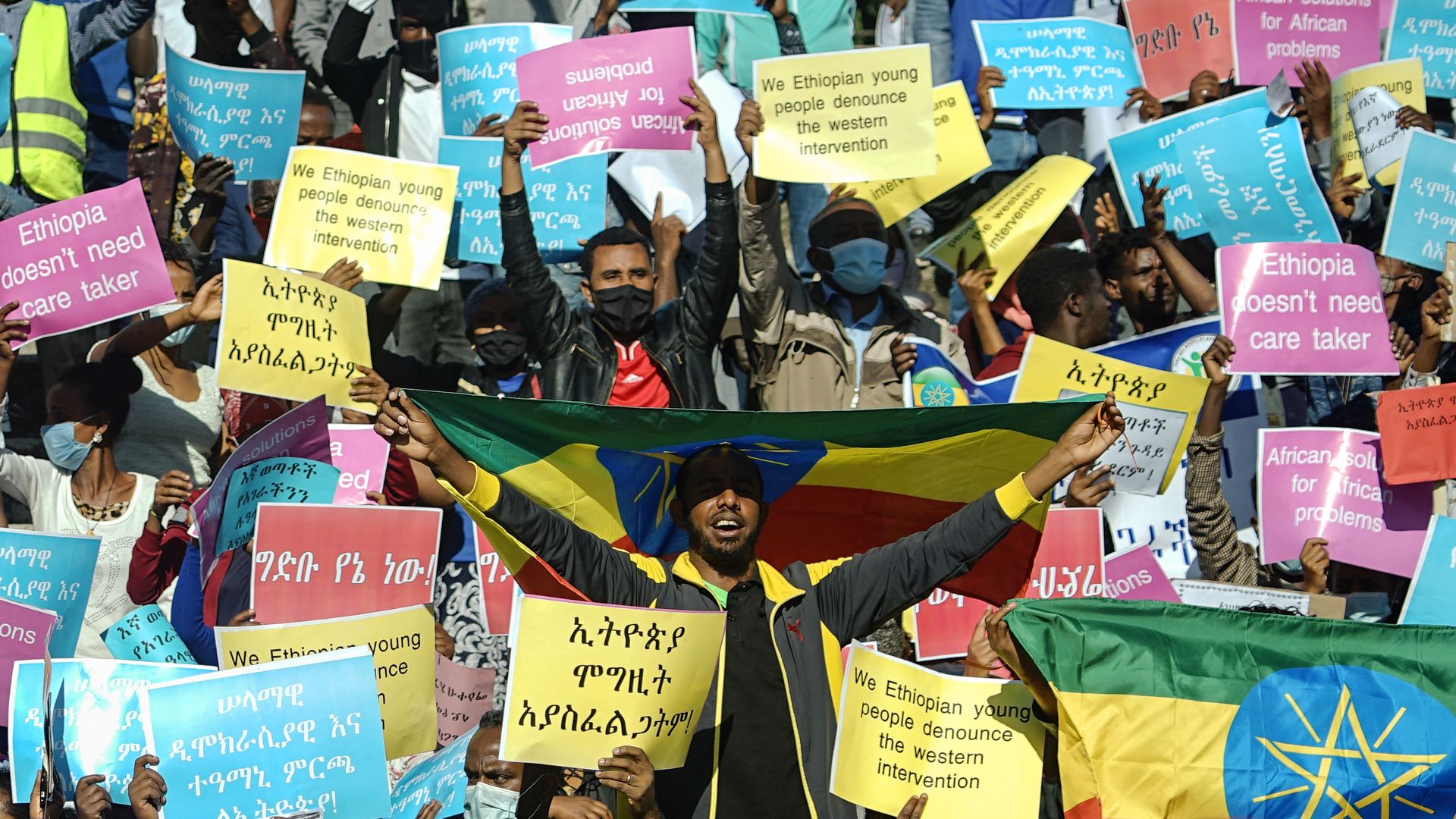 More than 10,000 Ethiopians rallied on Sunday to protest U.S. interference in Ethiopia's domestic affairs, after the U.S. imposed aid restrictions on the country due to the continued conflict in the Tigray, Reuters reports.
Why it matters: The rally was organized by the authorities and proved larger than most pro-government rallies. It was also a rare display of public criticism of the U.S., Reuters writes.
Protestors in Addis Ababa carried signs with slogans such as ""Ethiopian young people denounce the western intervention," per the Associated Press.
The state of play: Ethiopia is in the midst of a wave of ethnic violence, a vicious war in the northern Tigray region, and an existential debate about how power should be divided between the regions, ethnic groups and the state, per Axios' Dave Lawler.
More than 2 million people have been displaced by the conflict and thousands are estimated to have died, per AP.
The big picture: Last week the Secretary of State Antony Blinken announced the U.S. was imposing visa restrictions for Ethiopian or Eritrean officials "responsible for, or complicit in, undermining resolution of the crisis in Tigray," per a state department press release.
The U.S. also announced economic and security restrictions on aid assistance to Ethiopia.
The Ethiopian government called the new restrictions "regrettable" and "misguided," per AP.
Bottom line: "We will never kneel down. The preconditions and travel restrictions by the U.S. and its allies are completely unacceptable. It needs to be corrected," Adanech Abebe, mayor of Addis Ababa, said at Sunday's rally, per Reuters.
Go deeper