Biden concerned by lack of "new funds" in GOP's infrastructure counteroffer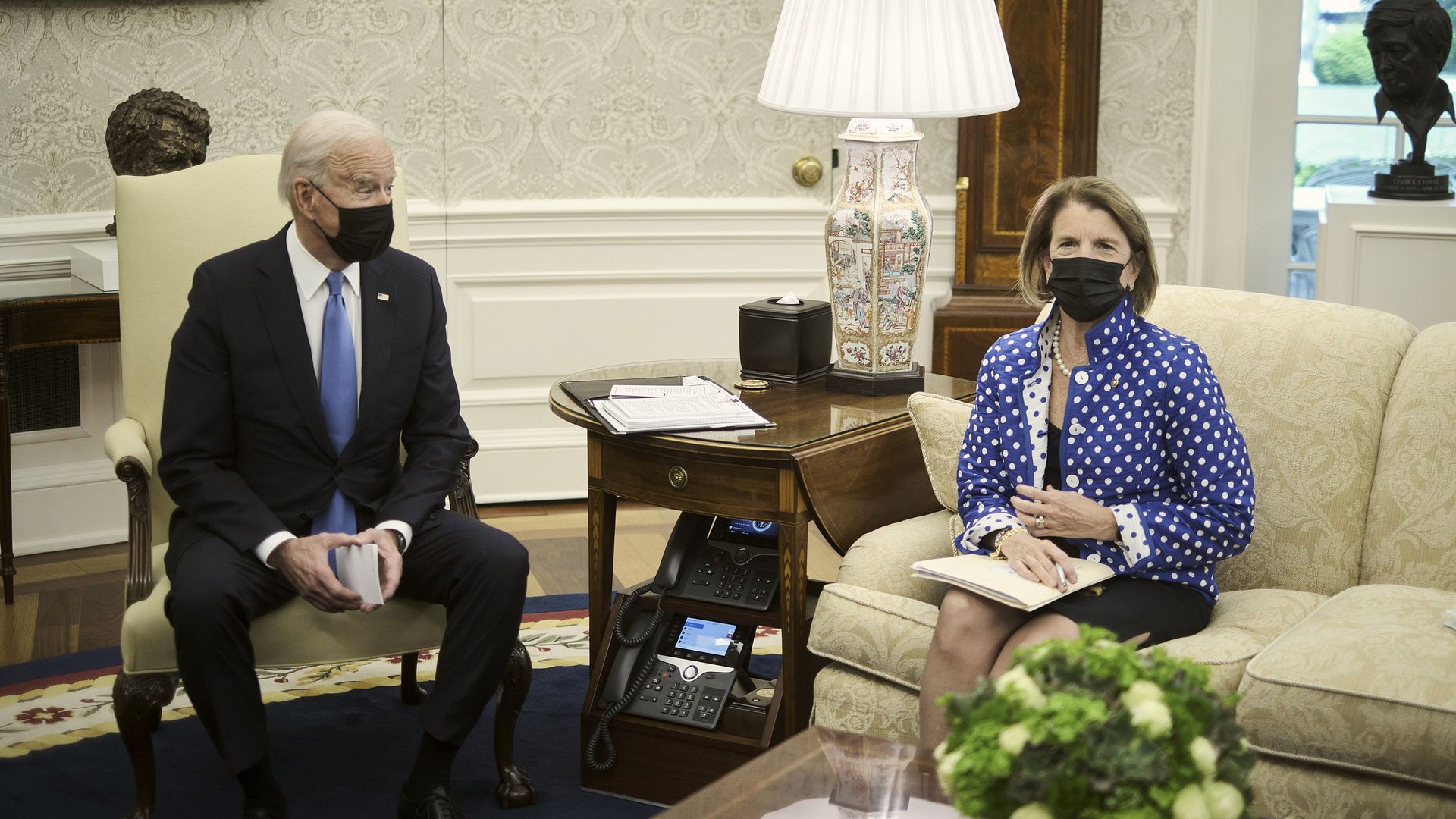 A group of Senate Republicans on Thursday released the framework for their latest counterproposal to President Biden's infrastructure plan, raising their offer from $568 billion to $928 billion.
The latest: White House press secretary Jen Psaki acknowledged "several constructive additions" to the Republican offer, but said the administration remains "concerned that their plan still provides no substantial new funds for critical job-creating needs."
While the total price tag for the GOP proposal is $928 billion, only about $257 billion would come from new funding. The rest would be redirected from previous COVID relief funds.
"[W]e are worried that major cuts in COVID relief funds could imperil pending aid to small businesses, restaurants and rural hospitals using this money to get back on their feet after the crush of the pandemic," Psaki added.
Why it matters: The White House has indicated that Memorial Day is the soft deadline for progress on bipartisan negotiations. Biden had previously lowered the cost of his infrastructure proposal from $2.3 trillion to $1.7 trillion.
While hopes for a bipartisan deal were high, some Democrats are eager for Biden to abandon the effort to win over Republicans and use the budget reconciliation process, which would only require 50 votes in the Senate.
However, this could risk losing support from more moderate Democrats who want Republicans on board with the infrastructure plan. The Republican group that unveiled Thursday's proposal have signaled that this will be their last counteroffer.
What they're saying: "We believe that this counteroffer delivers on what President Biden told us in the Oval Office ... And that is to try to reach somewhere near $1 trillion over an eight-year period of time," Sen. Shelley Moore Capito (R-W.Va.), who has been leading negotiations on behalf of Republicans, said at a press conference.
"It's a serious effort to try to reach a bipartisan agreement," Capito added. "We believe that the alternative, which is a partisan reconciliation process, would be destructive to our future bipartisan attempts."
By the numbers:
$506 billion for roads and bridges
$98 billion for public transit
$46 billion for passenger and freight rail
$21 billion for safety
$22 billion for ports and waterways
$56 billion for airports
$22 billion for water storage
$72 billion for water infrastructure
$65 billion for broadband infrastructure
$20 billion for infrastructure financing
Go deeper