Future of work expert: Pandemic highlighted "flimsy" child care system in U.S.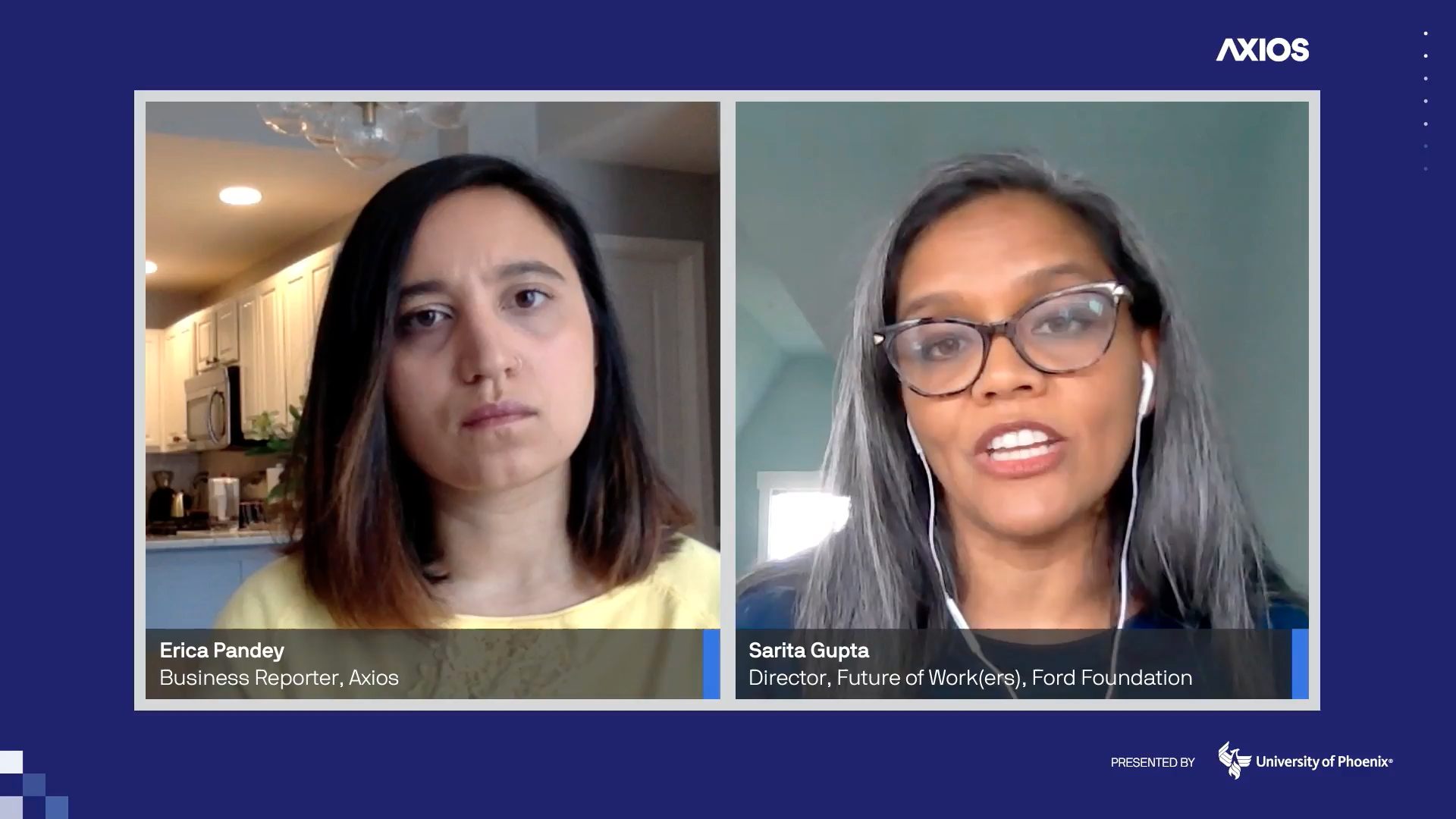 The coronavirus pandemic highlighted how the "flimsy [child] care infrastructure" is not helping workers move up in their careers, said Sarita Gupta, director of the Future of Workers program at the Ford Foundation, during an Axios event on Thursday.
Why it matters: Lack of good child care was one of the most cited reasons for not working during the pandemic, Axios' Erica Pandey reports. Child care costs spiked, making it harder for American families to afford it.
The big picture: "A consensus is emerging among top economists and business leaders that getting kids back into day cares and schools is critical to getting the economy back to normal," The Washington Post writes.
What she's saying: "It's really important ... for us to understand that America is the only advanced economy without universal infrastructure in place to support individuals and families in need of care," Gupta said.
"It's become highly unaffordable for too many families to get the kind of care that they need. And what we've seen, the pandemic we just saw plain as day, how the ramifications of a flimsy care infrastructure were felt sorely by workers, disproportionately more so for women of color."
Where it stands: Child care has become a major focus for President Biden who, in April, unveiled his $1.8 trillion "American Families Plan," which would expand the country's education system, provide more help for child care and create more jobs. The plan would be covered by increased personal taxes on the rich as well as corporate tax increases.
If approved by Congress, the package would ultimately save the average family $14,800 a year on child care expenses.
The bottom line: "Families' lack of ability to find affordable, stable child care or home care often hinders their ability to take advantage of upskilling opportunities and moving up the career ladder," Gupta stated.
Watch the full event here.
Go deeper