Andrew Yang calls New York Daily News cartoon a "racialized caricature"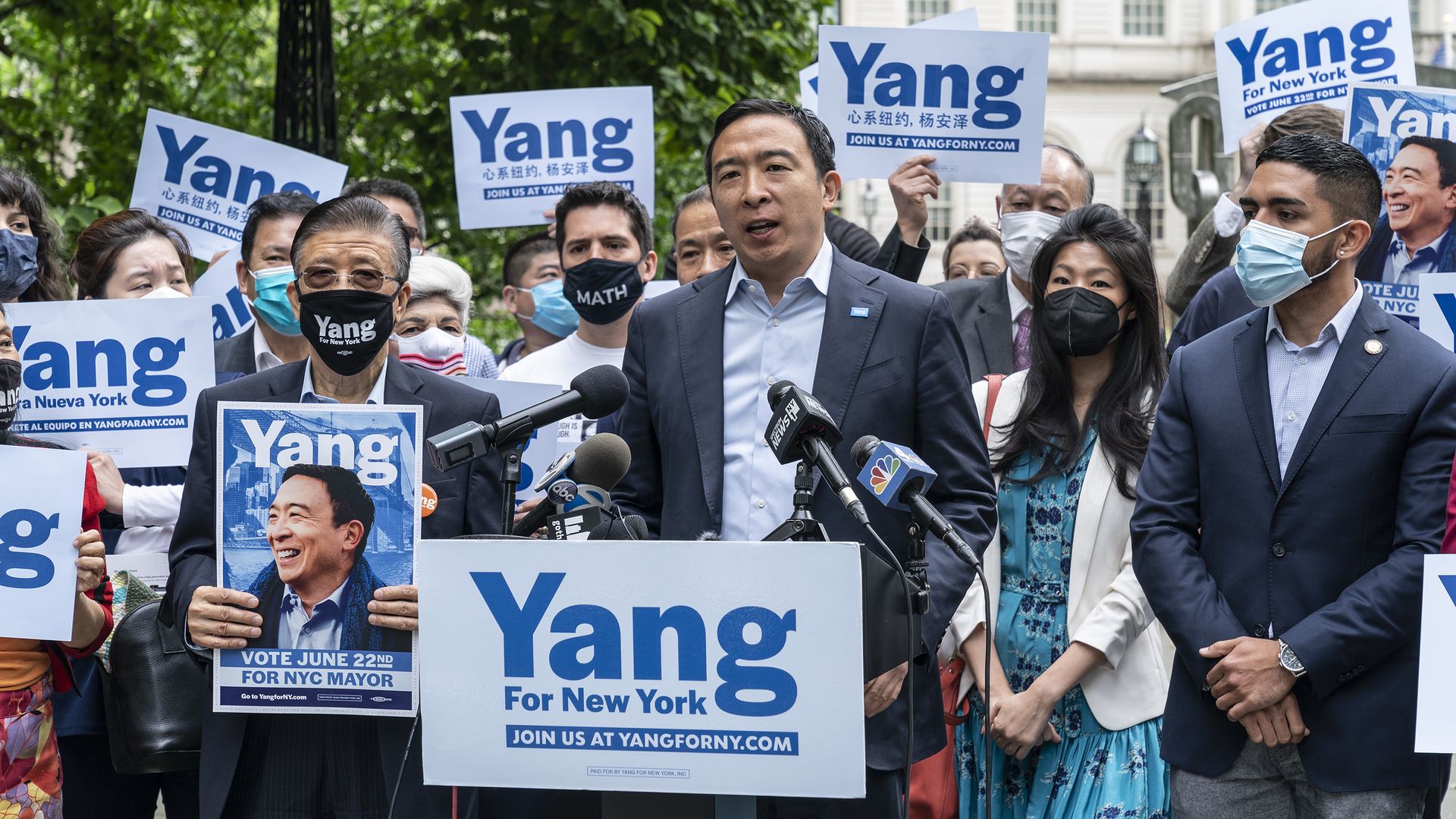 New York City mayoral candidate Andrew Yang called a New York Daily News cartoon of him a "racialized caricature" in a CNN interview on Thursday, adding it could cause further harm to the Asian American community.
Why it matters: The cartoon drew immediate backlash after being published on Monday. Critics say it plays on dangerous anti-Asian stereotypes amid a yearlong spike in racism-fueled violence against Asian Americans that has led to several deaths.
The state of play: The cartoon by Bill Bramhall depicts Yang walking out of the Times Square subway station as a nearby shopkeeper says, "The tourists are back!"
"I think that anyone objective looking at that cartoon knows that it's playing on an idea of Asian Americans as permanent tourists and outsiders," Yang, who has lived in New York City for 25 years, told CNN.
"And we're at a point in our history, unfortunately, when Asian Americans are getting beaten on the streets of New York and told to go back where we came from, or that we don't belong."
The Daily News' editorial page editor Josh Greenman has defended the cartoon, arguing it alludes to Yang's record of not voting in past mayoral races and his departure from the city during the COVID-19 pandemic.
Yang denounced Greenman's statement on Thursday, telling CNN "the cartoon does not work if it's a person of a different race."
The image has faced further criticism for depicting Yang with slanted eyes, buck teeth and big ears — centuries-old caricatures first used to demonize early Chinese immigrants.
What they're saying: "@BillBramhall wanted to criticize @AndrewYang's knowledge of NYC issues. Not a racist point. To make this criticism, he drew the slim, nearly 6' tall Asian man as a short, round tourist with buck teeth & eyes drawn with single lines. Racist as hell," tweeted Yvonne Reeves Chong, a Democrat running for a seat in the Missouri House.
"You can criticize candidates ... without being racist or Xenophobic," tweeted New York Assembly Member Yuh-Line Niou, who has been a frequent critic of Yang. "As a first and only, I have also been the subject of racist and xenophobic comments and images. It is harmful and hurtful and dangerous."
Bramhall changed the online cartoon for the print edition after "people reacted badly to how Yang's eyes were drawn," Greenman told CNN. "Bill altered the drawing out of sensitivity to those concerns, without changing the concept of the cartoon, which he and we stand by," he said.
The big picture: Yang is one of several candidates running to replace Mayor Bill de Blasio, and he's raised millions in direct donations for his bid.
Go deeper