Indoor vertical farming grows up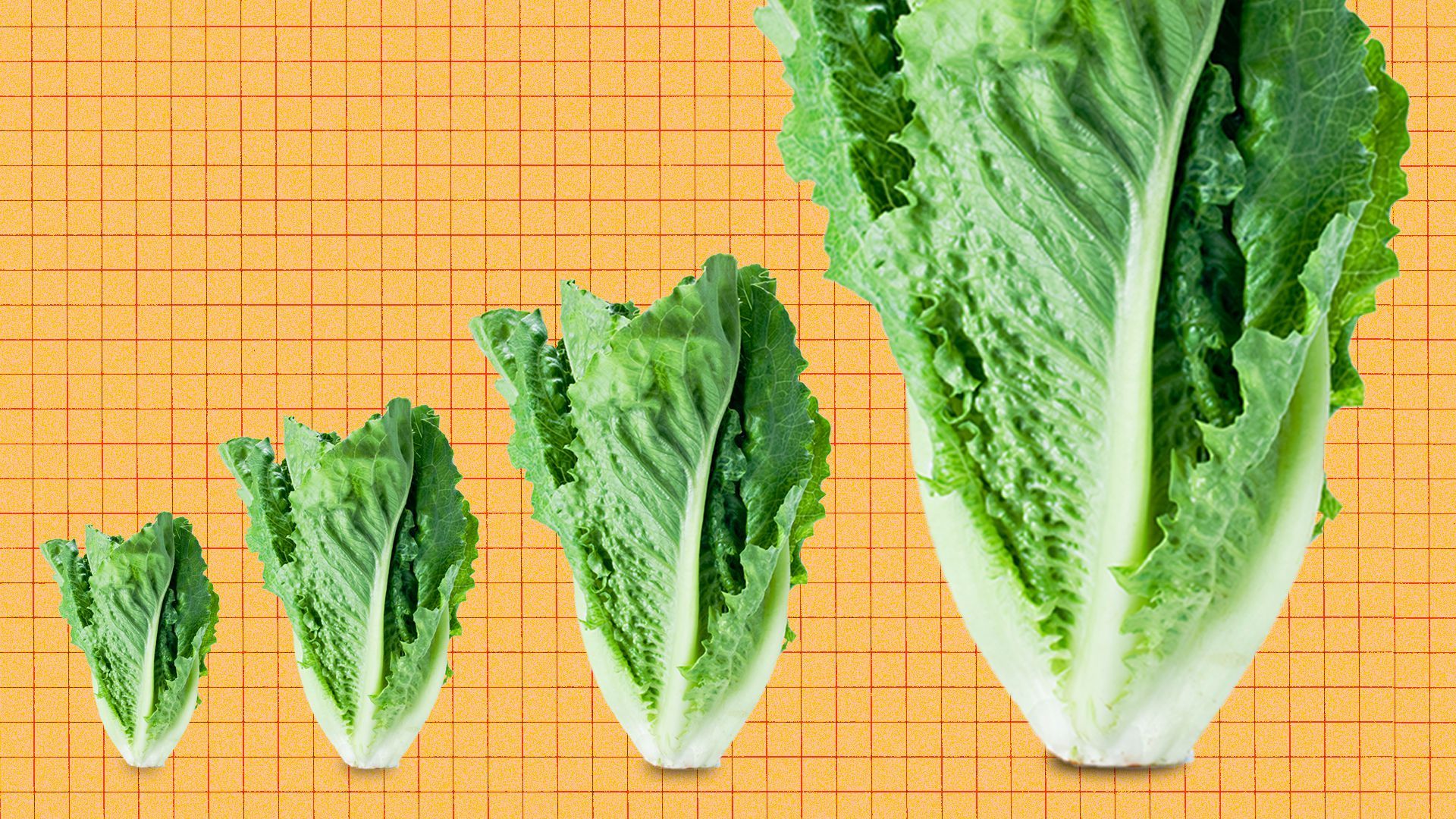 Indoor vertical farming, where crops are raised in automated stacks, often in or near cities, offers a way to sustainably meet the growing demand for food — if its energy demand can be reduced.
Why it matters: With the global population still rising — albeit more slowly — and more people moving to urban areas, the world needs ways to produce more food without clearing land for conventional farms.
Driving the news: New York-based vertical farming startup Bowery Farming on Tuesday announced a new $300 million funding round — the largest in the industry's history — that values the company at $2.3 billion.
The deal accelerates the momentum in venture capital funding for vertical farming companies, which hit nearly $1.9 billion globally in 2020, almost tripling investment from the year before.
"We're going to need 50–70% more food over the next 30 years, according to the UN," says Irving Fain, the CEO and founder of Bowery Farming, which has two commercial vertical farms in New Jersey and Maryland and sells its leafy greens to 850 grocery stores. "Indoor farming is not the only answer to that challenge, but it's part of the solution."
How it works: Food has been grown indoors in greenhouses for decades, and it's industrialized to the point that the Netherlands has become the second-largest vegetable exporter in the world chiefly through greenhouses.
Vertical farming takes greenhouses to the next level —literally — with crops grown in tower-like walls of plant-holding cells that require no soil. Like an apartment tower versus a suburban tract, that means more food can be grown on a smaller footprint, which is ideal for cities.
Water and nutrients are delivered to crops either aeroponically — via the air through misting — or hydroponically, in which the plants are grown in nutrient-rich water. "You get high density and high output, while using 90% less water" than conventional farming, says Micki Seibel, VP of product at the vertical farming startup Unfold.
Growing light is delivered via LED lamps. While more expensive than sunlight — which currently remains free — the LED lamps aren't weather-dependent, and like water, nutrients and temperature in the vertical farms, the light can be controlled precisely, vastly enhancing yield and reducing grow times.
Because vertical farming uses so little space, "we can move the farm to the people rather than the food," says James Woolard, chief marketing officer at Freight Farms, which develops mobile hydroponic freight containers modified for indoor farming.
By the numbers: There are more than 2,000 vertical farms in the U.S. Most are run by small growers with a few bigger players, including Bowery Farming, Newark-based AeroFarms, and Wyoming-based Plenty.
Internationally, says Seibel, "Japan has looked at vertical farming as a way to increase food security and reclaim production lost during the tsunami, while Singapore — which imports 90% of its food — is making significant investments in the sector to increase its own food security."
A recent report pegs the size of the vertical farming market at $240 million in 2019, and projects it will grow to over $1 billion by 2027.
The catch: Even with that growth, vertical farming will likely still remain a niche player — the output of U.S. farms alone was worth $136 billion in 2019.
In part because of the price of supplying artificial light, vertical farms have struggled to break even in the past, and they chiefly produce comparatively priced leafy greens rather than the commodity crops that make up the backbone of the food system.
What's next: Second-generation vertical farms are taking advantage of efficiency advances in LED technology, as well as automation and sensors that can reduce labor and setup costs and enhance yield.
The ability of vertical farms to maintain the ideal environment for high-quality crops like tomatoes or lettuce anywhere in the world at any time of the year is turning agriculture into a high-tech industry.
"All the externalities that have been uncontrollable [in farming] historically are now very much controllable," says Bowery's Fain.
What to watch: The development of AeroFarms's 136,000-square-foot Model 5 facility in Virginia, which is set to be the largest and most technologically advanced vertical aeroponic farm when it is scheduled to be completed in mid-2022.
The bottom line: Agriculture made cities possible. Now vertical farming holds out the possibility that cities could become farms themselves.
Go deeper