Dutch court orders Shell to cut its emissions in landmark ruling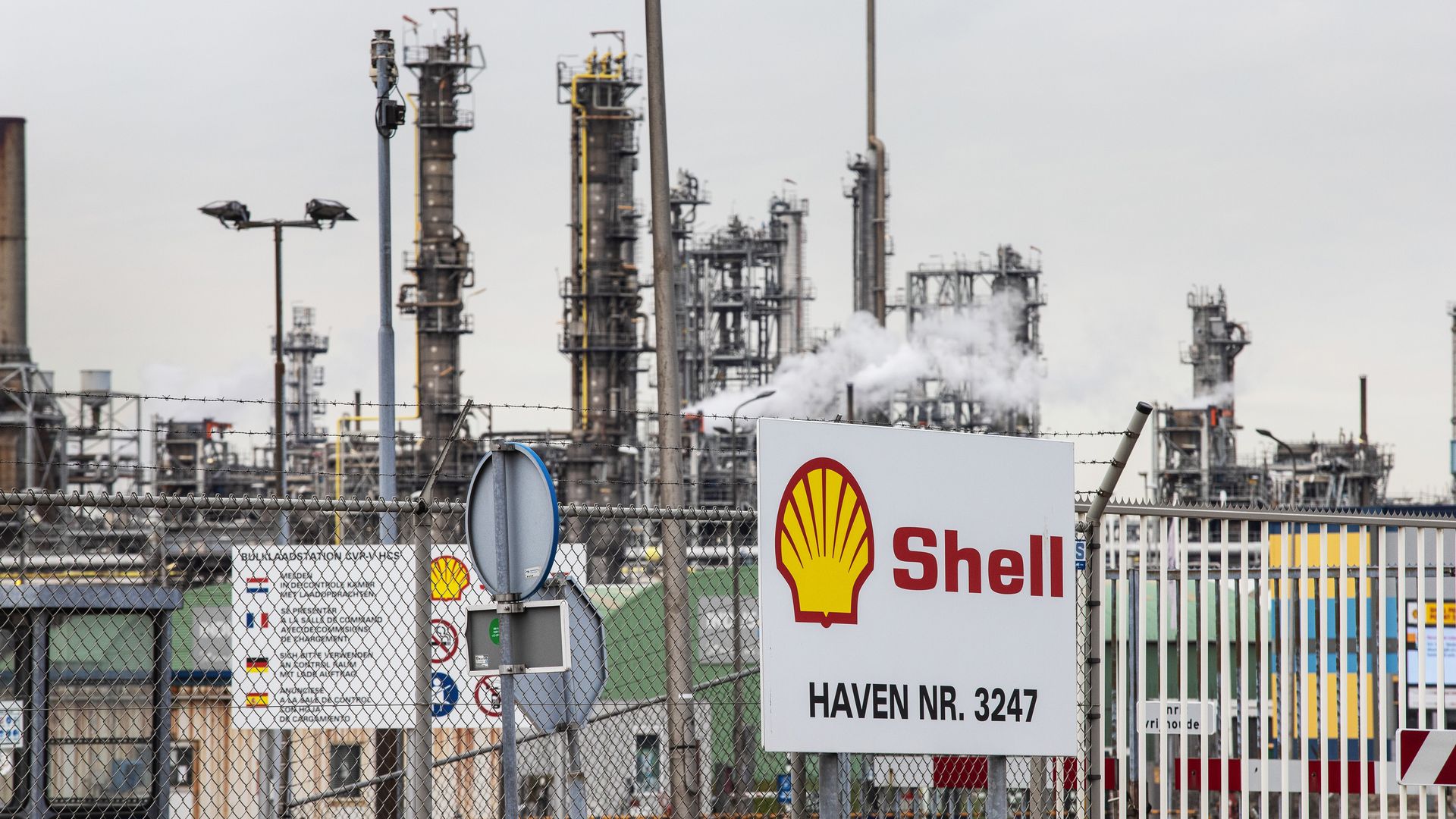 In a precedent-setting ruling, a Dutch court ruled Wednesday in favor of environmentalists and more than 17,000 residents of the Netherlands, by ordering Royal Dutch Shell to cut its emissions of greenhouse gases.
Why it matters: It's the first court ruling that orders a major oil company to make its emissions plans more consistent with Paris Climate Agreement targets, and it could spur legal action against other oil and gas firms.
Driving the news: The case was brought in April 2019 by Dutch citizens who alleged that Shell's continued oil and gas exploration threatens their human rights by robbing them of a more stable climate. Environmental groups such as Greenpeace and Friends of the Earth also participated in the lawsuit.
Details: The Dutch district court in the Hague ordered Shell to cut its carbon emissions by 45% by 2030 relative to 2019 levels. The court ruled that the energy company's existing emissions reduction plans, calling for a reduction of emissions intensity of 20% by 2030, were insufficient, and could result in human rights violations.
The ruling includes so-called Scope 3 emissions, which are the greenhouse gases released when Shell's oil and gas is burned for generating energy.
While many court cases have been brought in the U.S. and elsewhere against governments for not acting to rein in planet-warming greenhouse gases, the Shell ruling is part of a wave of challenges from climate activists that target oil and gas companies.
Shell "fully intends to appeal the ruling," the company stated.
Between the lines: Shell has established a more aggressive emissions reduction strategy than many other major oil and gas companies, with the goal of reaching net zero "absolute emissions" in 2050.
What they're saying: "This is a monumental victory for our planet, for our children, and is a stop towards a livable future for everyone," said Donald Pols, director of Friends of the Earth Netherlands, in a statement.
"Urgent action is needed on climate change which is why we have accelerated our efforts to become a net-zero emissions energy company by 2050, in step with society, with short-term targets to track our progress," Shell said in a statement.
We are investing billions of dollars in low-carbon energy, including electric vehicle charging, hydrogen, renewables and biofuels. We want to grow demand for these products and scale up our new energy businesses even more quickly. We will continue to focus on these efforts and fully expect to appeal today's disappointing court decision," the company stated.
Go deeper: Shell CEO: You need us on climate change
Go deeper