Scientists: Canceling Tokyo Olympics "may be the safest option"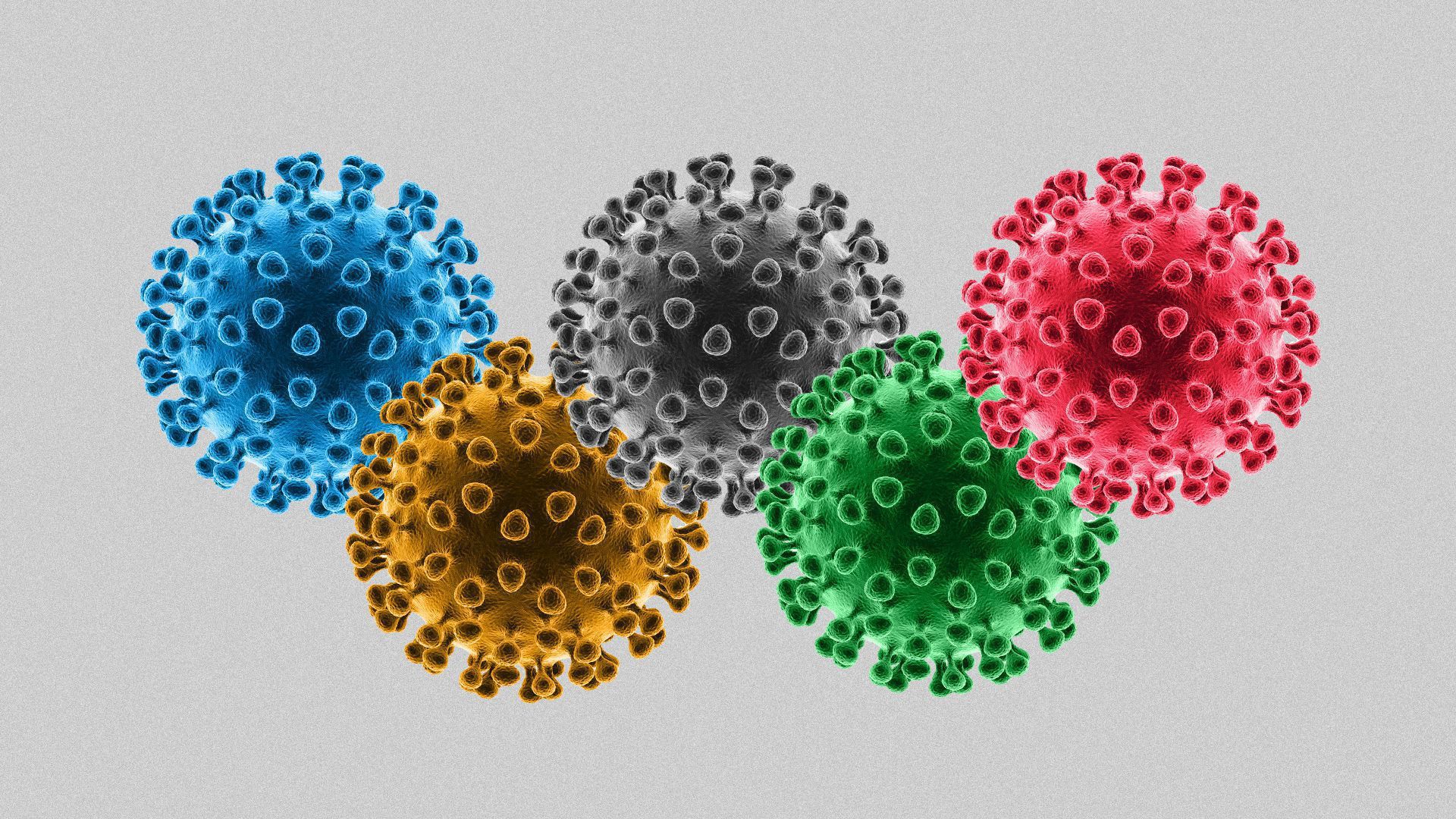 With less than two months until the Tokyo Olympics' opening ceremony, scientists are warning that "canceling the games may be the safest option," according to a paper published Tuesday in the New England Journal of Medicine.
Why it matters: As Japan anticipates 20,000 athletes and support staff from 200 different countries, the country remains in a state of emergency with nearly 70,000 active cases and only 5% of the population vaccinated, the lowest rate within OECD countries.
Driving the news: The authors analyzed the International Olympic Committee's COVID-19 guidelines, noting a lack of involvement from national player associations and "no plan B in the event of an outbreak."
IOC's plan emphasizes unsuccessful mitigation measures like temperature checks and contact tracing apps that are "often ineffective," the authors write, in addition to several other missing aspects public health officials have deemed necessary:
There is no safety guidance in risk levels associated with outdoor and indoor sporting events or even on high-contact and or low-contact sports.
Players are not provided masks by IOC and must bring their own.
IOC provides "insufficient detail" on testing frequency and hotel isolation as well as limited contact tracing.
Athletes have limited insurance coverage if they contract COVID-19 during their training and competition periods, an oversight for higher risk populations like Paralympic athletes and staff.
Yes, but: Despite Pfizer and BioNTechoffering to donate vaccine doses for athletes, the shots don't serve as a guarantee all athletes will be vaccinated in time or even choose to be vaccinated for "worries about the effects of vaccination on their performance" or ethical concerns about being prioritized ahead of more vulnerable populations.
But, but, but: The authors recognized the intangible value of the games "at a time of global disconnect ... for us to connect safely, we believe urgent action is needed for these Olympic Games to proceed."
What's next: The authors request the World Health Organization forms an emergency committee to advise a better risk-management approach as it did during the 2016 public health emergency surrounding the Zika virus in Brazil.
Go deeper