Senate confirms Kristen Clarke to lead DOJ's Civil Rights Division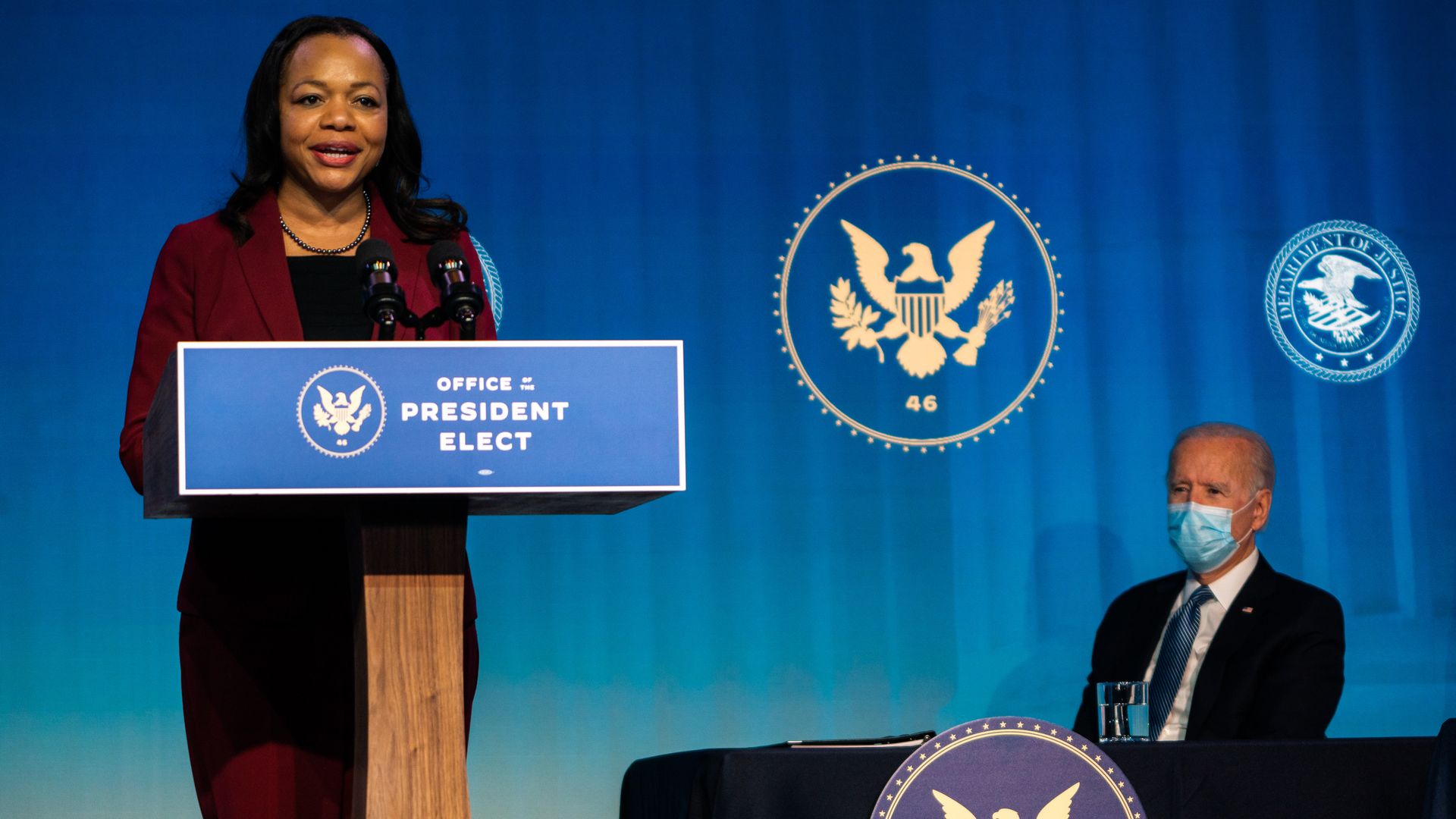 The Senate voted 51-48 on Tuesday to confirm longtime civil rights attorney Kristen Clarke to lead the Justice Department's Civil Rights Division.
Why it matters: Clarke is the first Black woman to lead the division, which is responsible for enforcing federal statutes prohibiting discrimination based on race, color and sex.
Her confirmation came on the same day as the one-year anniversary of the murder of George Floyd, which set off a global reckoning around race and policing.
Clarke's nomination was vigorously opposed by Republicans, forcing Senate Majority Leader Chuck Schumer (D-N.Y.) to use a rare procedural "discharge petition" to advance her nomination out of the deadlocked Senate Judiciary Committee.
Background: Clarke spent 21 years prosecuting cases at the Justice Department and played a key role in the landmark voting rights case Shelby County v. Holder, according to NPR. While Clarke won her case in lower court, the Supreme Court eventually ruled 5-4 to gut a key provision of the Voting Rights Act.
She pledged during her confirmation hearing to make voting rights a priority, as Republican-led states across the country push to enact new voting restrictions.
The Civil Rights Division will also play a key role in the Justice Department's "pattern or practice" reviews into the Minneapolis and Louisville police departments, following the deaths of George Floyd and Breonna Taylor last year.
What they're saying: "As we continue to pursue strong policing reform legislation, the fight for racial justice by confirming Kristen Clarke on the anniversary of George Floyd's murder is particularly poignant and appropriate," Schumer said on the Senate floor Tuesday.
In a statement to the Washington Post, Sen. Ted Cruz (R-Texas) called Clarke and Biden's pick for associate attorney general Vanita Gupta "two of the most radical nominees ever put forward for any position in the federal government."
Go deeper