America's small business post-pandemic comeback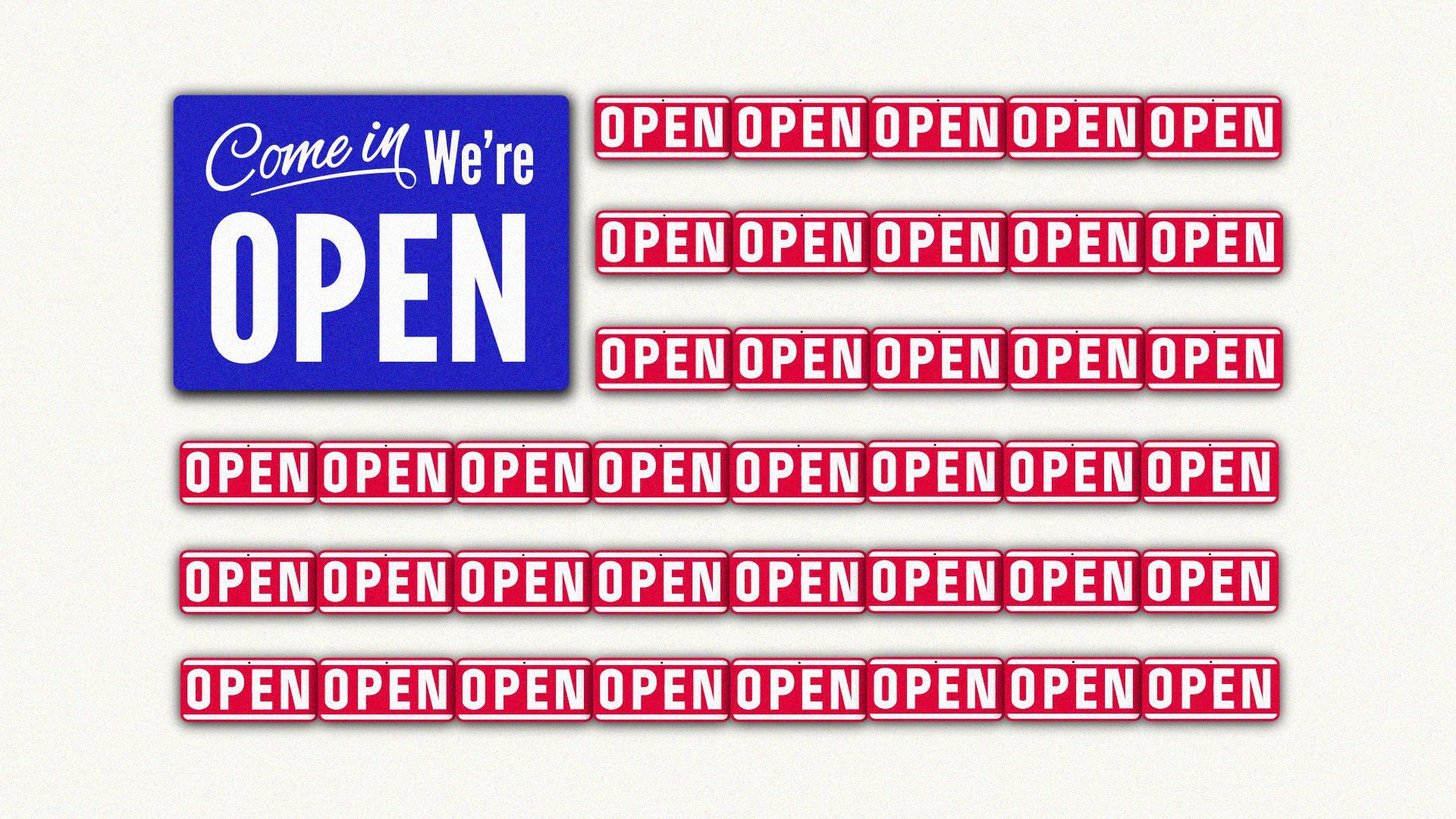 Main Street is finally beginning to rebuild from the hurricane that barely glanced Wall Street.
Between the lines: Small businesses are always particularly exposed when crisis hits, due to limited cash buffers, according to JPMorgan Chase Institute, which tracks anonymized credit and debit card data.
Axios Re:Cap, the afternoon podcast I host, this week is airing a special six-part series on America's small business comeback.
Three big trends that we've learned while putting together the Axios Re:Cap series.
1. Tech-tonic shift. The pandemic rapidly accelerated the small business sales model move from offline-to-online, and data suggests that much of the shift is permanent. This also helps explain why so many tech startups were able to thrive in the pandemic, because they never had offline products in the first place.
2. Thanks Sam: Most small business owners we spoke with received PPP loans. Some complained a bit about the early application process, but everyone was unanimous in their praise of the program, crediting it with helping them continue to pay employees and, in some cases, keep their doors open.
3. No self-pity: Not a single small business owner expressed even an ounce of "woe is me." I wouldn't have blamed them if they did, given what they faced over the past 14 months, but they didn't (despite continuing labor shortages). If American small business was a bumper sticker, it would be "Shit Happens."
Take a listen: The podcast series launched yesterday with a view from the shopping centers (e.g., where big national chains rub shoulders with moms-and-pops), in which I speak with a top landlord and several of his tenants in an Allen, Texas property called The Villages.
Today's episode will focus on Black-owned small businesses, including a conversation with Shelly Bell, founder of Black Girl Ventures.
Beginning today we're also ending each episode with an "audio postcard" from iconic small businesses, including Pat's Famous Steaks (Philly), First Avenue Club (Minneapolis) and Pike Place Fish Market (Seattle).
You can find the series on Apple Podcasts, Spotify or your favorite pod platform.
Go deeper: Nearly 90% of small businesses say they're confident their shops will survive
Go deeper