Welcome to the spaceflight revolution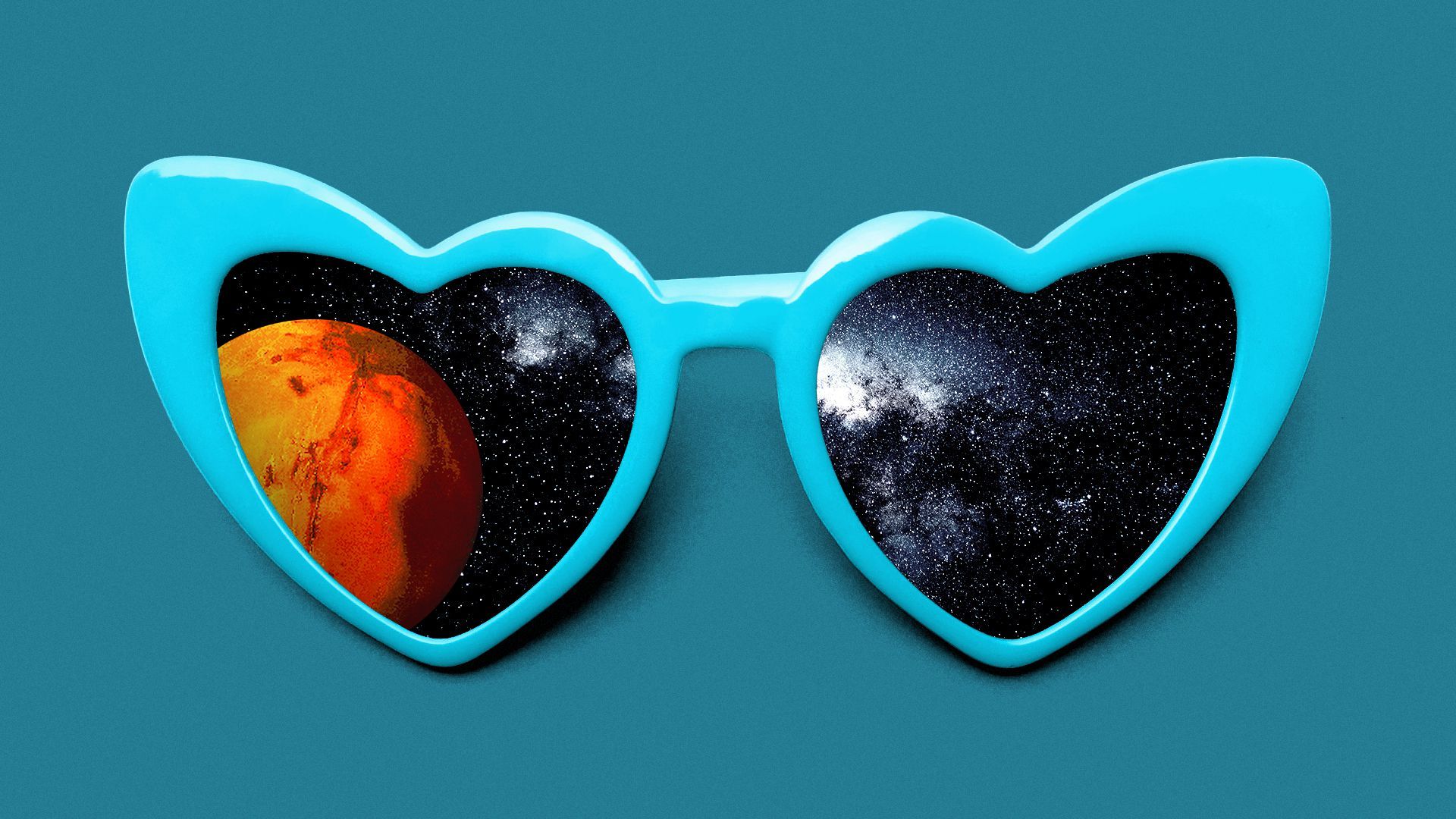 From competitions to send ordinary people to space to ambitious Mars landings and Moon missions, space is increasingly center of mind for people around the world.
Why it matters: The public has never before been presented with so many space activities going on at the same time. But experts still aren't sure that interest will help transition parts of the space industry away from its government reliance into a sustainable industry.
Driving the news: Blue Origin — Jeff Bezos' spaceflight company — is currently auctioning off a seat on its first crewed flight to suborbital space, expected to launch in July.
The current high bid is $2.8 million, after thousands of people put in their own offers for the seat during the initial phase of the auction.
Two competition TV shows — Space Hero and Who Wants to be an Astronaut? — are in various phases of production, with plans to give away a seat to space to a lucky winner.
And China's space agency just landed its first lander and rover on Mars, just after NASA's Perseverance rover landed in February and the United Arab Emirates' agency sent its own orbiter to the Red Planet for the first time.
The big picture: During Apollo and even the early space shuttle days, NASA was largely the only game in town generating space excitement.
Today, NASA is just one of many international and commercial space players, giving the public new ways to understand and engage with the usually insular space industry and scientific community.
All of these efforts — and more — have combined to bring about the dawn of a new space age that many in the industry have been working toward for years, if not decades.
This new era is marked by the rise of commercial spaceflight and the push to create a market for services in space — like space stations and lunar landers — that don't just serve governments, but also industry.
It's also defined by the changing and growing definition of what it means for a country to be a "space power," with more and more nations able to send their own wares to orbit, inspiring a new swath of citizens.
Where it stands: Every aspect of space is starting to get more mainstream attention, according to Bryce Space and Technology's Carissa Christensen.
"Military space — that never used to be a subject of discussion," Christensen said. "The satellite industry because of SpaceX and Starlink, people are talking about satellites in an excited way."
That new attention could also translate into real lines of revenue and customers for companies marketing their services to the public like Blue Origin, Virgin Galactic and even SpaceX.
Flashback: This isn't the first time competition has been used to stoke public interest in space.
Earlier spaceflight contests that garnered significant public buy-in — like the Mars One competition to send people on a one-way trip to the Red Planet — never came to fruition.
A main difference between those earlier contests and this moment, however, is that today a company — SpaceX — really is flying people to space for the first time, and others — like Blue Origin and Virgin Galactic — appear to be on the verge of it.
But, but, but: It's still not clear the market being built around these services is sustainable.
At the moment, most of the demand for human services in space hinges on government money and contracts, with hopes that private demand will to come later, making the industry sustainable.
The Blue Origin auction has captured attention, but $2.8 million for a quick ride to the edge of space isn't affordable for the vast majority of people who may want to fly with the company.
And many in the space industry advocate for companies to prioritize flying a diverse group of people at a reasonable price point as quickly as possible to help sustain the industry long term.
What they're saying: Jared Isaacman, the commander of the first all-civilian flight to orbit launching with SpaceX later this year, says that, for now, the industry should focus on prioritizing missions that contribute to the greater good on Earth until costs can start coming down.
The early missions should focus on "the conservative, noble contribution type thing, like making those important steps so that we can do more of the fun things later," Isaacman told Axios.
Go deeper