ACLU sues Arkansas over ban on gender-affirming care for trans kids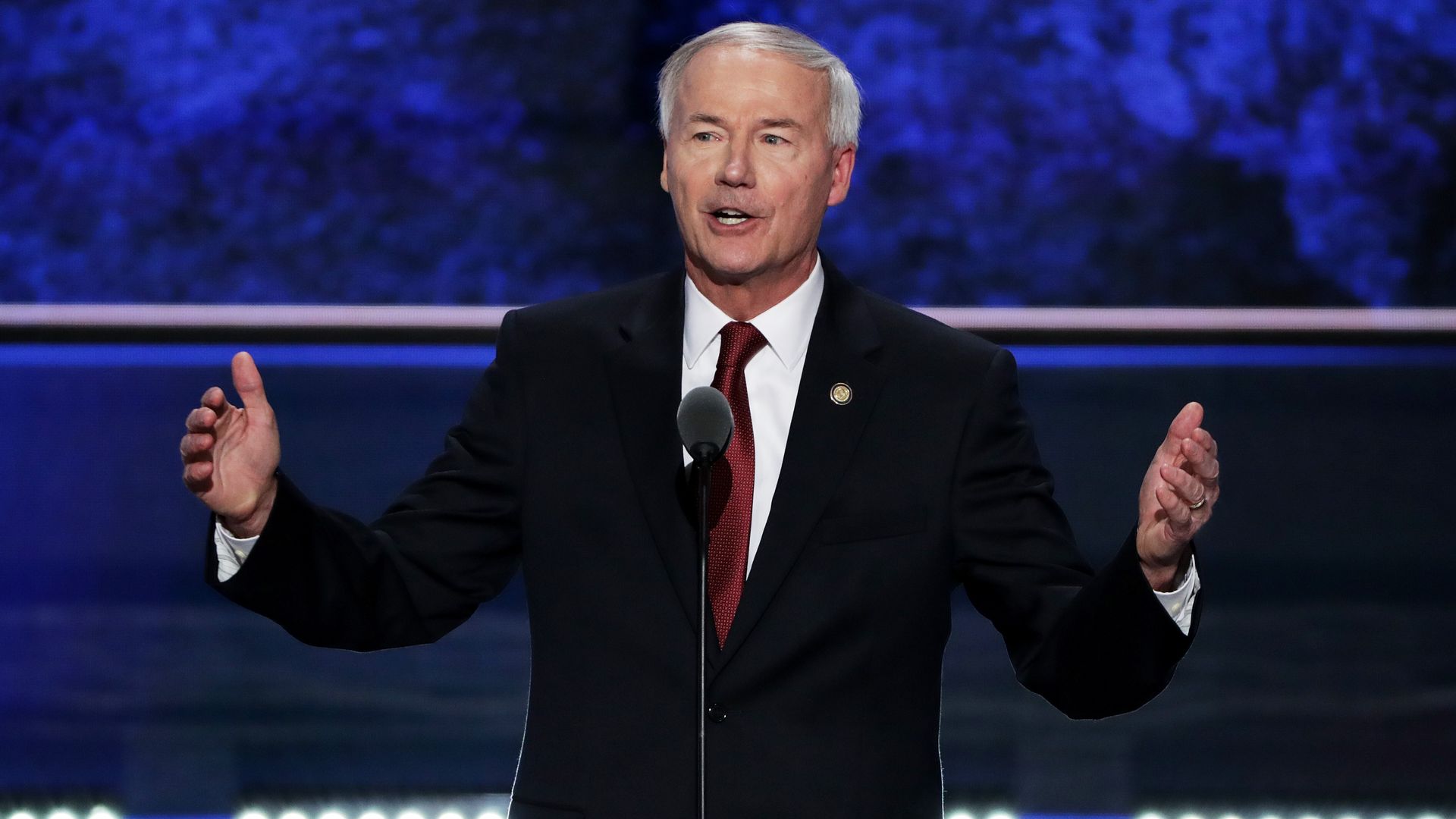 In a lawsuit filed Tuesday, the ACLU argued that Arkansas' bill criminalizing gender-affirming care for transgender children violates the 14th Amendment's Equal Protection Clause, plus the 1st Amendment right to free speech.
Why it matters: Arkansas is the only state to pass legislation totally barring gender-affirming care for trans children, as a record number of bills targeting trans youth have been introduced in state legislatures this year.
Details: The ACLU filed the suit on behalf of four trans kids and their families in the state, alongside two doctors challenging the law because it would harm their ability to treat transgender patients.
The ACLU argues the law — which is set to go into effect this summer — violates the 1st Amendment by keeping doctors from recommending gender dysphoria treatment to minors and violates the 14h Amendment by discriminating on the basis of sex.
Arkansas' bill also bans physicians from referring patients to get treatment elsewhere and would block public funds for all treatments related to gender transition for minors. It would also prevent insurance companies from covering procedures.
Flashback: When vetoing the bill, Arkansas Gov. Asa Hutchinson (R) said it would create "new standards of legislative interference with physicians and parents as they deal with some of the most complex and sensitive matters involving young people."
"This one, it was important to draw the line ... it's the most extreme law in the country," he later told Axios.
Hutchinson's veto was overturned by the legislature.
What they're saying: Pediatric endocrinologist Michele Hutchison, one of the doctors challenging the law, told Axios last month that several young people receiving hormone treatment at the Arkansas Children's Hospital had attempted suicide since the bill was approved.
"Our child has known exactly who she is since she was 2 years old," Amanda Dennis, a plaintiff in the suit alongside her 9-year-old daughter Brooke, said in an ACLU press release. The Dennis family may move out of the state if the ban takes hold.
"This is not a surprise. I have not read the complaint yet, and so I have no comment on the legal basis of the case. I will follow the court review with interest," Hutchinson said in a statement to Axios.
What to watch: The ACLU plans to file several more lawsuits over the next few months in response to bills targeting trans youth, Chase Strangio, ACLU deputy director for transgender justice, said in a press release.
If you or someone you know may be considering suicide, contact the National Suicide Prevention Lifeline at 1-800-273-8255 (En Español: 1-888-628-9454; Deaf and Hard of Hearing: dial 711 then 1-800-273-8255) or the Crisis Text Line by texting HOME to 741741.
Go deeper