Over 500 ex-staffers urge Biden to "hold Israel accountable for its actions"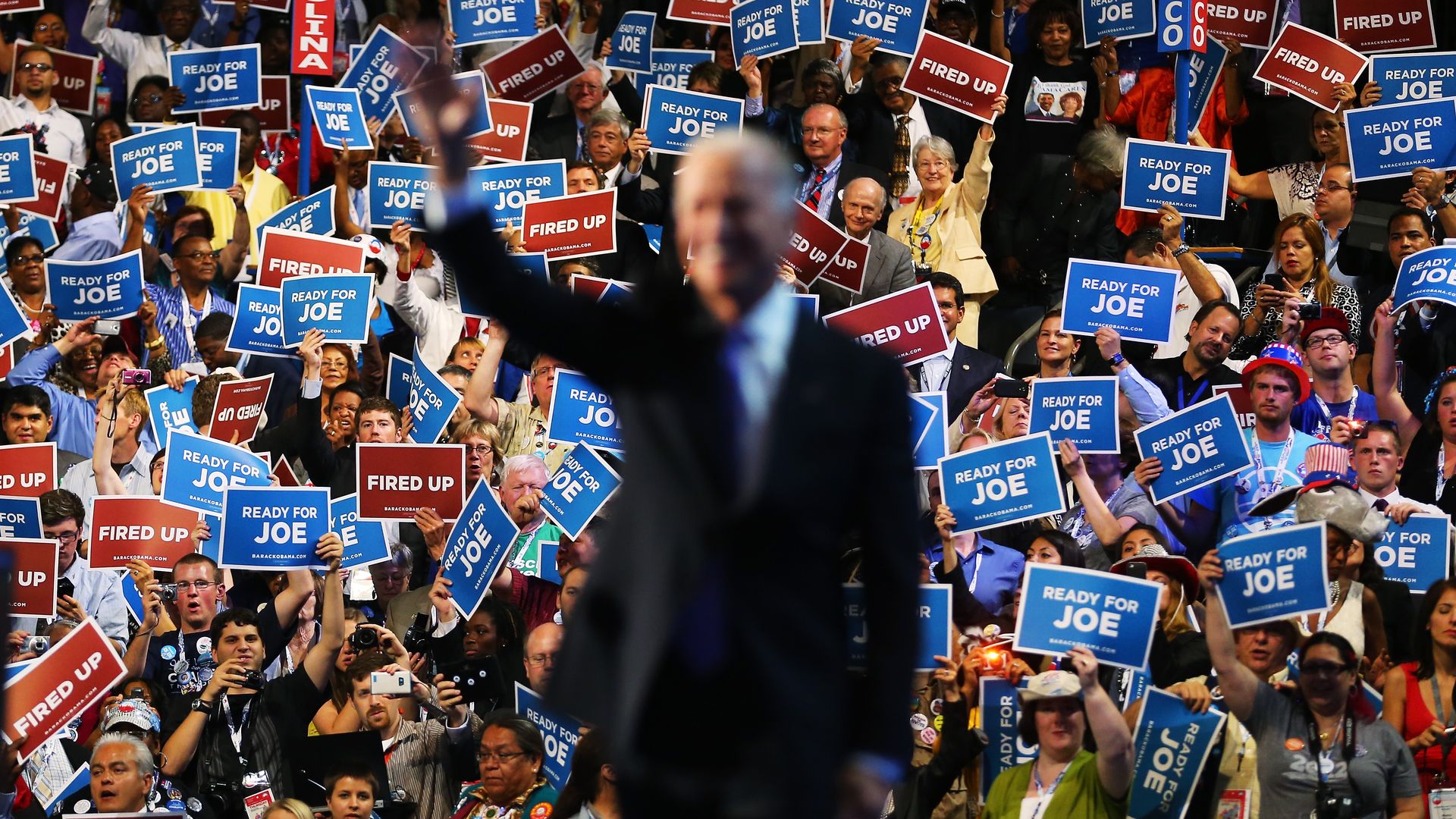 More than 500 former Biden campaign and Democratic Party staffers signed an open letter released Monday urging President Biden to do more to protect Palestinians and "hold Israel accountable for its actions."
Why it matters: Progressives have ramped up pressure on Biden in recent weeks to confront Israel on what they've described as human rights abuses in Gaza, where Israel's government carried out a military offensive in response to rocket attacks by Hamas.
More than 230 Palestinians were killed by Israeli airstrikes in Gaza before a ceasefire came into effect last Friday, per the United Nations.
The strikes destroyed 1,500 housing and commercial units in Gaza and displaced more than 75,000 people. 12 people in Israel were killed by Hamas rockets.
The big picture: Biden has been a strong supporter of Israel for decades. The two-week conflict brought divisions between Biden and progressives in the Democratic Party into public view, as his administration faced pressure to broker a ceasefire while reaffirming its support for Israel's right to defend itself.
What they're saying: The letter, which was first reported by the Washington Post, praises Biden for his administration's work in helping to negotiate a ceasefire, but calls for him to acknowledge the "power imbalance" that saw Israelis "hiding in bomb shelters" as "Palestinians in the Gaza Strip had nowhere to hide."
The staffers ask Biden to address the "underlying conditions of occupation, blockade, and settlement expansion that led to this exceptionally destructive period," arguing that confronting these factors would usher in longer-lasting peace in the region.
The signees say they are "deeply concerned that Israel continues to use U.S.-funded military equipment to kill civilians, target journalists, and violently suppress protests in Israel, the West Bank, and Jerusalem."
"We remain horrified by the images of Palestinian civilians in Gaza killed or made homeless by Israeli airstrikes. We are outraged by Israel's efforts to forcibly and illegally expel Palestinians in Sheikh Jarrah. We are shocked by Israel's destruction of a building housing international news organizations. We remain horrified by reports of Hamas rockets killing Israeli civilians."
— Biden campaign and Democratic staffers in an open letter
The bottom line: The letter includes a list of demands for Biden, including asking Israel to "lift the blockade of Gaza, which has made it an uninhabitable open-air prison," and end settlement expansion in the West Bank.
The letter also asks the Biden administration to "[s]upport Palestinians' right to self-determination."
"Returning to the status quo is untenable, as it deprives Palestinians of peace, security, and self-determination," the letter reads.
Go deeper:
Go deeper