Key impeachment witness Gordon Sondland sues Pompeo for legal fees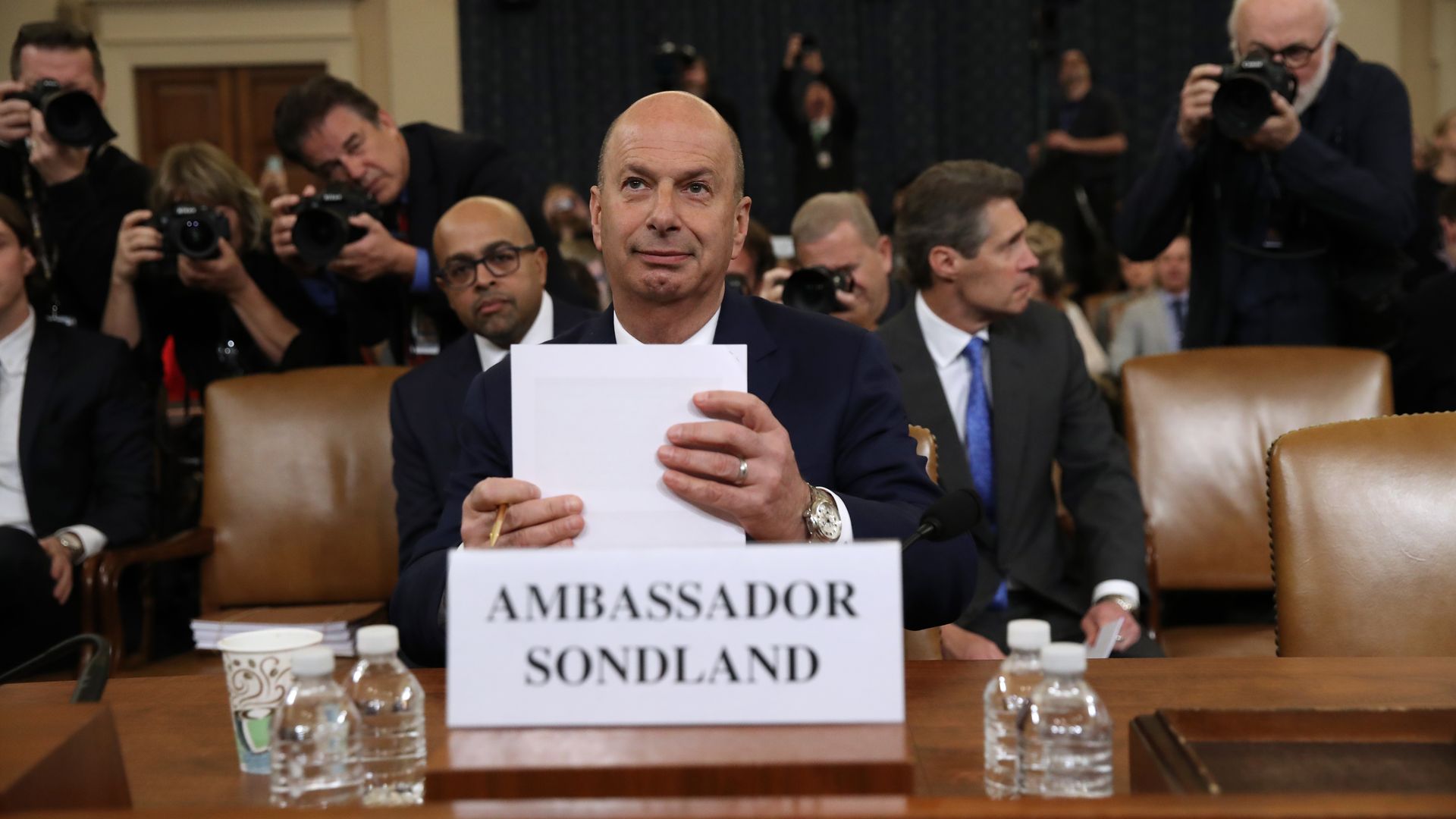 Former U.S. Ambassador to the EU Gordon Sondland is suing former Secretary of State Mike Pompeo and the U.S. government for $1.8 million, alleging that the State Department reneged on its promise to pay the legal fees he incurred when he delivered bombshell testimony during Trump's first impeachment.
Flashback: Sondland testified in 2019 that he believed the Trump administration conditioned military aid to Ukraine on whether its government would investigate Joe and Hunter Biden. Sondland claimed he worked with Rudy Giuliani "at the express direction" of President Trump on matters involving Ukraine.
Details: The suit alleges Pompeo told Sondland he wouldn't get government lawyers to help him prepare for the trial, but that he would be reimbursed if he hired his own counsel.
Sondland claims that changed after he offered damning testimony about Trump's "quid pro quo" with Ukraine, and after he refused to resign as part of a State Department purge of witnesses linked to the impeachment.
Meanwhile, Trump sought to distance himself from the ambassador, according to the suit.
What they're saying: "Despite the fact that Ambassador Sondland was subpoenaed in his capacity as an official Government diplomat, Defendants bucked normal convention and denied him the services of any Government counsel," the lawsuit says.
"This act was especially problematic in this instance because the amount of preparation needed to comply with the subpoenas was staggering."
"Ambassador Sondland was required to prepare for highly charged testimony under oath with international scrutiny without access to materials or anyone from the Government agencies which had knowledge of all the facts relevant to his testimony."
What to watch: Sondland is demanding the U.S. government or Pompeo pay his fees, either because the former secretary of state broke a contractual commitment or misrepresented his authority to ensure the government would pay.
Go deeper