European Council condemns forced plane landing by Belarus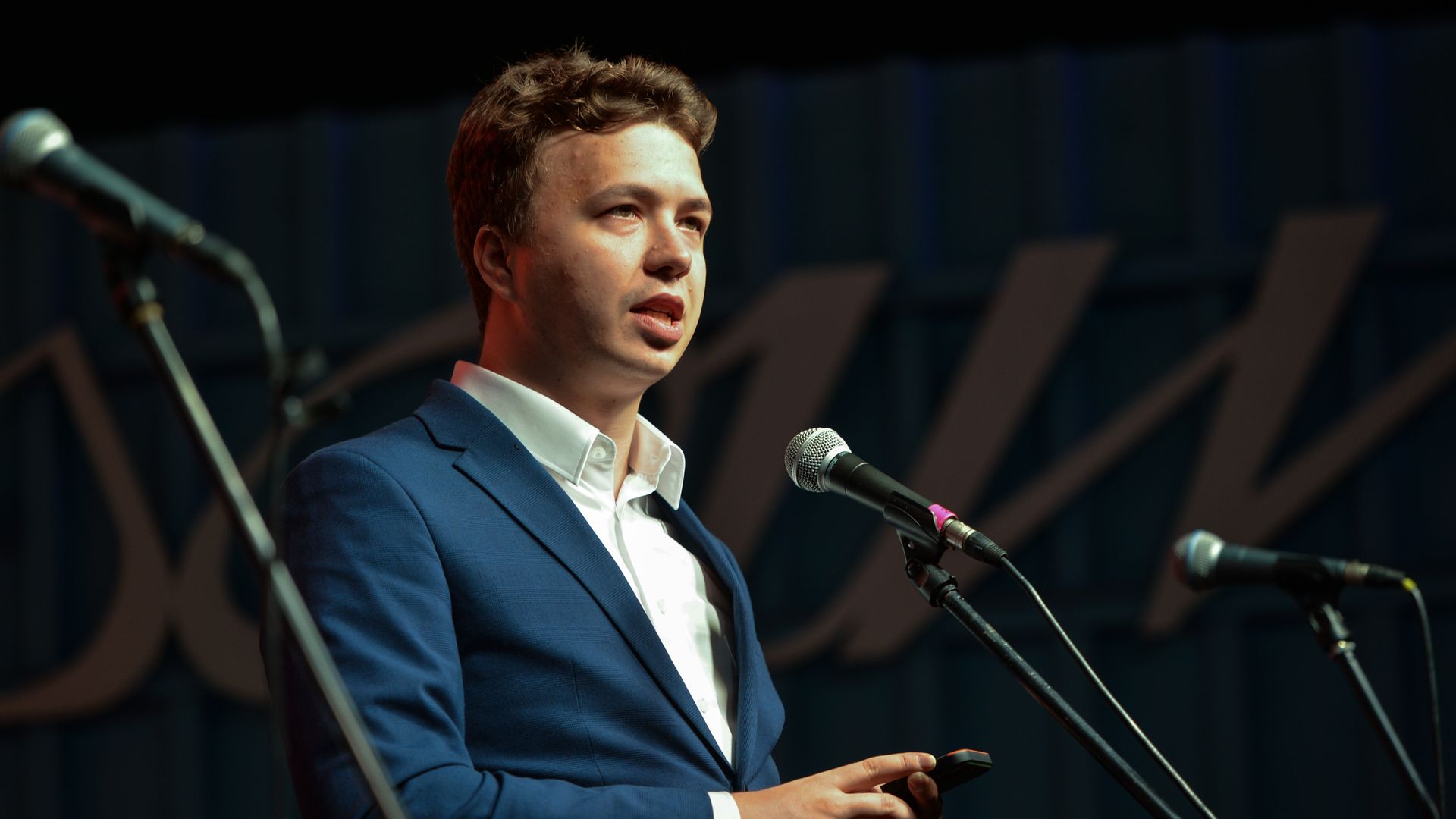 The European Council adopted a series of conclusions Monday that "strongly condemned" Belarus' diversion of a commercial plane and subsequent arrest of an opposition leader and outlined a series of next steps.
State of play: Among their conclusions, the Council called for the immediate release of Raman Pratasevich and Sofia Sapega, and for an independent investigation into the episode. It also called for the submission of sanctions proposals and advised EU-based airlines not to fly over Belarus.
The big picture: A Ryanair flight en route from Greece to Lithuania was forced by Belarusian air control to land in Belarus' capital Minsk Sunday, under the pretext of a "a potential security risk on board."
Belarusian authorities then detained Pratasevich, a journalist and activist who was critical in organizing mass anti-government protests in Belarus last year.
Belarus' actions have been described a "hijacking" by some European leaders, who have vowed the country will face consequences.
The European Humanities University in Lithuania released a statement Monday confirming that one of its students, Sofia Sapega, had also been on the flight and detained in Minsk.
What they're saying: "The European Council strongly condemns the forced landing of a Ryanair flight in Minsk, Belarus, on 23 May 2021 endangering aviation safety, and the detention by Belarusian authorities of journalist Raman Pratasevich and Sofia Sapega," said the Council in its statement.
Of note: On Monday a video circulated online in which Pratasevich says that he is "in good health and acknowledges having played a role in organizing mass disturbances in Minsk last year," Reuters reports.
He adds that he is in a pre-trail detention facility in Minsk and "denies having heart problems reported by some social media," per Reuters.
Pratasevich's supporters have claimed that the video was made under duress.
"The regime's propaganda channels posted a video of arrested Raman Pratasevich, saying that he is treated lawfully in the Minsk Detention Center №1. This is how Raman looks under physical and moral pressure. I demand the immediate release of Raman and all political prisoners," exiled opposition leader Sviatlana Tsikhanouskaya tweeted.
Go deeper