Atlanta Fed president Raphael Bostic is ready for the chair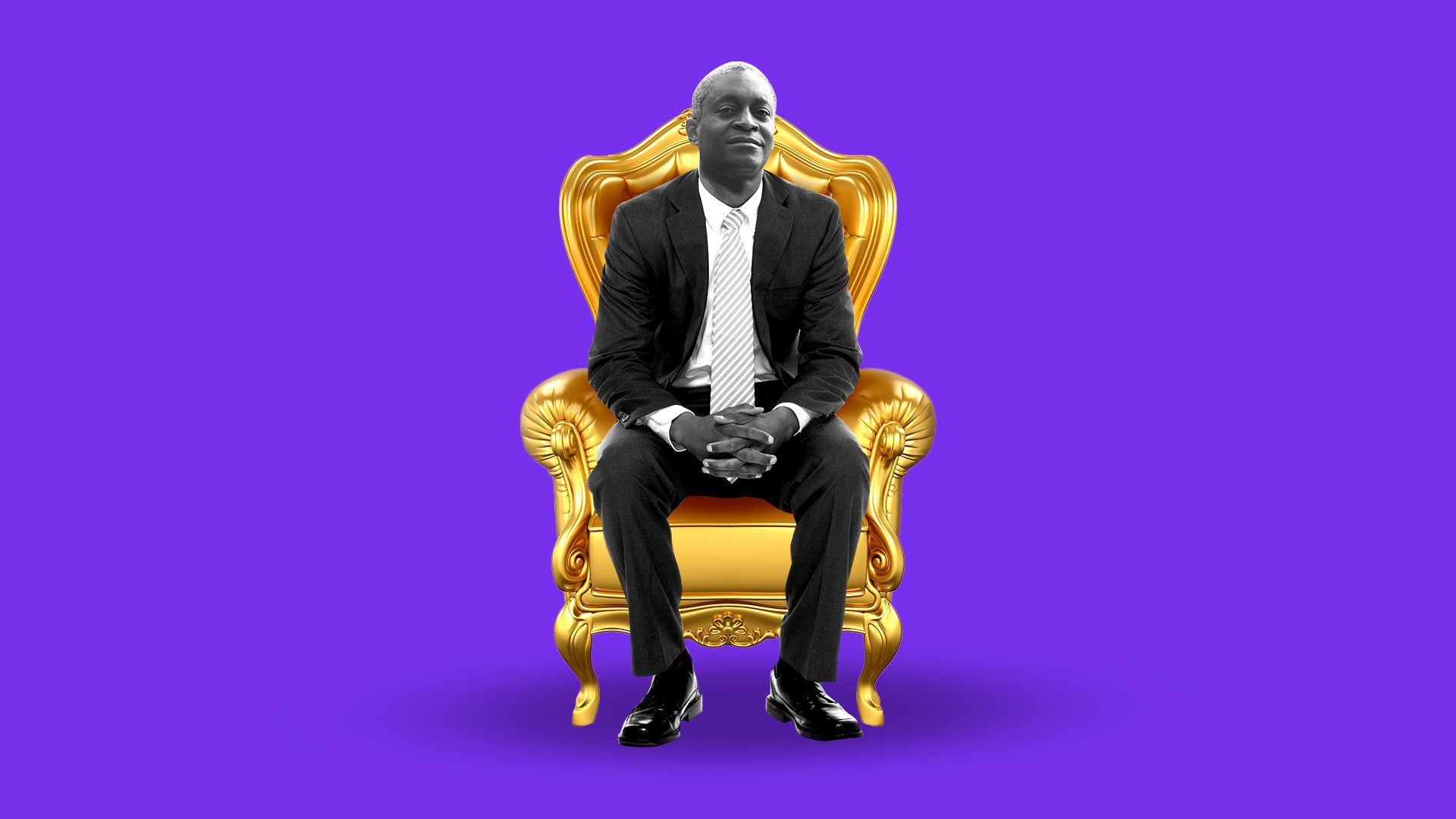 There's been a lot of chatter about who will be the next chair of the Federal Reserve if President Biden decides to replace Jerome Powell when his term ends next year, and much of that chatter has included Atlanta Fed president Raphael Bostic.
Why it matters: With the Fed having exerted greater control over the U.S. and global economy than at any time in history, the person in charge has become more important than ever.
In an "Axios on HBO" interview, Bostic says he would push the Fed further toward a mission of economic inclusivity and equity.
Where it stands: It's certainly not a foregone conclusion that Powell will be replaced, but the possibility of Bostic stepping into the role has become a talking point in economics circles and in Washington.
"I hear about it all the time," he says as part of a wide-ranging interview for "Axios on HBO."
What's happening: Since he took over as president of the Atlanta Fed in 2017, Bostic says the central bank already has changed.
"My voice is distinctive and I've been talking about things in ways that have been different," he says.
"We are opening up and having conversations that we weren't having four years ago, and it's allowing different voices to come into the policy space. It gives us an opportunity to promote interesting ideas that maybe weren't getting the same type of attention."
What it means: Many of those ideas are based on the way discrimination has historically disadvantaged certain Americans — in particular Black, low-income and rural Americans — and ways to counter that discrimination.
Between the lines: Bostic has not been shy about the fact that countering discrimination could mean there's a need for reparations in the U.S.
"I think we need to find ways to not have the bad things that happened in the past continue to penalize people today," he says.
"Whether it be lump sum reparations or other things, I don't know. But I think we need to have that conversation and we need to find ways to get solutions so that every person is judged by their ability and their talent as opposed to their historical circumstance."
One level deeper: Bostic points to the housing market as an example of how historically Black Americans' lack of wealth has kept them from qualifying for mortgages and housing policies like modern-day redlining, loan segregation and discriminatory appraisals continue to further stack the deck against Black folks.
"History really left a certain group of people at a tremendous disadvantage and we should be talking about that," he says. "We're now having different conversations. And I think that's really an important thing."
The last word: Bostic says if he becomes chairman he'll do things "differently" than they've been done before.
"I'm going to be personal. I'm going to be engaging. I'm going to solicit input and really try to not be the chair, who sits up here, and then all the staff is at a different level."
"I do want people, if they have a different view, to tell me. ...I don't want there to be any barriers for people to really give me their strongest and clearest thinking."
Go deeper