Take Two offers unusual peek into gaming's future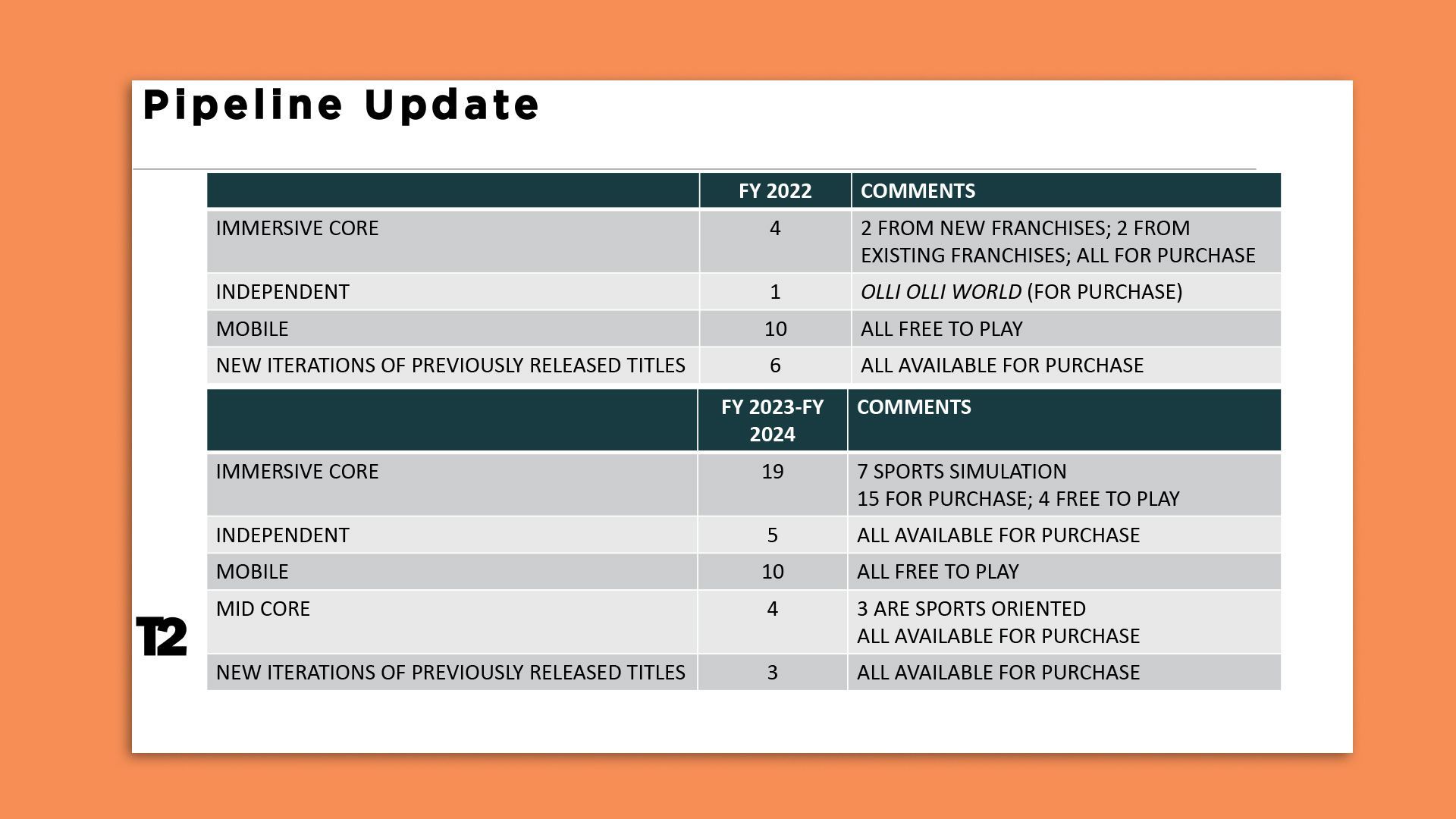 Take Two Interactive bucked convention by providing some details about the company's upcoming games as far into the future as early 2024.
Why it matters: In the intensely secretive video game industry, big publishers avoid even admitting the existence of games coming out in the year you're currently in, let alone years that are a presidential election cycle away.
Take Two issued a pipeline update to investors on Tuesday that lists 21 games set for release by the end of March 2022, including an enhanced version of "Grand Theft Auto V."
The bigger surprise was the breakdown of some 41 more games slated for release between April 2022 and the end of March 2024.
Between the lines: This was not quite a Marvel Studios move, with titles and release dates stretching out for years.
Take Two's pipeline update is more general, listing quantities of types of games — 19 "immersive core" games, three "new iterations of previously released titles" and so on.
That makes it like one of those dinner party logic puzzles, where you have to figure out where Mr. Brown sat, and all you know is that he was next to a person wearing a hat and all the people wearing hats were left-handed.
From Take Two's announcement, we know that seven of those 41 2022–2024 games will be sports, so it's safe to assume two "NBA 2K" annual releases, probably some "WWE 2K," maybe a new "PGA 2K" and the return of "NFL 2K."
This is how unpacking secrets works in gaming: A Take Two executive hints, as they did yesterday, that "Borderlands" studio Gearbox has a new franchise coming soon or that "Civilization" studio Firaxis has "several exciting projects" to be announced this year, and those become headline items.
Yes, they've also got a new "Bioshock" game coming some day, as has been reported repeatedly, but they don't get that specific just yet.
The big picture: Game companies maintain that secrecy is needed to maintain competitive advantages and to avoid frustrating fans or confusing stockholders.
The creation of games is a notoriously difficult process, with even many great games in rough shape until they're nearly completed.
That leaves lots of games prone to delays and makes any forecasts as unreliable as putting a date on next month's thunderstorms.
"The price that we pay for being as transparent about our future pipeline is that certain things will change," Take Two chairman Strauss Zelnick noted to investors yesterday.
What's next: Much of the industry's still-secret 2021 release calendar will be revealed by mid-June's E3, the annual event that tends to preview the year's big fall/holiday releases.
For games beyond 2021? With most game publishers, don't expect many hints until next year.
Go deeper