AP releases bodycam footage of Black man who died in custody after 2019 arrest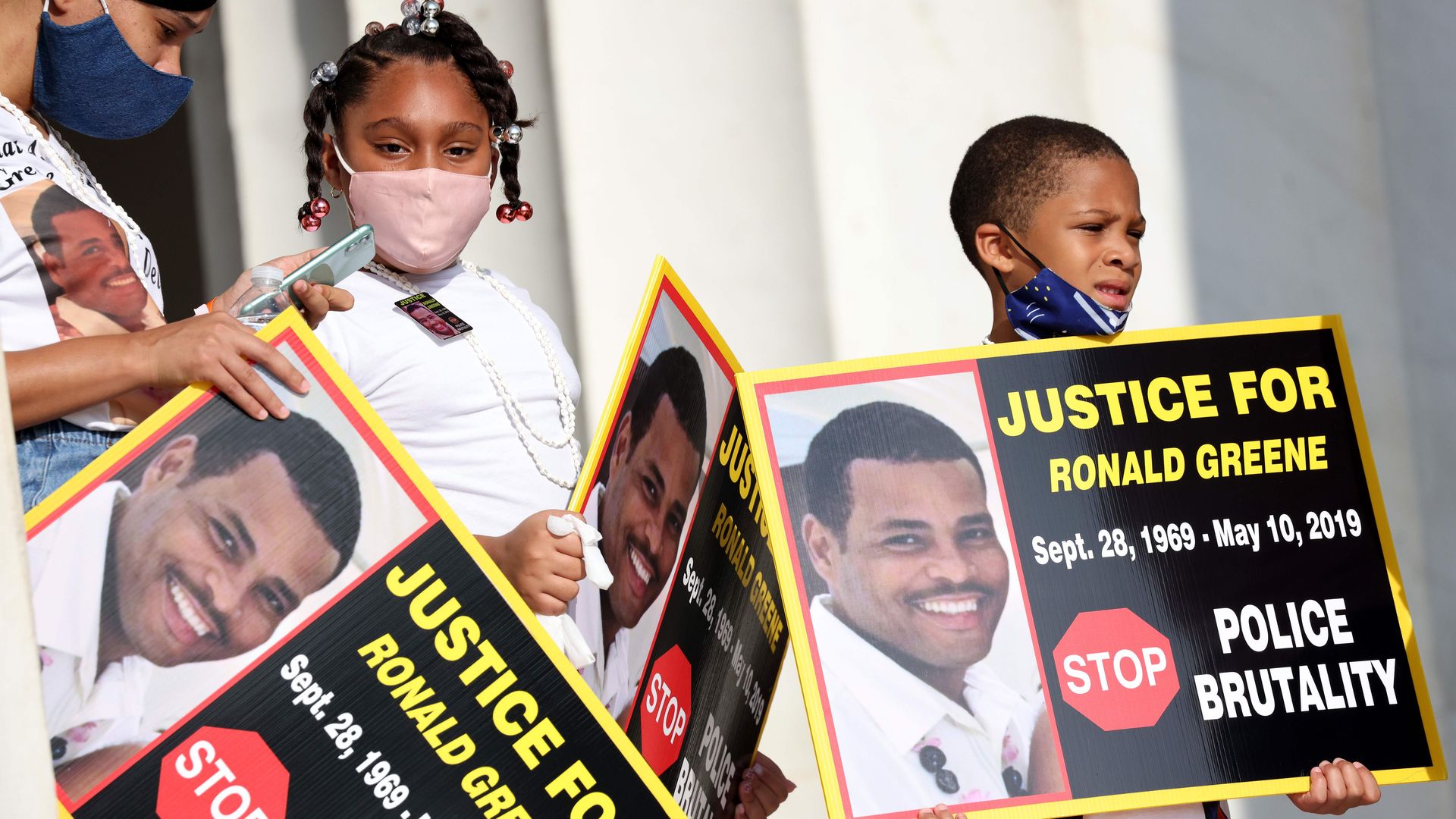 Bodycam footage obtained and released by AP shows Louisiana state troopers stunning, punching and dragging Ronald Greene, a Black man who died in police custody in 2019 following a high-speed chase near the city of Monroe.
Why it matters: The arrest of Greene is the subject of a federal civil rights investigation, and Louisiana authorities refused to publicly release footage captured during the arrest for two years, which incited accusations of a cover-up.
Body camera footage from in-custody deaths are typically released almost immediately, according to AP.
The state troopers who were on the scene of the arrest first claimed that Greene died on impact after crashing his vehicle into a tree during the chase.
State Police later released a short statement saying Greene struggled with troopers and died on the way to the hospital.
Greene, who was 49 years old at the time of his death, failed to pull over for an unspecified traffic violation on May 10, 2019, about 30 miles south of the Arkansas state line.
The footage shows Greene raising his hands and surrendering to officers after crashing his SUV and apologizing for leading them on the chase.
Trooper Dakota DeMoss and Master Trooper Chris Hollingsworth approach the vehicle, and Hollingsworth shocks Greene with a stun gun through the driver's side window within seconds of arriving at the vehicle.
Greene can be heard yelling, "I'm your brother! I'm scared! I'm scared!" after being stunned for the first time.
Greene exits through the passenger side of his vehicle, and a trooper attempts to wrestle him to the ground by putting him in a chokehold and punching him in the face, while another trooper can be heard calling him a "stupid motherf---—."
Another trooper stuns Greene's backside and warns, "Look, you're going to get it again if you don't put your f---—- hands behind your back!
After Greene is on the ground lying on his stomach, Hollingsworth strikes Greene multiple times in the back before finally handcuffing him.
Trooper Kory York is later shown dragging Greene by his leg shackles while on his stomach and not resisting.
At one point, Greene is heard screaming and gurgling. He is left unattended, handcuffed and on his stomach, and then is not seen on camera for several minutes.
When Greene reappears, he is limp, unresponsive and bleeding from his head and face while still on his stomach. He is then loaded onto an ambulance gurney with his arm cuffed to the bedrail.
In another video obtained by AP, Hollingsworth can be heard saying that he "beat the ever-living f--- out of him," referring to Greene.
Hollingsworth is also heard saying, "Choked him and everything else trying to get him under control. He was spitting blood everywhere, and all of a sudden he just went limp."
What they're saying: Andrew Scott, a former Boca Raton, Florida, police chief who is also often an expert witness in use-of-force cases, told AP that while Greene "was not without fault" during the incident, dragging him while he was restrained and facedown was "malicious, sadistic, completely unnecessary."
Charles Key, another use-of-force expert and former Baltimore police lieutenant, in an interview with AP criticized the troopers' choice to leave Greene unattended and facedown for several minutes.
"You don't leave somebody lying on the ground, particularly after you've had this fight," Key said. "The training has been for a number of years that, as soon as you get someone under control, you put them on their side to facilitate their breathing ... and particularly this guy, because he was very heavy. "
The other side: Louisiana State Police said in a statement to AP that the "premature public release of investigative files and video evidence in this case is not authorized and ... undermines the investigative process and compromises the fair and impartial outcome."
The big picture: Louisiana Gov. John Bel Edwards (R) allowed Greene's family to view the same footage last year. Greene's family filed a federal wrongful-death lawsuit, alleging the troopers left Greene "beaten, bloodied and in cardiac arrest."
Greene's cause of death remains unclear, though a Union Parish coroner said last year Greene's death records did not mention a struggle with police but his death was ruled accidental and attributed to cardiac arrest following a car crash, according to AP.
York was suspended without pay for 50 hours for dragging Greene and for improperly deactivating his body camera during the arrest.
Hollingsworth died in a single-vehicle crash hours after he learned he would be fired over the Greene case, according to AP.
DeMoss was arrested for his role in a separate incident last year during which he and two other troopers allegedly used excessive force while handcuffing a motorist following another police pursuit.
Go deeper