Manchin, Murkowski call for reauthorization of Voting Right Act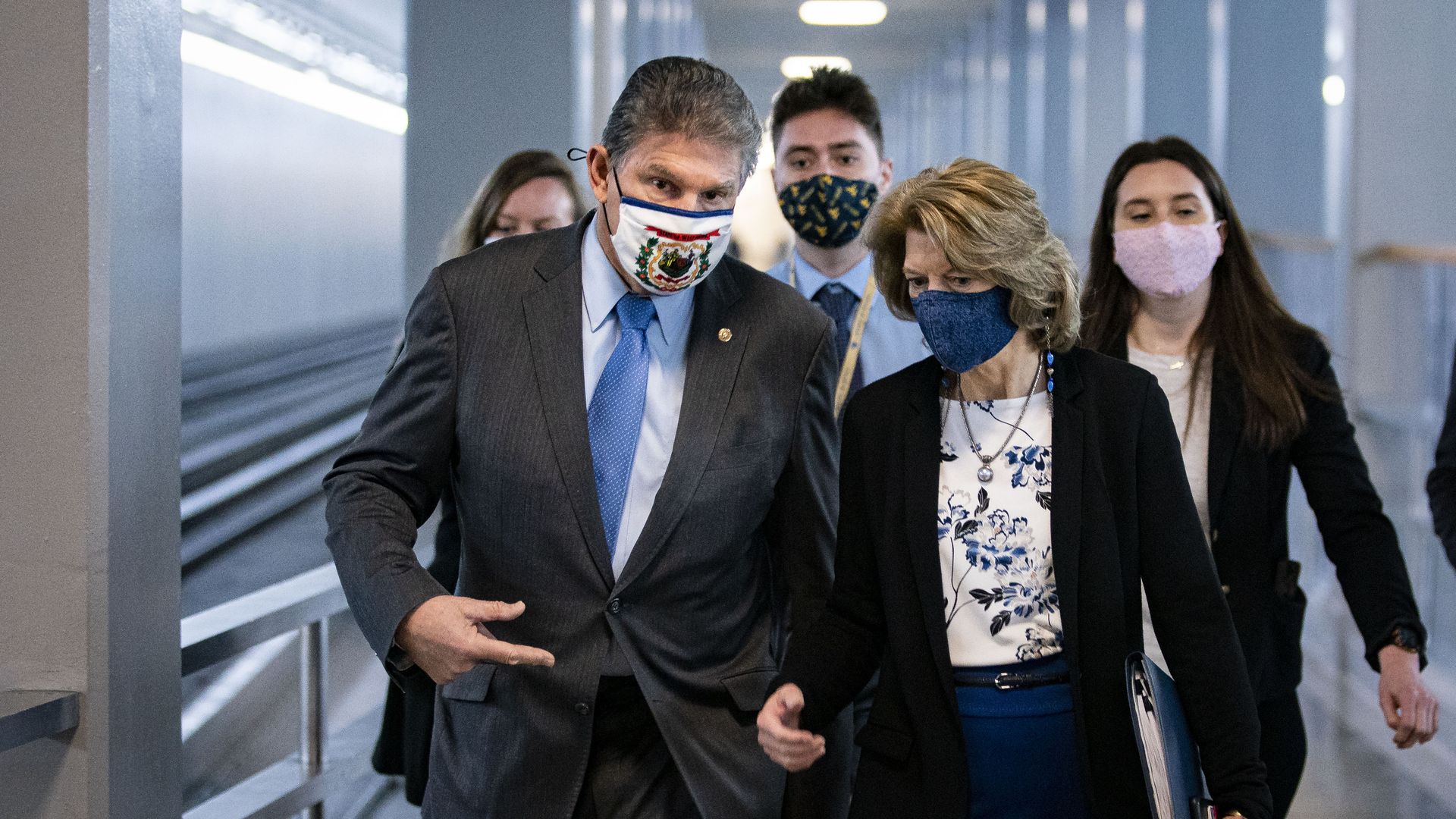 Sens. Joe Manchin (D-W.Va.) and Lisa Murkowski (R-Alaska) sent a letter this week urging to congressional leaders to advance a bipartisan reauthorization of the Voting Rights Act of 1965, which banned discriminatory voting practices.
Why it matters: The bipartisan letter comes as Manchin faces criticism for withholding his support for the "For the People Act," a sweeping bill that would expand ballot access.
Voting rights have emerged a key issue this year as Republicans in legislatures throughout the country seek to tighten voting restrictions. Democrats have said the move will disproportionately target voters of color.
The letter is an attempt to show bipartisan support for bolstering voting access, but it's not clear enough Republicans will back the legislation, NBC News reports.
Context: The Voting Rights Act was last reauthorized in 2006. Since enactment, the act has been authorized and amended five times with "large, bipartisan majorities," Manchin and Murkowski write.
The Supreme Court in 2013 gutted a key section of the act, which determines which states must get federal pre-approval before they can change their voting laws but left it to Congress to rewrite the law.
What they're saying: "Protecting Americans' access to democracy has not been a partisan issue for the past 56 years, and we must not allow it to become one now," the senators wrote.
"Inaction is not an option. Congress must come together – just as we have done time and again – to reaffirm our longstanding bipartisan commitment to free, accessible, and secure elections for all."
The letter is addressed to Senate Majority Leader Chuck Schumer (D-N.Y.), Senate Minority Leader Mitch McConnell (R-Ky.), House Speaker Nancy Pelosi (D-Calif.) and House Minority Leader Kevin McCarthy (R-Calif.).
Manchin has maintained that legislation addressing voting rights requires a "bipartisan solution."
Murkowski said she had not received "much reaction" from other Republicans about the letter, per Reuters.
Go deeper