"Extremely severe" Cyclone Tauktae hits India as 150,000 flee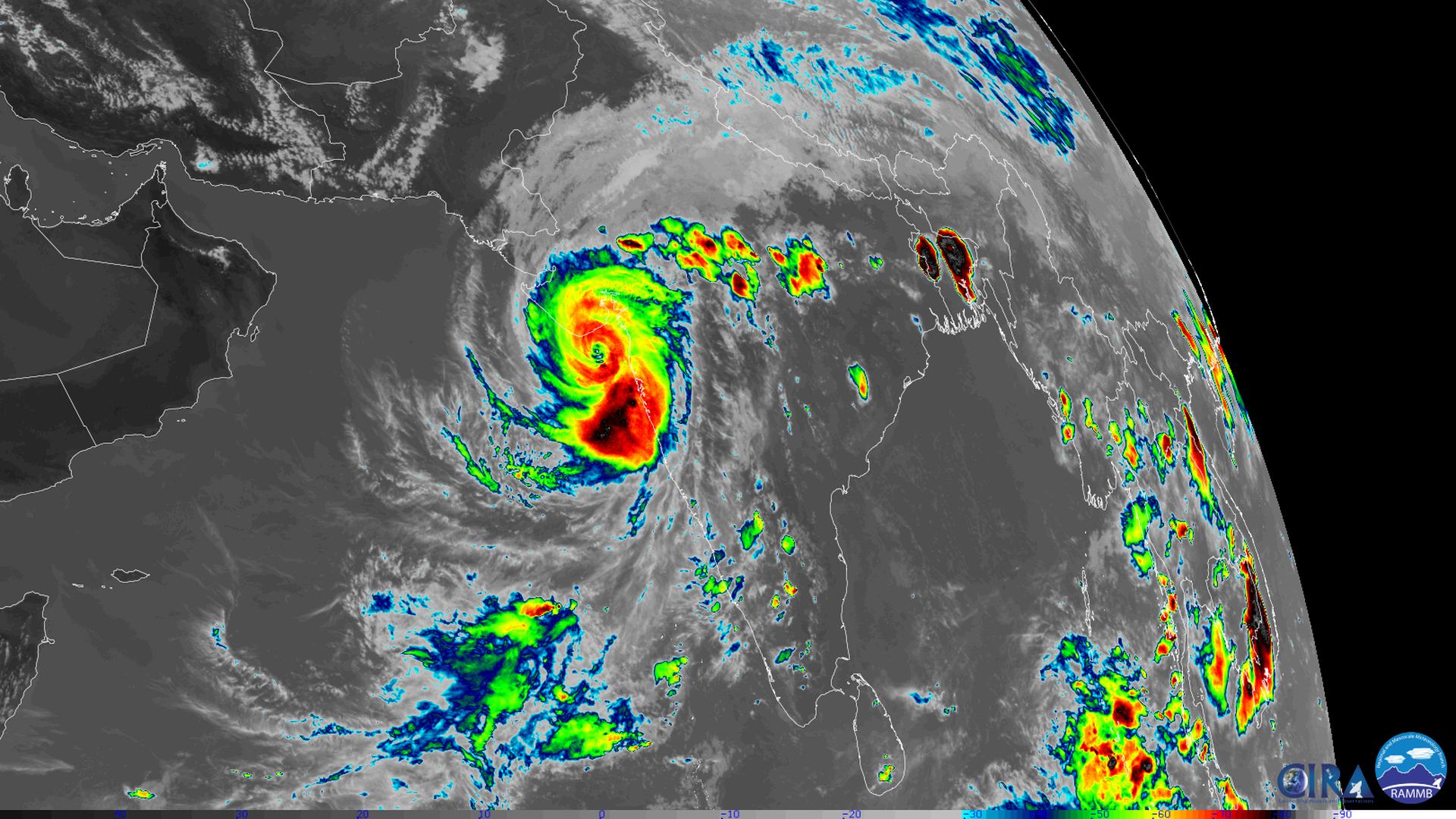 Tropical Cyclone Tauktae is moving ashore along the coast of Gujarat, India, bringing with it high winds, extremely heavy rains, storm surge flooding along the coast, and inland flooding risks that could stretch for hundreds of miles.
The big picture: The storm underwent rapid intensification Sunday, becoming equivalent to a Category 4 storm by the end of the day, according to data from the Joint Typhoon Warning Center.
While Tauktae has since weakened some, to a Category 3 storm, it is still packing a formidable punch. Some of the worst impacts will be felt from southern Gujarat to near Ahmedabad, which is positioned to the east of the storm center.
Details: The storm has been fed by warm waters in the eastern Arabian Sea, as well as atmospheric conditions that have been ideal for the formation of tropical cyclones. In Mumbai, high winds and heavy rains buffeted the city during the past 24 hours, snarling road and air travel, but the city escaped a direct hit from the storm.
The storm is the most intense to strike Gujarat in more than two decades, when a 1998 cyclone killed at least 4,000 people.
Since then, however, India has made great strides in preparing for such natural disasters. 150,000 people have been evacuated from the most vulnerable locations ahead of the storm's landfall, according to Reuters.
So far, at least 12 deaths are being blamed on the storm, Reuters reports.
Threat level: While India has seen more intense storms before, Cyclone Tauktae is hitting the country at a time of heightened stress due to the explosion in COVID-19 cases and deaths. This makes preparing for and responding to the cyclone much more difficult.
"This cyclone is a terrible double blow for millions of people in India whose families have been struck down by record COVID infections and deaths. Many families are barely staying afloat," Udaya Regmi, South Asia head of the International Federation of Red Cross, said in a statement on Monday.
The storm also threatens Asiatic lions, an endangered species, that are found in the Gir Forest of Gujarat, where the center of the storm is coming ashore.
"There are around 40 lions in some patches in coastal Saurashtra, and we are monitoring them. Some lions have already moved to higher grounds. We are keeping fingers crossed, and praying the lions will be safe," Shyamal Tikadar, principal chief conservator of forests in Gujarat, told Reuters.
Context: The storm comes as evidence continues to pile up that human-caused climate change is causing tropical cyclones to become more intense, dump heavier rainfall, and be more likely to undergo rapid intensification.
What's next: Cyclone Tauktae's winds will quickly slow after making landfall, but it will remain a heavy rain producer all the way to the north and east, including in New Delhi, which has been especially hard hit by COVID-19.
A foot of rain is expected all the way into northern India. In the Himalayas, heavy snow may fall later this week.
Go deeper