U.S. gaming outlets remove posts supporting Palestinians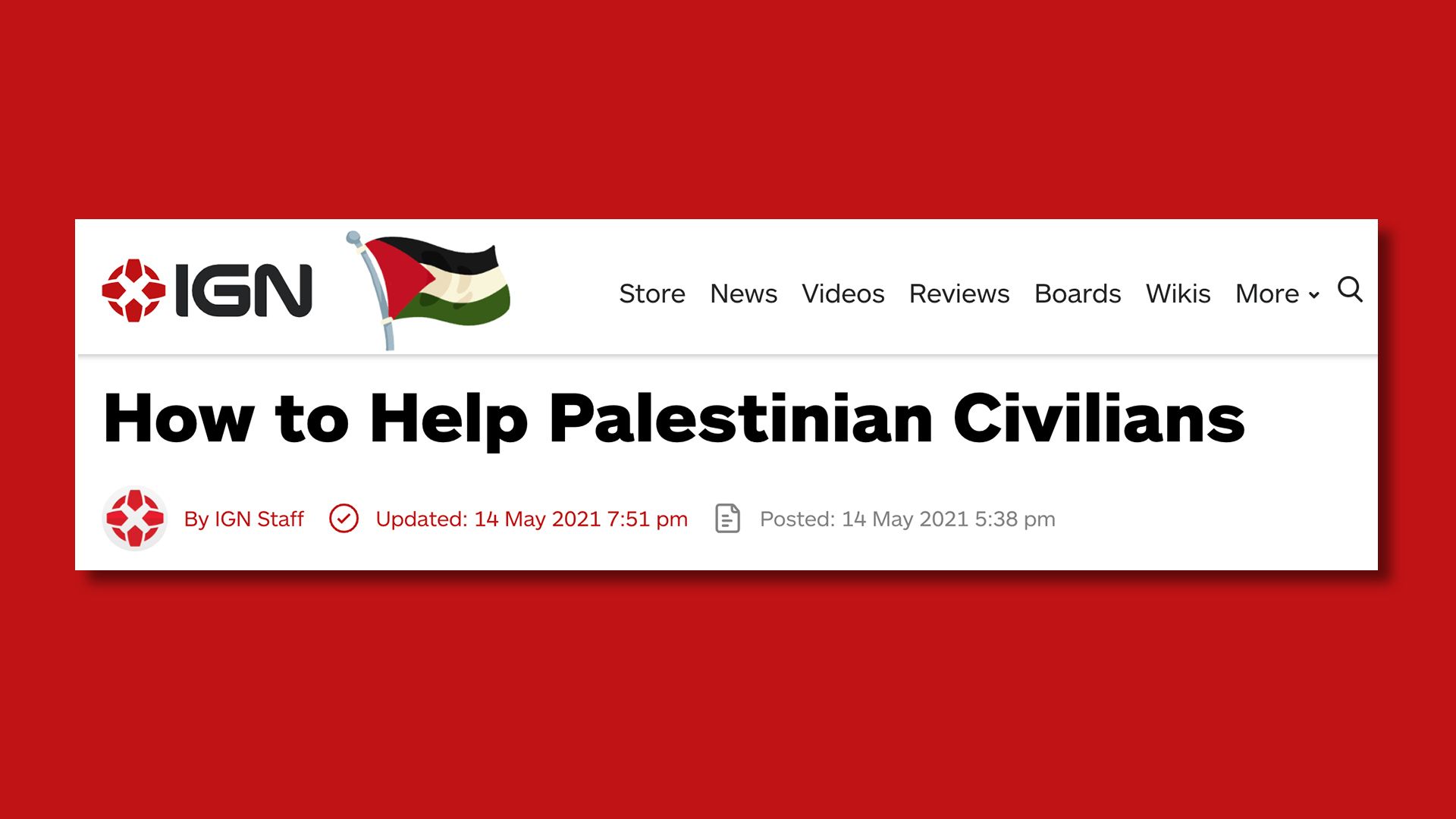 IGN, the biggest video game media outlet in North America, this weekend published an article urging its more than 92 million readers to donate to charities to help Palestinians civilians. By Sunday afternoon, the article was deleted.
The big picture: Games media weighs in on politics more than outsiders might expect, but the mainstream and often more restrained IGN publishing the piece made this turn of events unusual even to gaming insiders.
The push to speak up for the Palestinians animated much of the past week, as some developers and members of the media urged their peers to not be silent.
The original post kicked off a wave of similar articles from other top gaming outlets.
Two of those posts, from Ziff Davis-owned IGN and GameStop-owned Game Informer were deleted by the end of the weekend.
Representatives for both outlets did not comment by press time.
Between the lines: The various outlets' posts largely focused on the suffering of Palestinians and the aggression of the Israeli military.
"Palestinian civilians are currently suffering in great numbers in Jerusalem, Gaza, and West Bank, due to Israeli forces," the now-deleted IGN article began.
It linked to articles from The New York Times and Vox to explain the conflict and linked to five charities, including the Palestine Children's Relief Fund.
By Saturday, GameSpot, the second-largest English-language publication, published a similar article, as did Game Informer and Kotaku, the last of which was explicitly critical of Israel.
Direct reaction on social media to the outlets' posts seemed largely positive.
"More companies in the gaming industry need to be like this!" read one response to GameSpot's article, which remains online.
But the blowback to IGN's effort, some clearly from within, was evident from the start.
On Saturday morning, IGN Israel, which is operated by a separate company under a licensing agreement, condemned the post, saying it was "misleading."
The Palestinian flag, which IGN had depicted next to its logo, was replaced with a red cross.
The wave of articles supporting Palestinians had left game developer Rami Ismail, a frequent advocate about issues regarding the Middle East, with mixed feelings.
"I have spent a lot of time at my computer these past days watching the surge of support with happy tearful exhaustion," he told Axios over Twitter DM.
But he said he was tired and disappointed it had taken this long for members of the gaming media, who are often very open about their politics, to advocate for Palestinians.
He attributed the change to the increased number of Arabs, Muslims, and Palestinians in the industry, though he said that by speaking out they face increased Islamophobia and issues getting visas.
Go deeper:
Go deeper