PlayStation 5's "Returnal" revitalizes a Finnish studio
Housemarque, a 26-year-old video game development studio in Finland with a reputation for pushing the limits of PlayStation hardware, is making a comeback with its recent PS5 release "Returnal."
"I think we're now finally understanding what we can do," Housemarque marketing director Mikael Haveri told Axios.
The big picture: In the difficult world of video game development, few studios are able to survive independently for a quarter century, but Housemarque has recovered from very public setbacks.
The studio long focused on the development of smaller, dazzling, arcade-style action games with simple controls and lots of enemies to zap into colorful explosions.
But in 2017, studio CEO Ilari Kuittinen proclaimed "arcade is dead," blaming "lackluster sales" of the studio's self-published game "Nex Machina." Housemarque would try to make something more mass market.
"I think the Finnish mentality drives that a lot," Haveri told Axios. "We have to be realistic about what we're going against."
The studio's resurgence began with the development of "Returnal," which started in 2017 as a smaller "traditionally-sized" Housemarque game.
It was always going to be a departure for Housemarque: a game set in a 3D space, rather than on the flatter terrains of its earlier arcade-style work.
And it was always going to star Selene, an astronaut stranded on a mysterious planet, locked in constant shoot-outs with aliens who emit torrents of energy bullets in a variety of patterns.
But it wasn't initially going to have cinematic sequences, voice-over or other production value accoutrements.
During development, demos of "Returnal" kept impressing publisher Sony, which was funding the game.
"At each point, we kind of got a little bit more availability to scope it out more and to grow the game," Haveri said.
That led to plans for a full-scale release, and Sony set the "Returnal" price tag at $70, making it one of the first games in decades to sell for more than the industry standard ceiling of $60.
Haveri said Housemarque found out about the price "around the same time as the general public," late last year.
The studio was already focused on justifying a higher price than Housemarque's older $20 arcade-style titles, precluding any developmental impact of $60 vs $70, he said.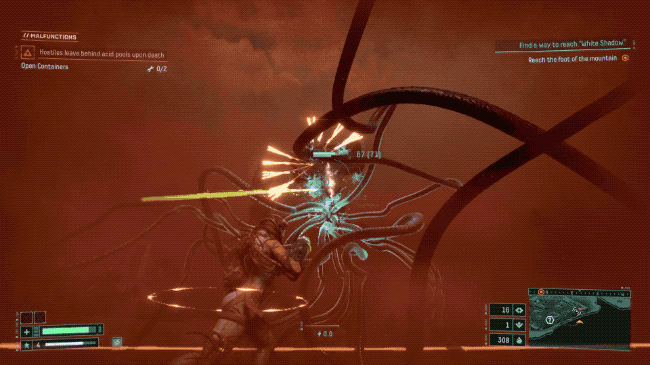 "Returnal" taps into the PS5 hardware to create a visually sensational game full of detail and movement.
The game renders at 1080p resolution, upscaled to 4K, at a target 60 frames per second (with only occasional dips.)
A "particle engine" produces the game's bullets, explosions and impressively detailed enemy tentacles.
A "wind system" allows all these elements in the game to interact with each other. "So if you shoot stuff, the fog disappears out of the way, and so on," Haveri said.
The older PlayStation 4 might be able to render some of those impressive tentacles, but would fall short elsewhere.
"The wind system of interacting with the fog and everything, that would be impossible," Haveri said. "All of the ray-traced audio and global illumination, all of those would be impossible."
Fan and critical response to "Returnal" has been largely positive, with a sprinkling of criticism about design choices that could be addressed in downloadable updates.
Housemarque is looking into improving the game's limited save system, Haveri said, though they've not decided on the best approach to take.
The studio is focused on "new content and updates and fixes and stuff like that." No details yet on the new content, alas.
What's next: For Housemarque, the bleakness of 2017 is past.
"We're a happy 85 [people] now, so we're bigger than we've ever been," Haveri said.
Smaller, arcade-sized games may still be dead for Housemarque, but "arcade as a core tenet of all our games, the gameplay side of it, that's exactly what we'll bring to the new titles that we make," Haveri said.
Go deeper