Ohio offering shot at $1M to vaccinated people in state lottery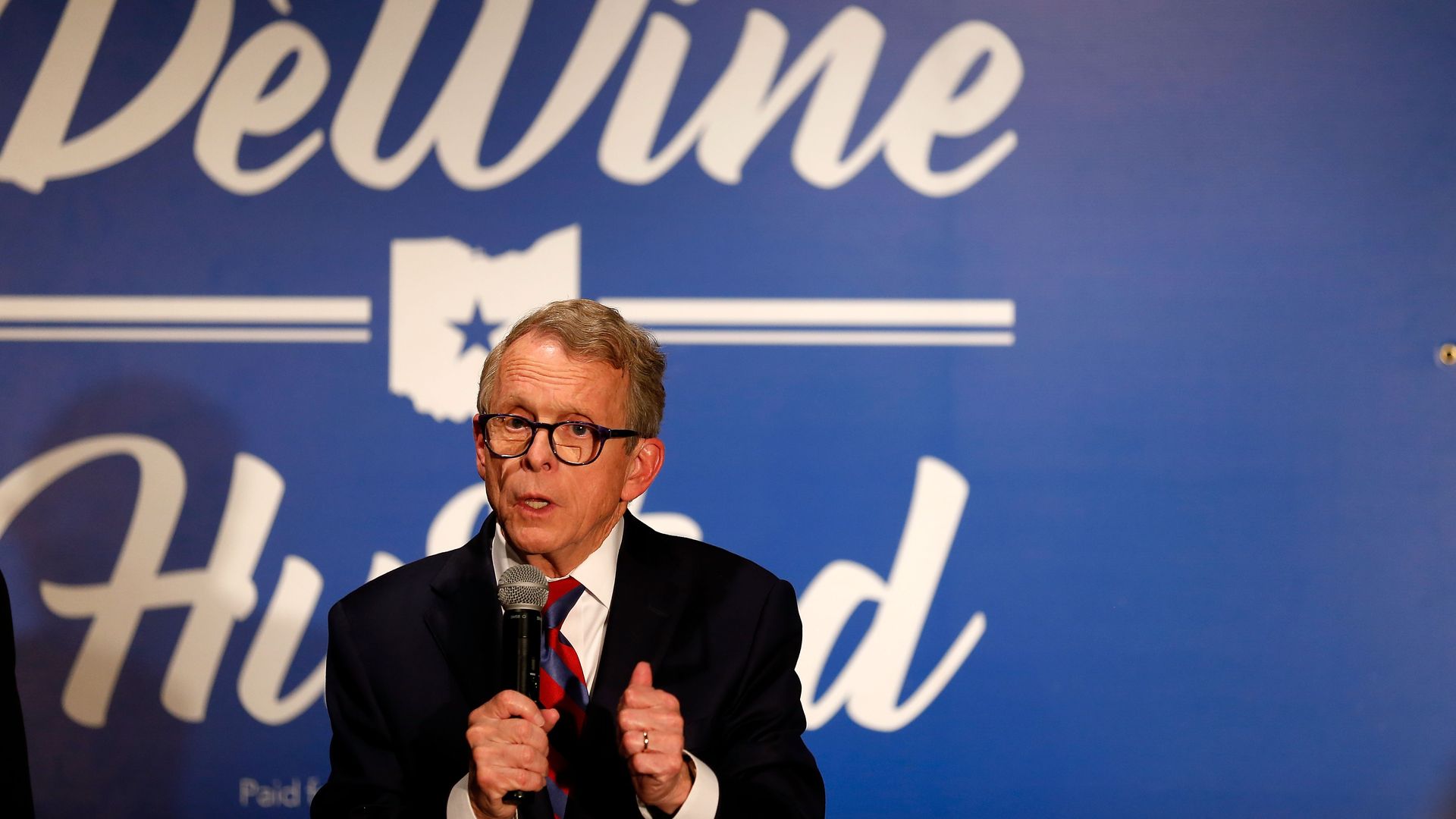 Ohio Gov. Mike DeWine (R) on Wednesday announced multiple monetary incentives for residents who get vaccinated for COVID-19 as he lifted pandemic health orders statewide.
Why it matters: DeWine noted that 42% of Ohioans have been fully vaccinated. The incentive programs align with a drop in vaccine demand in recent weeks.
In April, more than 80,000 people sought vaccines on a weekly basis. That figure has now dropped to about 16,500, per CNBC.
How it works: A weekly drawing for adults who have received "at least" their first dose of the COVID-19 vaccine will span five weeks, and each winner will receive $1 million.
DeWine said people who've gotten the vaccine will be eligible to win, which will be paid for by federal coronavirus funds.
Of note: Among vaccinated 12- to 17-year-olds, DeWine said the government will hold a drawing for a full scholarship to a four-year state college, and will pay for "tuition, room-and-board, and books."
The first drawing will take place in two weeks with a single winner. There will be a total of five scholarship drawings, benefiting five hopeful students.
What he's saying: "The pool of names for the 'Ohio Vax-a-Million' drawing will be derived from the Ohio Secretary of State's publicly available voter registration database," DeWine said in a statement, adding that further details will be available in the coming days.
"I know that some may say, 'DeWine, you're crazy! This million-dollar drawing idea of yours is a waste of money,'" he continued.
"But truly, the real waste at this point in the pandemic — when the vaccine is readily available to anyone who want it — is a life lost to COVID-19."
The big picture: Other states have pushed incentives for residents to get vaccinated against the coronavirus, with West Virginia offering $100 saving bonds to 16- to 35-year-olds. But Ohio would provide the biggest payout by far.
Go deeper