McDonald's raising hourly wages at company-owned restaurants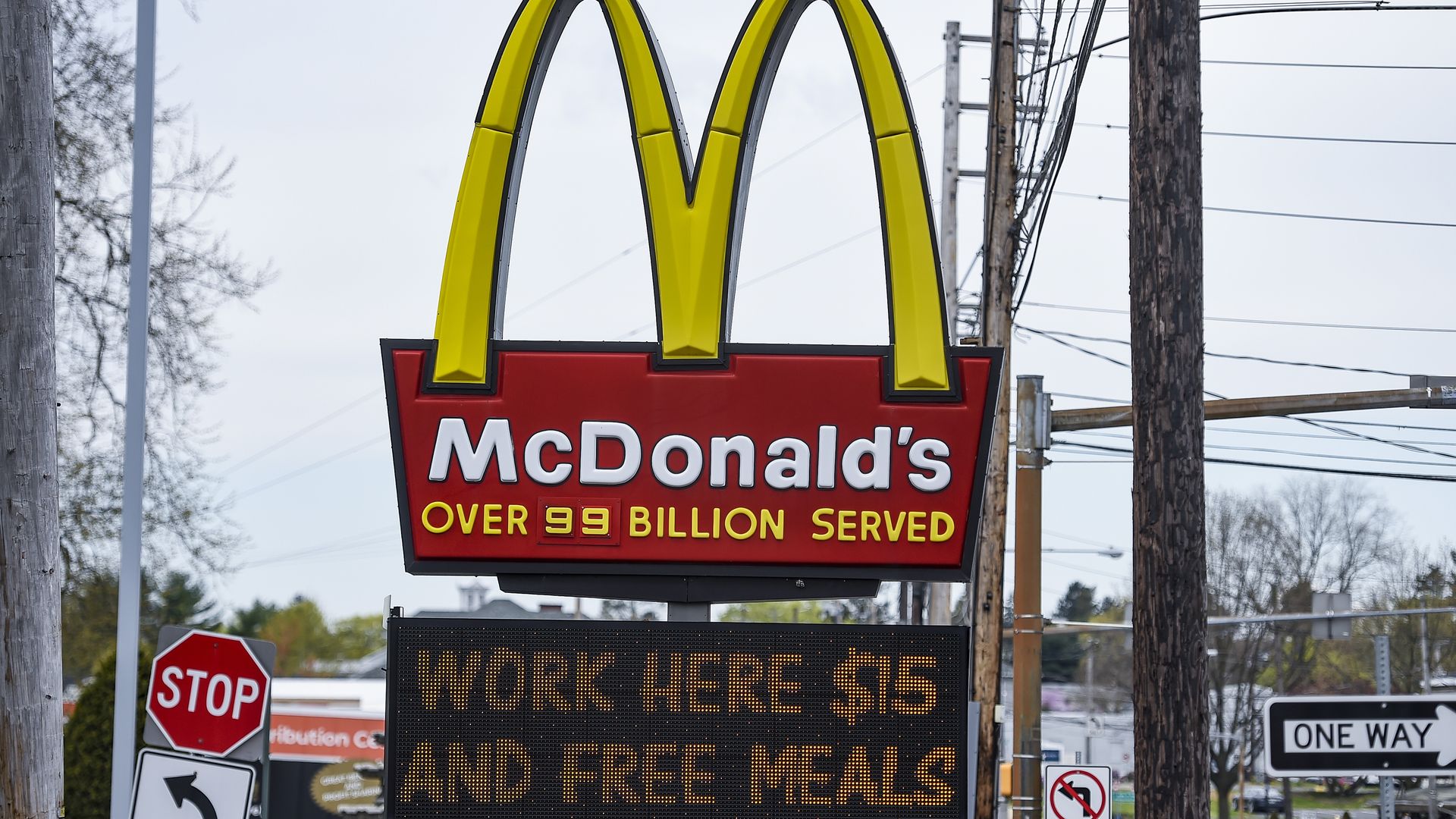 McDonald's on Thursday announced it will be increasing hourly wages for current employees at company-owned restaurants, with entry-level staff eligible to earn up to $17.
Why it matters: The company said it hopes the move will attract new applicants as it looks to hire 10,000 new employees ahead of the "busy summer season."
Wages for entry-level jobs will rise to between $11 and $17 an hour and shift manager wages will range between $15 and $20, depending on the restaurant location.
McDonald's said it expects the average salary in company-owned restaurants to reach $15 by 2024.
The company will also add more benefits for eligible employees, including paid time off, a 401k plan, and free meals.
Yes, but: "The pay increases do not affect the 95 percent of the nearly 14,000 restaurants in the United States that are independently owned, only the 650 company-owned restaurants," The New York Times writes.
The big picture: The fast food industry has been struggling to hire new employees. FAT Brands CEO Andy Wiederhorn told Reuters that "most recent stimulus check and unemployment benefits have been a catalyst for people to stay at home" instead of looking for work.
Our thought bubble, via Axios' Felix Salmon: While this policy applies only to McDonald's-owned restaurants, franchisees will feel a lot of pressure to follow suit. The all-in cost to McDonald's and restaurant owners is likely to be significantly lower than the amount that wages are increased, thanks to lower turnover.
What they're saying: "The marketplace is forcing stores like Walmart + McDonalds to compete for workers by raising their wages," said Barry Ritholtz, chair and CIO of Ritholtz Wealth Management.
"Companies that pay a decent wage CostCo, Trader Joe's, Target + Starbucks demonstrated you didn't need to impoverish your staff to be profitable," he added.
Go deeper