Scoop: FEC drops first of several election complaints against Trump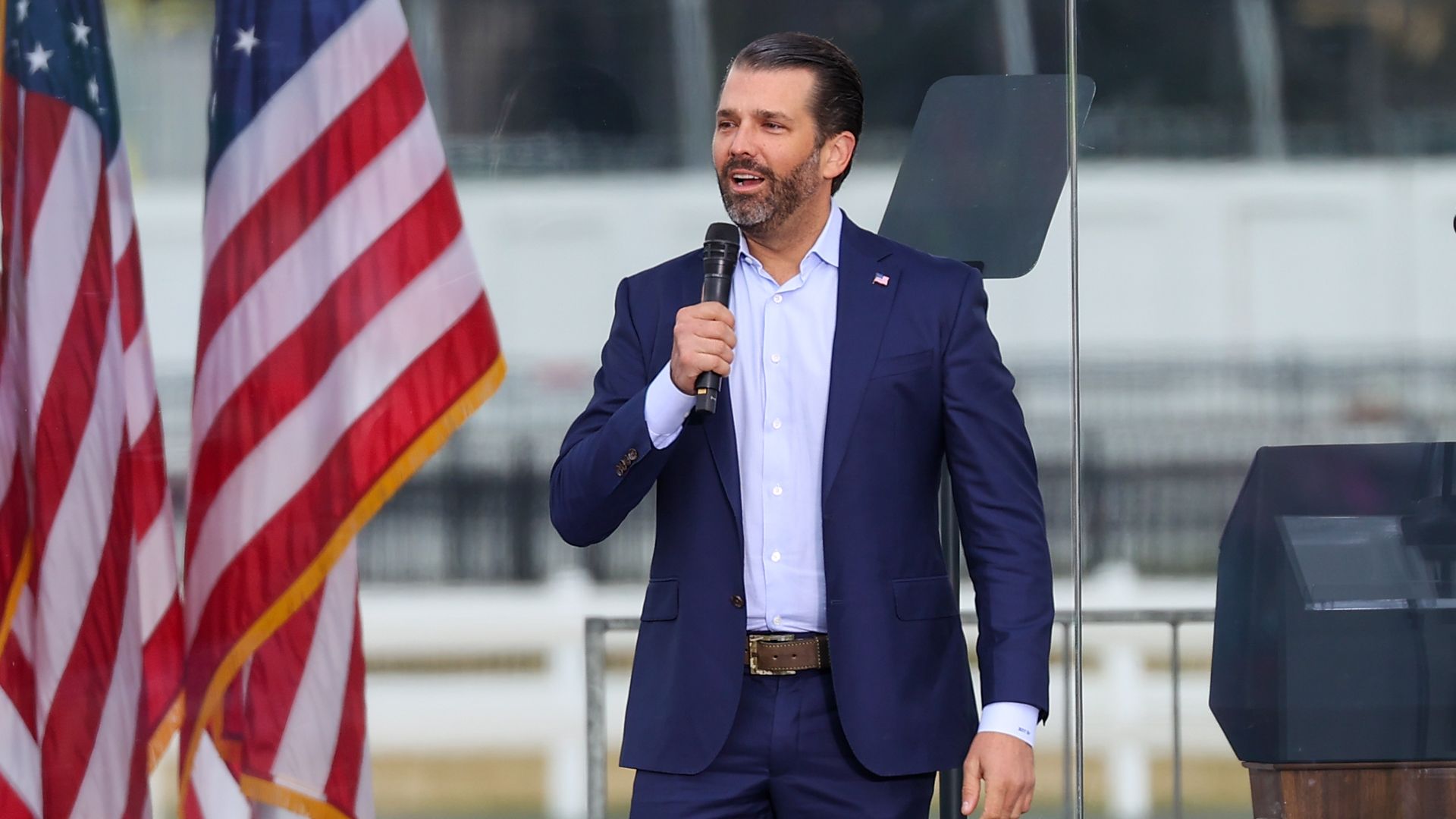 The Federal Election Commission has voted not to investigate allegations that Trump campaign representatives — including Donald Trump Jr. — solicited illegal foreign assistance in 2016, Axios has learned.
The big picture: The commission deadlocked in a 3-3 vote on whether to probe potential campaign finance violations surrounding an infamous meeting with two Russian nationals at Trump Tower during the 2016 campaign.
News of the vote comes shortly after the FEC officially closed the file on another 2016 campaign matter: former President Trump's hush-money payment to adult film actress Stormy Daniels.
The Daniels and Trump Tower cases are two in a large backlog of FEC complaints related to Trump's — and, to a smaller degree, Hillary Clinton's — conduct during the 2016 campaign.
The commission is expected to announce votes on a number of those cases in the coming weeks, with little enforcement action expected.
What's they're saying: An FEC spokesperson declined to comment on the Trump Tower matter. But Fred Wertheimer, president of Democracy 21, one of the groups behind the complaint, told Axios his organization had been notified that the case file had been closed.
"There was nothing surprising about the notification," Wertheimer said. "Everyone in the system knows that the FEC will not enforce the law because the Republican commissioners do not want to enforce the law."
A source with direct knowledge of the matter told Axios that the three Republican commissioners voted against finding "reason to believe" a violation occurred in the case.
Their reasoning, the source said, was largely procedural: the five-year statute of limitations for the law at issue expires in just a few months, and they argued there now isn't enough time left to sufficiently adjudicate the matter.
The backstory: The complaint alleged that Donald Trump Jr., the former president's son-in-law Jared Kushner and then-Trump campaign chair Paul Manafort illegally solicited an in-kind contribution from a foreign national when they pressed the two Russians at the meeting for political dirt about Clinton.
All parties involved denied wrongdoing, though Manafort was later sentenced to prison on separate federal criminal charges.
Donald Trump pardoned him in that case during his final weeks as president.
What's next: Over the next month or two, the FEC is expected to work through a backlog of outstanding complaints related to the 2016 campaign — and take little enforcement action. The alleged conduct at issue includes:
A Trump hush-money payment, routed through National Enquirer parent company American Media Inc., to former Playboy model Karen McDougal.
Trump's campaign-trail invitation for the Russian government to "find" Clinton's emails.
Allegations that Trump illegally endorsed a super PAC backing his campaign.
Claims that the Democratic National Committee illegally solicited foreign assistance from the government of Ukraine.
Go deeper