Lobbyists fill void after corporations cut off GOP cash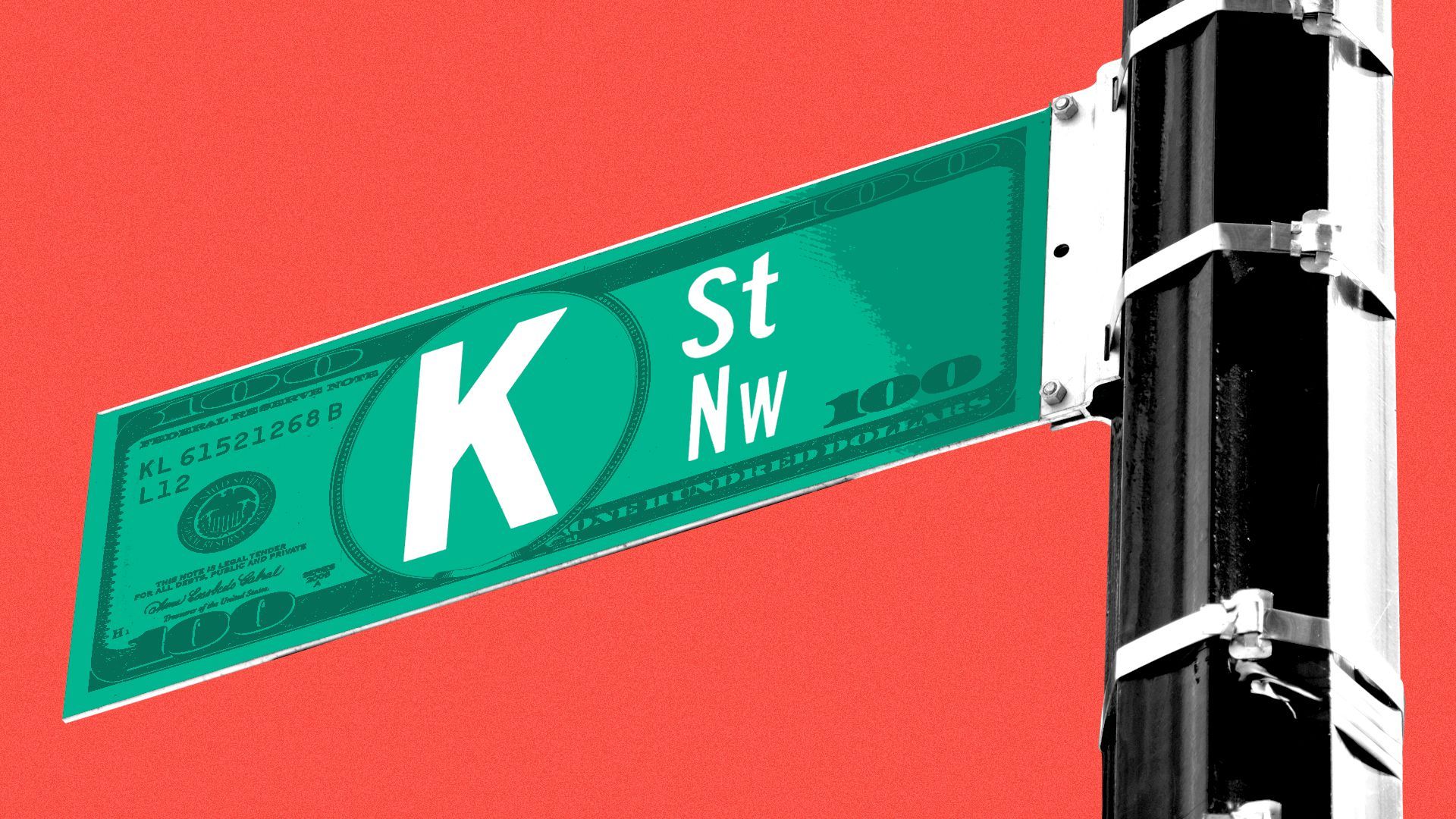 Lobbyists keep donating to members of Congress even after companies employing them cut off cash to protest the Capitol insurrection and 2020 election challenge, data show.
Why it matters: While the companies have gotten a PR boost for their good-governance statements, the policy advocates they employ have maintained relationships on their behalf and can still advance their goals on the Hill with the very members those companies disavowed.
The big picture: Data provided by the Center for Responsive Politics shows that 124 lobbyists for companies that cut off objector donations after Jan. 6 made nearly 300 contributions — totaling nearly $300,000 — to those same 147 members.
Those lobbyists represented more than 100 companies that either swore off donations to election objectors after the attempted insurrection or paused corporate PAC contributions altogether.
They range from prominent D.C. influence brokers who work with dozens of clients to in-house lobbyists employed by the companies themselves.
Some first-quarter lobbying and fundraising data are still being processed, and the numbers likely understate total contributions substantially.
Top recipients included Reps. Tom Rice and Jeff Duncan of South Carolina, Chris Stewart of Utah and Jodey Arrington and Ronny Jackson of Texas.
Of note: There's no indication the companies had any say in — or even knowledge of — these donations. Many employ dozens of lobbyists who give to members of Congress of both parties.
Companies that cut off election objectors this year nonetheless benefitted from the political relationships of the people they employed to advance their legislative agendas, including scores of the members the companies had publicity disavowed.
The trend was most pronounced for large companies with significant footprints on K Street: At least 21 Verizon lobbyists donated to one or more election objectors since Jan. 6, followed by 16 for Comcast, 13 for AT&T and 11 for Raytheon.
Go deeper: Joseph Gibson of the Gibson Group lobbies for Microsoft, AT&T and eBay. Each of them cut off donations to objectors after Jan. 6.
Gibson has donated to 11 federal political candidates this year, according to Federal Election Commission records. Eight of them — including California Rep. Darrell Issa and Arizona Rep. Andy Biggs — voted against certifying state vote counts in January.
Mike Chappell and Kirsten Chadwick of Fierce Government Relations represent 10 companies that cut off objectors or paused political donations entirely. Together, they donated to 17 election objectors — including PACs for GOP leaders Kevin McCarthy and Steve Scalise — in March.
Warren Payne of the firm Mayer Brown lobbies for 11 clients. One of them, Verizon, officially cut off objectors on Jan. 11. Less than two weeks later, Payne donated the per-election maximum to one of them, Arrington. By February, he'd donated to six more.
In-house lobbyists for companies including Google, Altria, Amgen, Visa and Microsoft also donated to objectors after those companies either paused political donations entirely or said they would stop giving to any of the 147.
"This was a contribution made by an employee in their personal capacity," a Microsoft spokesperson told Axios.
The bottom line: Large segments of corporate America drew a line in the sand after the Jan. 6 siege on the Capitol. The continued support from their lobbying partners shows there's more than one way to curry political favor in Washington.
Go deeper