Exclusive: AI-made music startup Boomy launches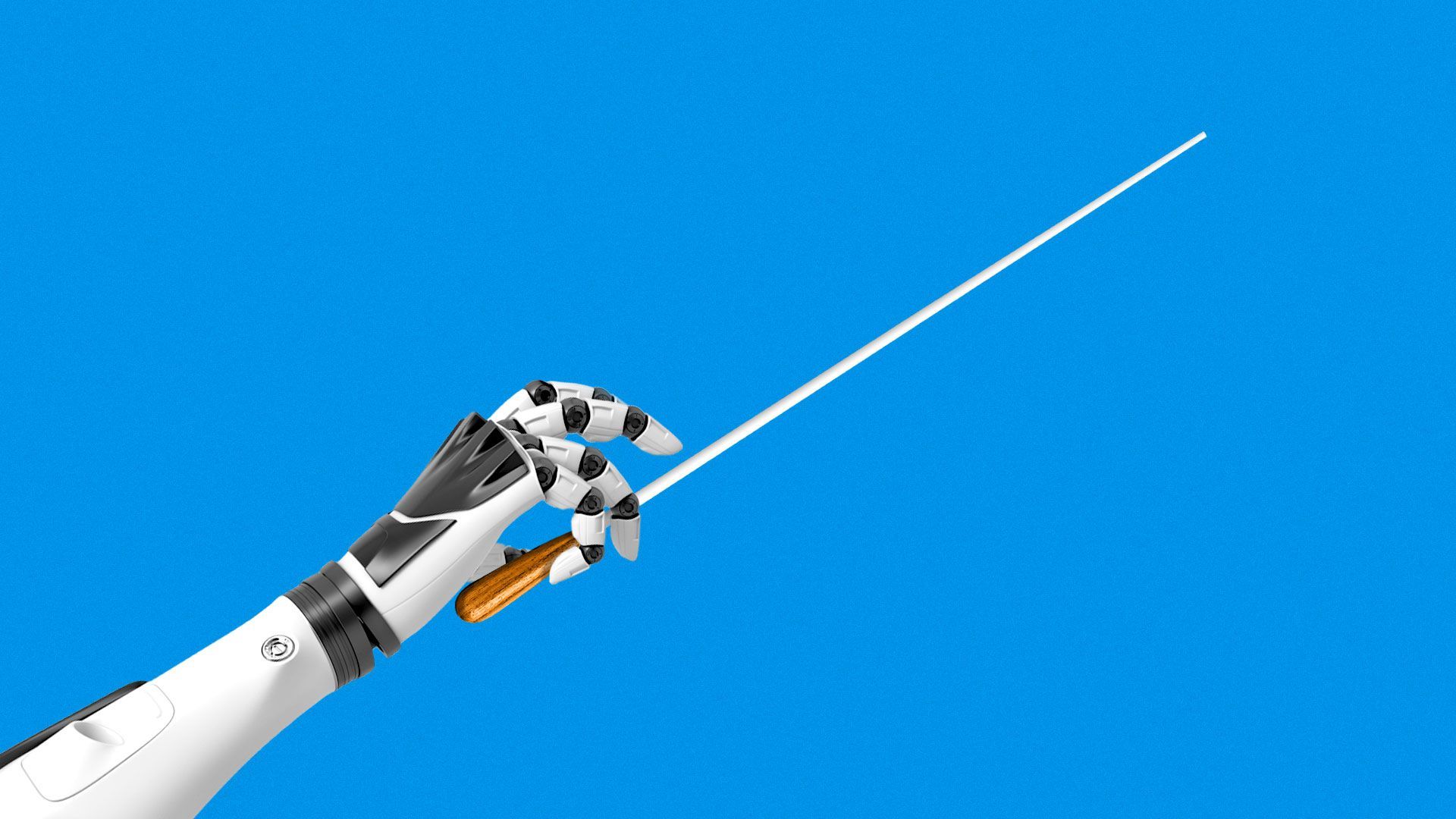 The AI-aided music startup Boomy is exiting beta-testing and launching to the public, Axios has learned.
Why it matters: While the computer-aided compositions likely won't be topping the charts any time soon, machine-made songs are improving and point the way towards a future where not just playlists will be personalized, but music itself.
How it works: Boomy users can pick a style like hip-hop or reggae, then choose more specific musical characteristics — like "super suave" or "sunset vibes" — to create a machine-generated instrumental track.
They can then choose to add their own vocals, edit the track as they wish, or reject it altogether and generate something entirely new — all of which helps train Boomy's algorithm to produce new music.
Once they're happy with the songs, users can employ Boomy to upload their music to Spotify and other streaming services, where the company can help them earn royalties off their track. (Users keep 80% of the proceeds, while Boomy takes the rest.)
"People are going from never having written a song in their lives to having something up on Spotify in 15 minutes, instead of weeks or months," says Alex Mitchell, Boomy's founder and CEO.
Details: Mitchell compares the development of AI-aided music generation to the evolution of photography since the introduction of the iPhone and all the photo-editing and sharing apps that followed.
"At one time in order to create a photo, you needed a dark room and equipment and money, and as a result, photos were rare," he says. "I don't see a technology reason why creating an amazing personalized original song should be any more difficult than pressing a button."
By the numbers: As of May 11, Boomy users had created more than 2.5 million songs — nearly 3% of the world's total recorded music, according to the company.
The big picture: Boomy is one of a number of startups exploring the AI-generated music space, in addition to bigger corporate and research efforts like OpenAI's Jukebox.
For creators on social media sites or TikTok, using AI-aided music means avoiding copyright problems and keeping any royalties they generate to themselves.
Our thought bubble: My early efforts weren't great, but as these generative AI models improve — just as they are in text generation and other areas — it's possible to glimpse a future where not just Spotify playlists will be personalized, but the music itself.
Boomy and other AI-aided music startups raise questions about the nature of artistic originality in the future, but as a Gen Xer if it would be possible to create an infinite, personalized radio station where it's always 1994, I have to admit I'd be intrigued.
Go deeper