The pandemic-fueled sneaker boom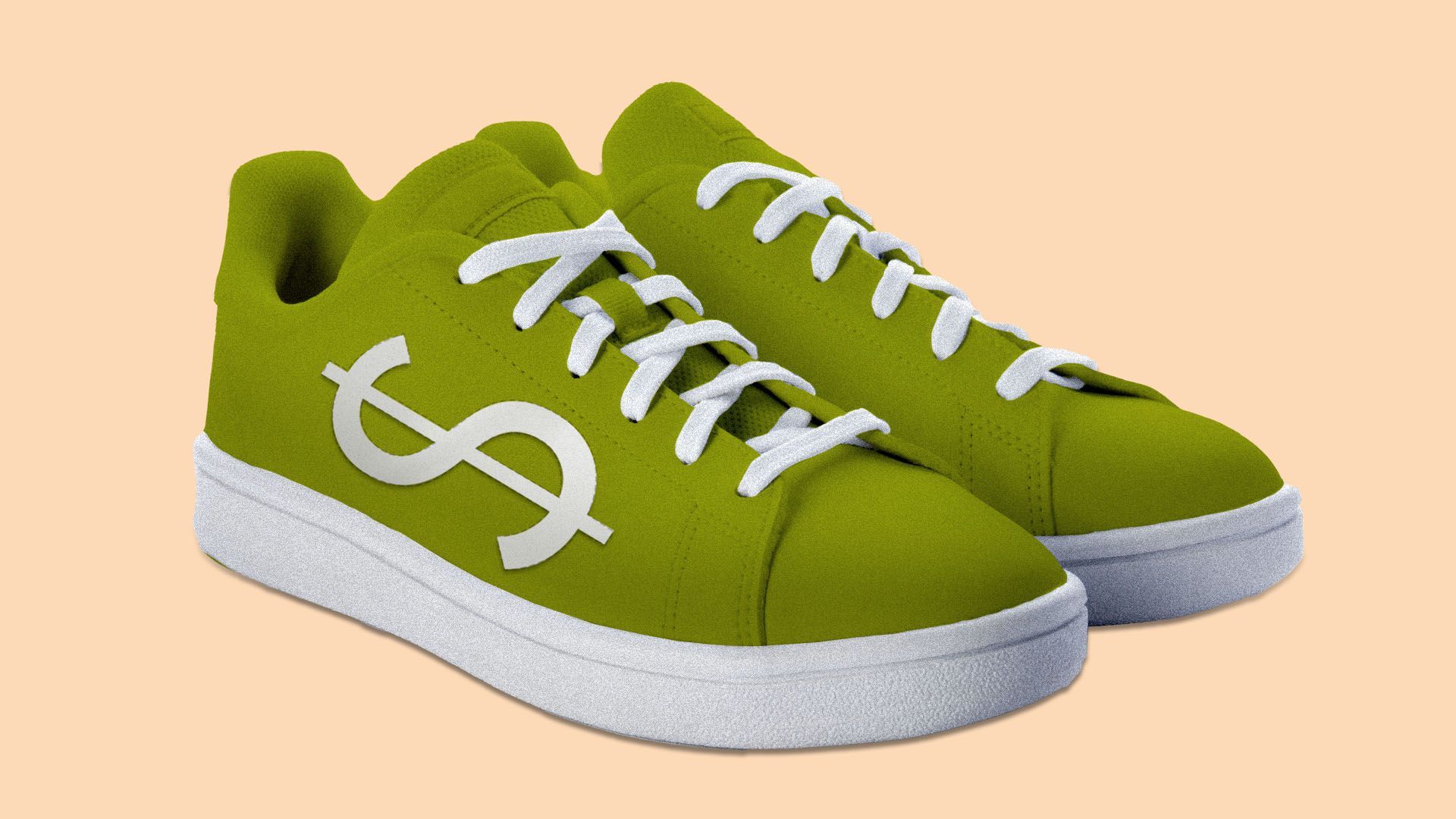 What does a ticket scalper do when concerts dry up? Enter the sneaker market. Interest in rare sneakers as an investment has catapulted since pandemic lockdowns began.
Why it matters: Similar to the Robinhood effect on stock trading, sneaker apps gamified and streamlined buying, while social media added community. Sneaker trading has long been lucrative, but the pandemic brought more people — with more idle time — into the game.
"We're seeing more and more customers that are thinking about sneakers as an alternative asset class," Greg Schwartz, co-founder and COO of sneaker resale platform StockX, tells Axios.
Professional sellers can make a living trading sneakers, Schwartz adds.
They use global arbitrage — when a seller gets their hands on supply from an area of the world with low demand and sells it in a high-demand area.
Or channel arbitrage — when there's a huge supply of a shoe at a physical store, an investor can buy them up and make money selling online at below retail, as long as it's above their cost.
Eye-popping stat: The sneaker resale market is now worth an estimated $10 billion, research firm Piper Sandler reports.
That's up from just $6 billion in 2019, according a Cowan report that included a growth projection for the market to reach $30 billion by 2030.
Case in point: StockX's valuation jumped to $3.8 billion in its financing round last month, up 35% from four months prior.
The pandemic reasons are numerous: people were bored, needed to make extra money, had lost their jobs or side hustles — and also just love sneakers.
It's also ease of use. StockX's website and app visually mimic equities-trading sites, complete with ticker, historical price charts, and stats like 52-week highs and lows on each product page.
The big picture: The sneaker market runs on hype, and FOMO when it comes to coveted limited editions, like retro Jordans or Yeezys, says Mike Sykes, writer of The Kicks You Wear blog. (Sykes is also a former Axios reporter).
Collaborations with athletes and celebrities generate the most buzz – and sometimes, outsized sale prices.
More common trades involve typical Nike limited editions, which sell via lottery for $100-$150 in the retail drop and then rake in 2x-3x in the secondary. It's a nice profit, but like concert tickets, you need scale to make real money (enter the bots).
Also like show tickets, scarcity and a base of true fans is key.
Alongside the high volume sellers, most on the StockX platform are casual sellers that do 3-5 transactions per year, says StockX senior economist Jesse Einhorn.
How it works: A company like Nike drops limited releases on its SNKRS app or through local shops. These are highly sought-after moments where fans queue for the lottery, and post on social media about doing it.
Most who want to buy, don't get to — and again turn to social to lament the loss.
The shoes typically then show up on platforms like StockX, GOAT, Farfetch or eBay immediately after — and even before, if some pairs leaked, said Sykes.
Reality check: It might seem that Nike's leaving money on the table for secondary sellers and bot networks. But the shortage feeds the hype cycle, and creates more demand, which trickles down to its ordinary lines of athletic shoes.
The bottom line: Wannabe buyers can sit on apps for hours a day, and monitor social media announcements, trying to win just one pair. For long-time sneakerheads, the market can sometimes feel broken.
What's next: Sneaker NFTs. Obviously.
Go deeper