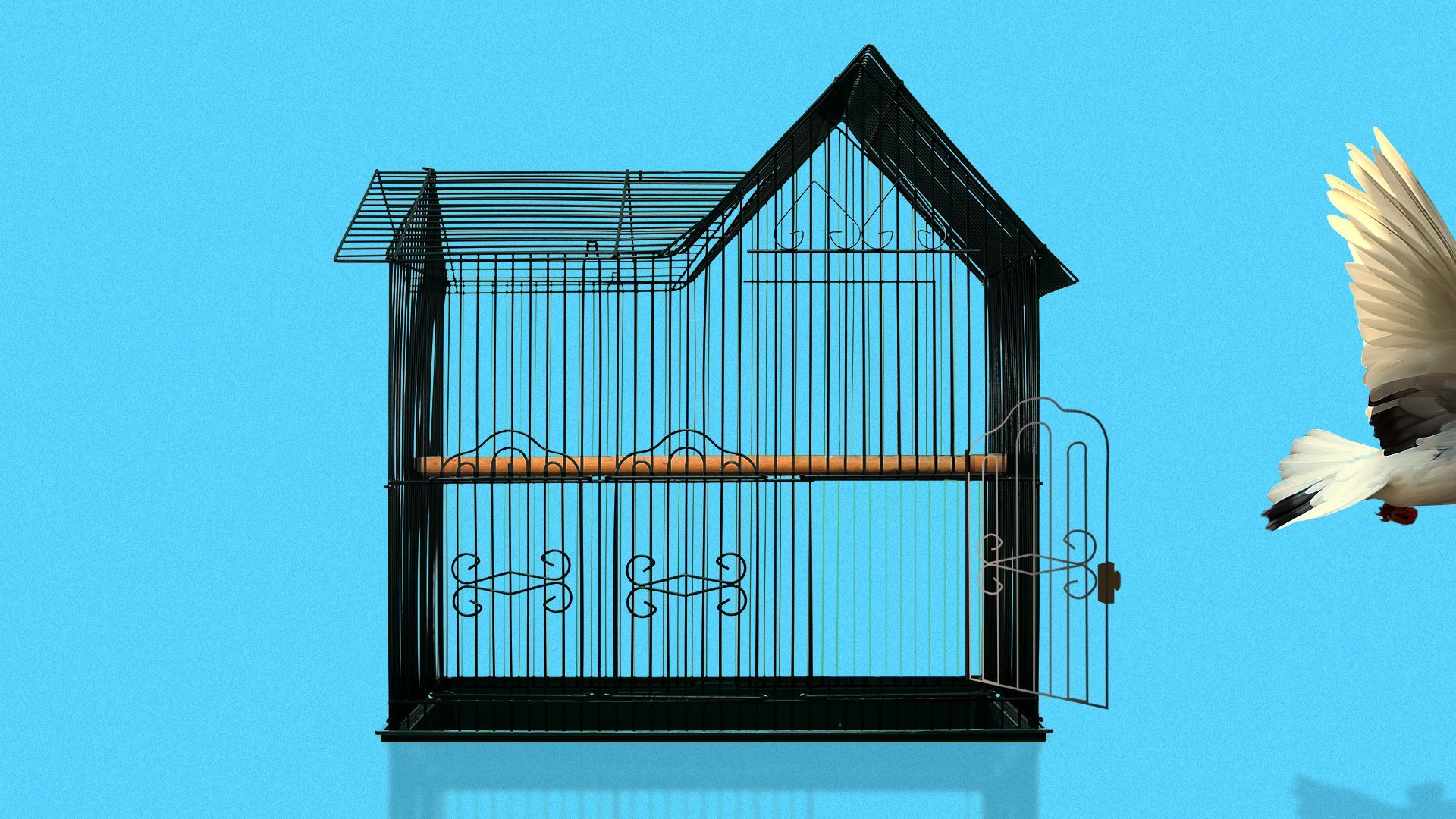 Long quarantines were a necessary tool to slow the COVID-19 pandemic during its first phases, but better and faster tests — plus vaccines — mean they can be scaled back considerably.
Why it matters: Quick tests and regular surveillance methods that identify who is actually infectious can take the place of the two-week or longer isolation periods that have been common for travelers and people who might have been exposed to the virus, speeding the safe reopening of schools and workplaces.
Driving the news: This week the UK launched a study to find out whether daily COVID-19 testing could serve as a better alternative to the 10 days of self-quarantining currently required by the government's public health agency.
Up to 40,000 people in England who are identified as close contacts of COVID-19 patients will be given a week's worth of rapid coronavirus tests and told to test themselves each morning for seven days.
Those who test negative in the morning and develop no symptoms will be exempt from the quarantine order and allowed to leave their homes to carry out essential activities.
"If this allows us to return to greater normality, it would be a great step forward," Isabel Oliver, Public Health England's national infection service director, told the BBC.
Background: Though the two terms are often confused, quarantines are different than the self-isolation that is still needed for people who test positive for COVID-19.
From its origins in 14th century Venice, quarantines have been used to prevent the spread of illness when it's not obvious who is sick and who isn't.
Because COVID-19 patients can be infectious before they show symptoms — and because as many as one-third of infected people never show symptoms at all — quarantines for travelers and close contacts were one of the few tools health officials initially had to slow the spread.
This was especially true in the early phases of the pandemic, when the only tests available were lab-run PCR diagnostics that might take days to return results — far too slow for potential patients to know their status before they might infect people.
State of play: Although recent updates have loosened the requirements somewhat, official CDC recommendations still state that anyone who has been in close contact with a COVID-19 patient should stay home for 14 days after their last exposure, unless they've been fully vaccinated or have recovered from COVID-19 within the last three months and have no symptoms.
The catch: Quarantines take a major toll on society, especially for those who can't easily skip in-person work and for children who might miss weeks of in-person school.
The Washington Post reported this week that a single school district in Ohio had 5,172 student quarantines in the fall semester alone, a situation that has been repeated at schools throughout the country.
"Quarantine is like taking a sledgehammer and saying whether you're infected or not, we're going to put you in jail for 14 days in your home just in case," Michael Mina, an epidemiologist at the Harvard T.H. Chan School of Public Health, said in a recent briefing, noting that most people who end up in quarantine never actually contract COVID-19.
By the numbers: A health economics paper published late last year argued that much of the economic loss during COVID-19 has come not from the virus directly, but from the quarantines and closures imposed to stem its spread.
Replacing a strict quarantine program with screening that relies on inexpensive rapid COVID-19 tests — similar to what the U.K. is studying — could recapture hundreds of billions of dollars in lost economic output.
What's next: The authorization and increasing availability of rapid COVID-19 tests offer a way to quickly separate close contacts who actually contracted the disease and are infectious from the larger number who aren't.
One expert put it this way to me: If people glowed green when they were infectious, we wouldn't need to do quarantines. Rapid testing is essentially our ability to see people turn green.
Even better tests in the future might make it easier for us to sidestep quarantines from the start — researchers at the Gladstone Institute of Virology have developed CRISPR-based rapid COVID-19 tests that can be quickly interpreted with a smartphone camera, and may in the future be adapted to identify an array of different pathogens.
"If someone comes in and they have these symptoms, we'll be able to use these tests to figure out what they have," says Melanie Ott, a senior investigator at Gladstone.
The bottom line: It's no longer the spring of 2020 — we can address COVID-19 spread with a precision that will save lives and the economy.
Go deeper