Debris from Chinese rocket likely to fall to Earth this weekend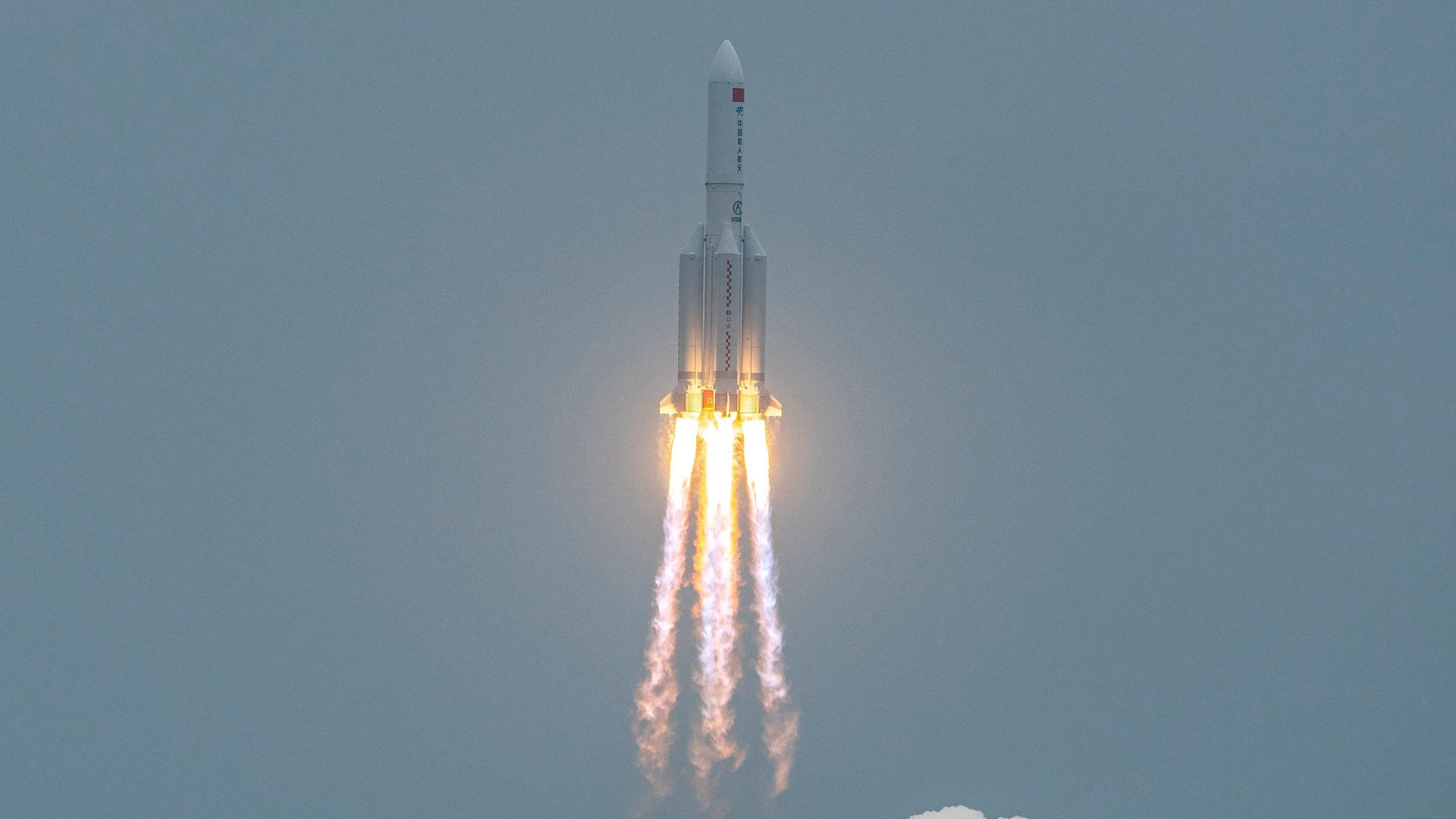 A massive booster rocket from a Chinese Long March 5B launch vehicle is expected to fall back to Earth in an "uncontrolled reentry" this weekend, though experts don't really know where debris from the rocket will land.
The state of play: China's space agency has said it expects most of the rocket to burn up in Earth's atmosphere. The chance of debris from the rocket actually landing in a populated area is low — but there is still a chance.
The core stage of the launch vehicle that is falling to Earth weighs 23 tons and is 10 stories tall, according to the New York Times.
Normally, final stages of rockets are guided back to Earth on a reentry path that ends in an area unoccupied by people, most commonly the middle of an ocean. But China's space agency has chosen not to so, despite many experts saying the practice is irresponsible and comes with unnecessary risks.
The big picture: The Pentagon said this week it is tracking the uncontrolled descent of the rocket, which carried the first module of China's new permanent space station into orbit last month.
The latest data from U.S. Space Force, which teamed up with Space Track to monitor the rocket, estimates that reentry could occur between Saturday at 7:30 p.m. ET and Sunday 1:30 a.m. ET.
The Aerospace Corporation, a federally funded research and development center, predicted reentry to occur on Saturday at 11:30 p.m ET, which would place the rocket over the Atlantic Ocean.
Context, via Axios' Miriam Kramer: This isn't the first time a rocket or spacecraft launched by China's space agency has come down to Earth uncontrolled.
The final stage of another Long March 5B launched in 2020 reentered uncontrolled and remnants of that rocket crashed into a rural part of Ivory Coast, according to the BBC.
More such uncontrolled rocket reentries may occur in the future as China launches more missions to its new space station, according to the Times.
Go deeper