Sports is gaming's hottest battleground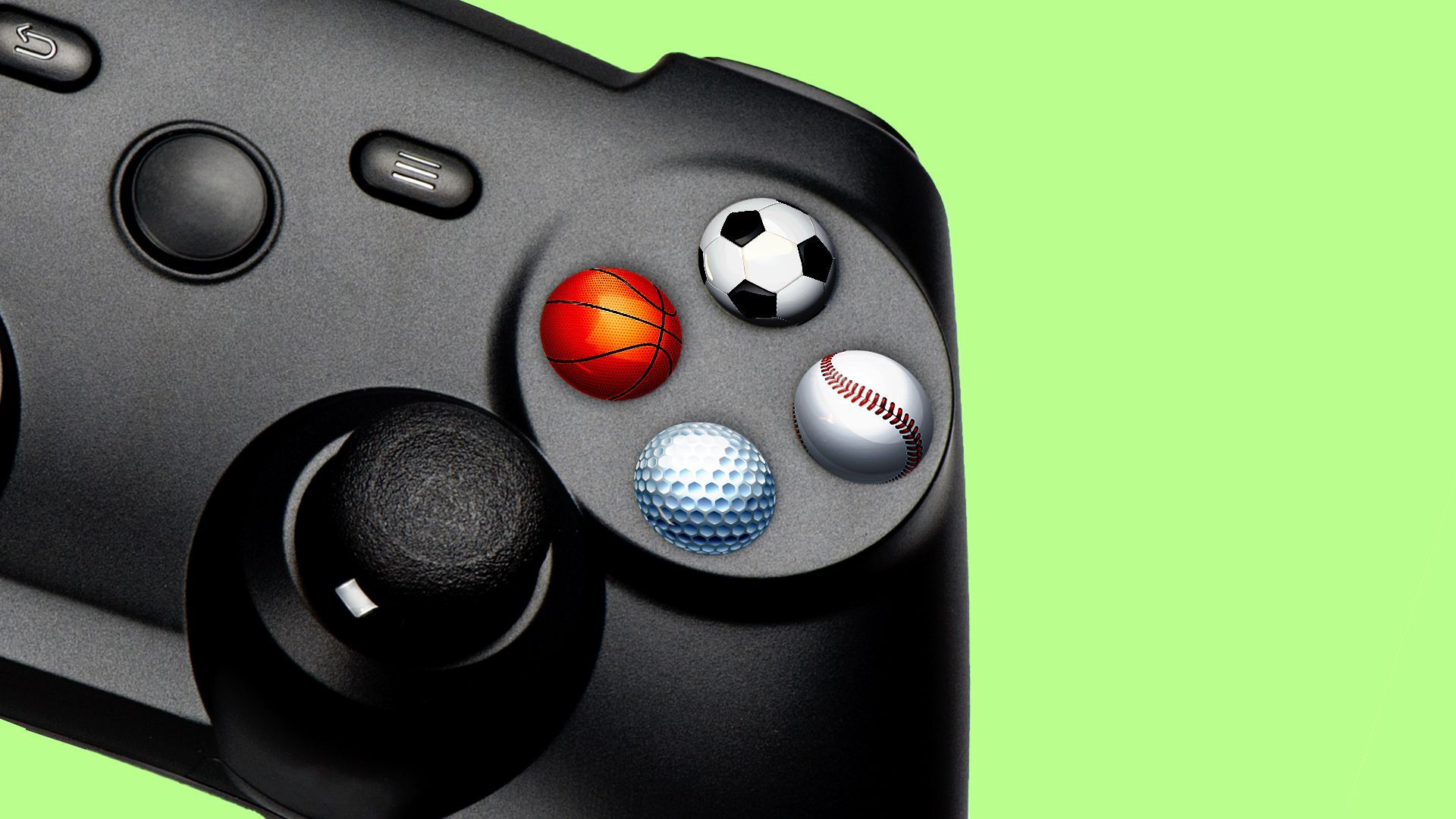 Suddenly, sports gaming competition is everywhere. Unless you're into the NHL.
The big picture: EA's return to making baseball games this week is the latest in a recent rush of moves that will restore competition to video game baseball, golf, football and more.
Fans of many sports video games complain that decreased competition among largely annualized releases has made the games worse. Increased competition = increased quality?
The intensifying playing field: Baseball — EA vs. Sony (sort of): EA's new acquisition, Metalhead, makes "Super Mega League Baseball," an arcade-style game with fictional players.
The deal puts EA back in baseball game development for the first time since 2006.
Take Two snagged a semi-exclusive on the MLB license until 2014, when it got out of baseball gaming.
That left Sony's "MLB The Show" standing. It remained PlayStation-exclusive until this year, when an extraordinary new MLB deal forced Sony to also release "The Show" on the arch-rival Xbox.
Golf — Take Two vs. EA vs. ... Nintendo?: Take Two got into making golf games in 2020, with the acquisition as it rebranded "The Golf Club" series into "PGA Tour 2K."
That filled a void left since 2015, when EA bailed on its long-running golf series that had been long-associated with Tiger Woods.
In March, EA announced a return to golf gaming with the development of "EA Sports PGA Tour," just as Take Two signed former EA cover athlete Woods for their game.
Bonus: Nintendo is bringing back "Mario Golf" in June. No Tiger Woods there, but they do have a well-dressed Wario.
Football — EA vs. Take Two: Big-time video game football has been EA's "Madden" series and nothing else since EA landed the NFL exclusive in 2004.
That 2004 deal killed Take Two's well-regarded rival series "NFL 2K" and all but ended serious football competition.
Last March, Take Two announced its long-missed "NFL 2K" series would return in a deal that lets Take Two make "non-simulation" football games.
The other football — EA vs. Konami: EA's "FIFA" series is dominant here, having turned the tide against former category leader "Pro Evolution Soccer" from Konami.
Konami's been struggling to battle EA, but fancied an incredible 2019 name change to "eFootball PES" might help. 
Doesn't seem to have, and the series did not get a full new release in 2020. Its 2021 plans are unclear.
Basketball - Take Two vs. maybe EA: Take Two's "NBA 2K" series rules here, with EA barely still in contention.
"NBA Live" has simply sat out this formerly annual rivalry multiple times this past decade including no-showing 2019 and 2020.
Hockey — EA: EA's got the NHL to itself.
Sign up for the new Axios Gaming newsletter here.
Go deeper