Teetering on the edge, small businesses get another lifeline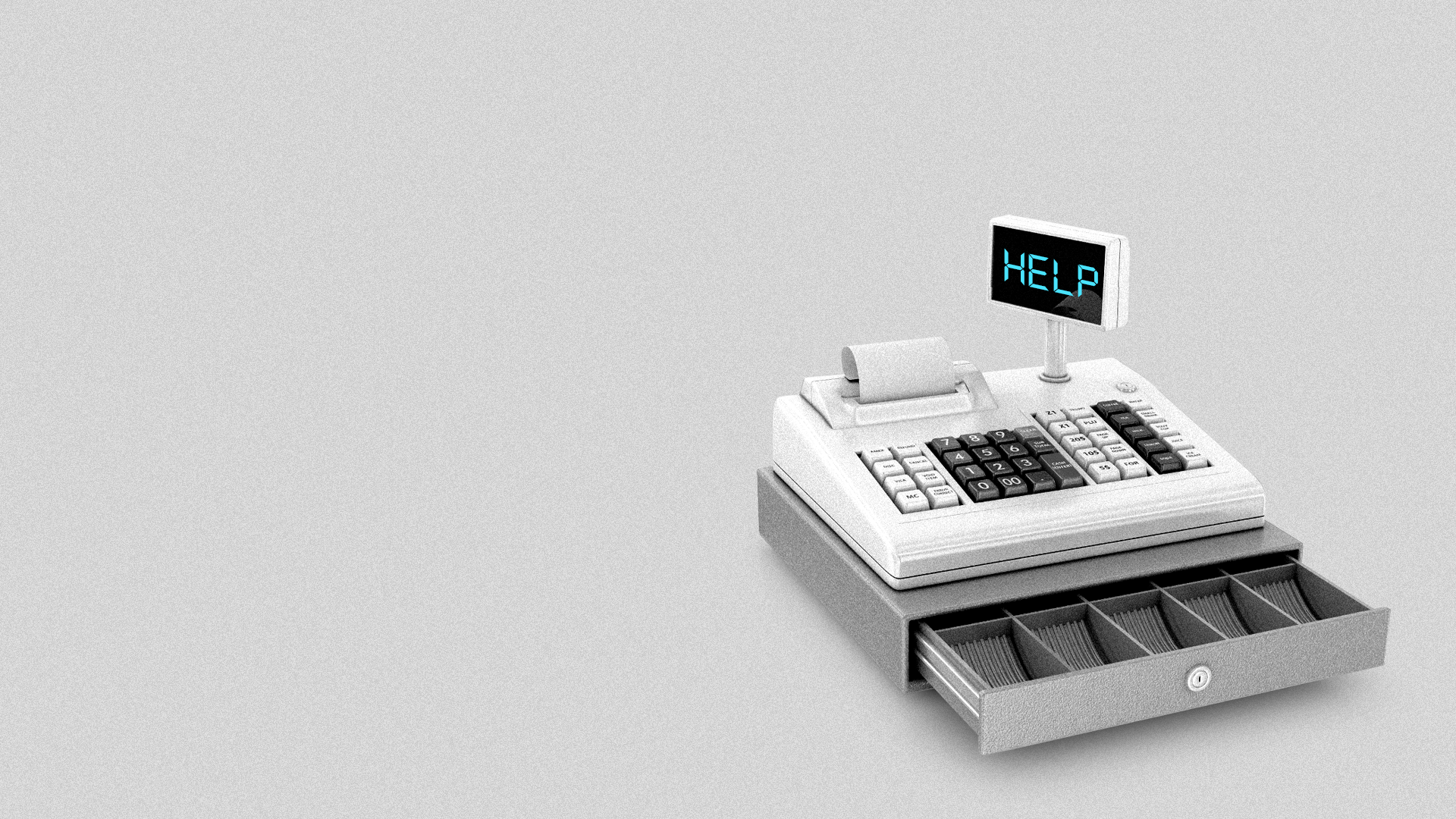 Following the news that the Paycheck Protection Program had run out of funding and stopped accepting most new applications, the White House unveiled data for its $28.6 billion Restaurant Revitalization Fund (RRF), which it said saw "extremely high demand."
Why it matters: Small businesses play an important role in the U.S. economy and many, especially those in the services sector like restaurants and bars, are still struggling with a disproportionate number forced to close for good because of revenue losses from the pandemic.
What's happening: There has been "a slow recovery of the small business services sector, with a substantial fraction of businesses still closed," a report released Wednesday by the New York Fed finds.
"While employment has partially recovered as businesses reopened, currently closed businesses still account for a 25 percent drop in employment relative to February 2020."
The big picture: Businesses that have been closed for a long time are unlikely to reopen and those that do are likely to hire only a small percentage of the workers back, the NY Fed's analysis found.
That will reduce employment gains, consumer spending and GDP growth.
What we're reading: "The data reveal that 35 percent of businesses that were active prior to the pandemic are still closed and that most have been inactive for twenty weeks or longer," the NY Fed's research analysis of data from Homebase reports.
"We estimate that each additional week of being closed reduces the probability that a business reopens by 2 percentage points. Moreover, an additional week of business closure lowers the share of workers that are rehired at reopening."
"Our estimates imply that only about 4 percent of the workers that are still laid off from the currently closed businesses will eventually be rehired by these businesses."
By the numbers: In its first two days, the White House says 186,200 restaurants, bars, and other eligible businesses across the country applied for relief.
97,600 applications came from restaurants, bars and other eligible businesses owned and controlled by women (46,400), veterans (4,200), socially and economically disadvantaged individuals (30,800) or some combination of the three (16,200).
Such businesses, which were disproportionately impacted during the pandemic, will receive priority for funding during the first three weeks of the program.
61,700 applications came from businesses with under $500,000 in annual pre-pandemic revenue.
One level deeper: Restaurants and bars are "eligible for grants equal to their pandemic-related revenue loss, with a cap of $10 million per business and $5 million per location," the White House said.
The funds must be used by March 2023 and do not need to be repaid provided the money is used for eligible expenses like payroll, suppliers, mortgages, maintenance and rent — making it far broader than the PPP.
Go deeper