Abandoned wells targeted in poor Latino and Indigenous areas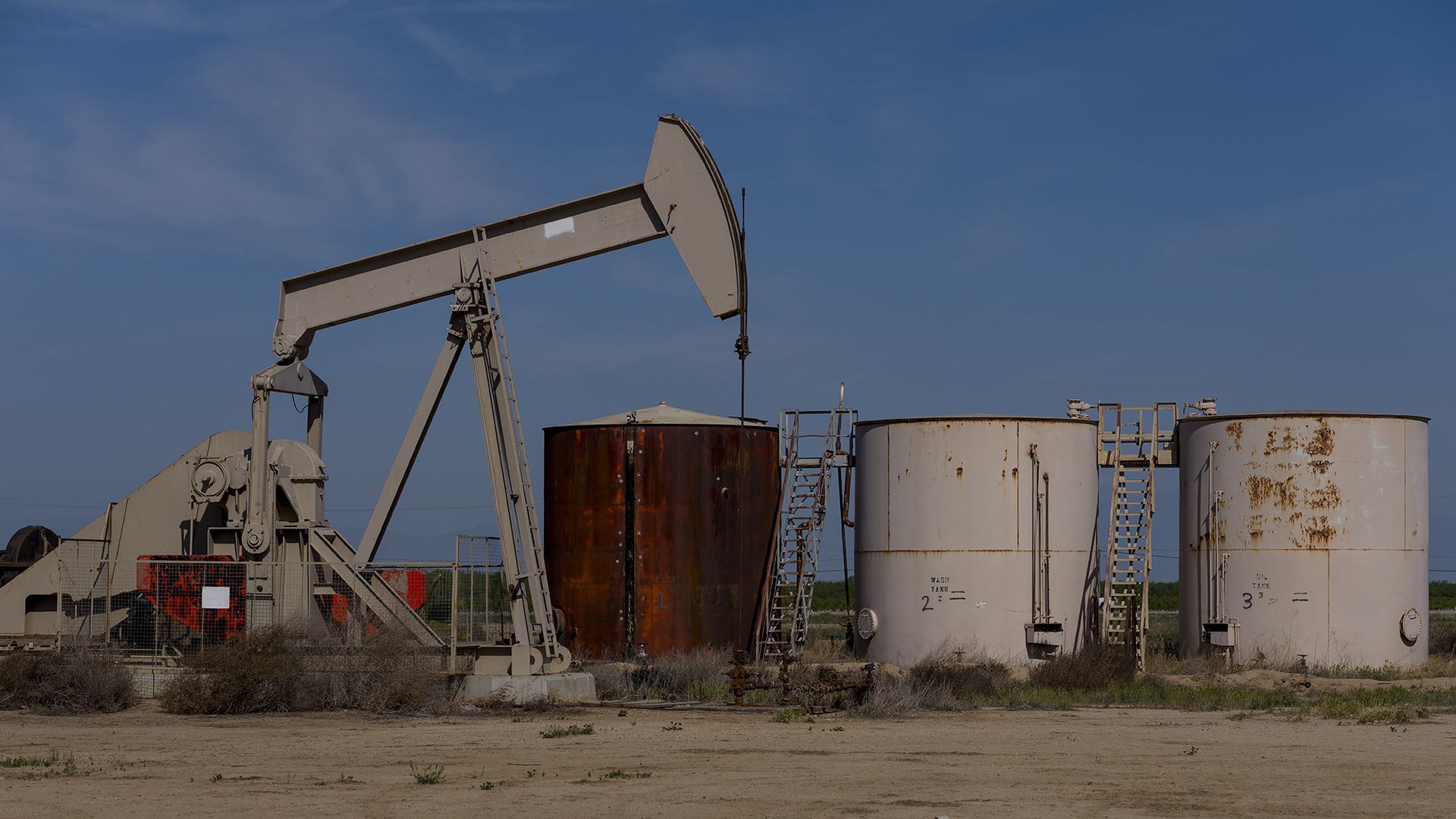 Tens of thousands of abandoned oil wells are polluting Latino and Native American communities across the country, and a freshman Latina congresswoman wants the U.S. government to do something about it.
Why it matters: The orphaned wells are leaking methane, potentially contaminating groundwater in some of the nation's poorest communities, and no one is responsible for clean up.
Many abandoned oil wells are located in New Mexico, a state with the largest percentage of Latinos in the U.S. and one of the biggest percentages of Native Americans.
The details: U.S. Rep. Teresa Leger Fernández (D-N.M.) recently introduced a bill that would set aside $8 billion in federal funds to clean up more than 50,000 forgotten wells on federal, state, private and tribal lands.
Leger Fernández told Axios that proposal would create needed jobs in poor, isolated areas while removing toxic wells that contaminate surrounding soil and groundwater.
"Oil and gas companies have abandoned hundreds of thousands of oil and gas wells. In the process, they've abandoned Latino, tribal, and other communities of color that are left to suffer the consequences," Leger Fernández said.
Federal agencies and states responsible for plugging these wells have long complained they have limited funding for cleanup.
The Orphaned Well Cleanup and Jobs Act, sponsored by Leger Fernández and currently in committee, would allow states to apply for grants to remove pipelines and reclaim well pads.
Tribal governments could locate companies responsible for the abandoned wells and charge the cleanup costs to them.
The bill also requires oil and gas companies taking hydrocarbons out of the ground to set aside funds for clean-up later to prevent abandoned wells.
California, Colorado, Pennsylvania, South Dakota, and West Texas also have abandoned or idle wells near communities of color.
What they're saying: "The costs of cleaning up abandoned oil and gas wells should be shouldered by industry, not American taxpayers," said Josh Axelrod, a senior advocate at the Natural Resources Defense Council.
"This bill takes important steps to ensure that in the future, industry is on the hook for the harms they leave behind."
Don Schreiber, a northern New Mexico rancher near the Navajo Nation, told the U.S. House Subcommittee on Energy and Mineral Resources last month that many well operators go bankrupt, leaving the taxpayers on the hook for cleanup.
A similar proposal in the U.S. Senate sponsored by U.S. Sens. Ben Ray Luján (D-N.M.) and Kevin Cramer (R-N.D.) has drawn support from the American Petroleum Institute, a national trade association that represents the oil and natural gas industry.
"Our industry complies with all existing state and federal requirements for abandoned wells and reclaiming wells sites, and we will continue to support new efforts," API Senior Vice President of Policy, Economics and Regulatory Affairs Frank Macchiarola said.
Don't forget: Oil and gas jobs are some of the highest paying employment in isolated, poor regions.
Editor's note: This post was updated to add a comment from the American Petroleum Institute.
Go deeper