Trump, House GOP leaders endorse Elise Stefanik to replace Liz Cheney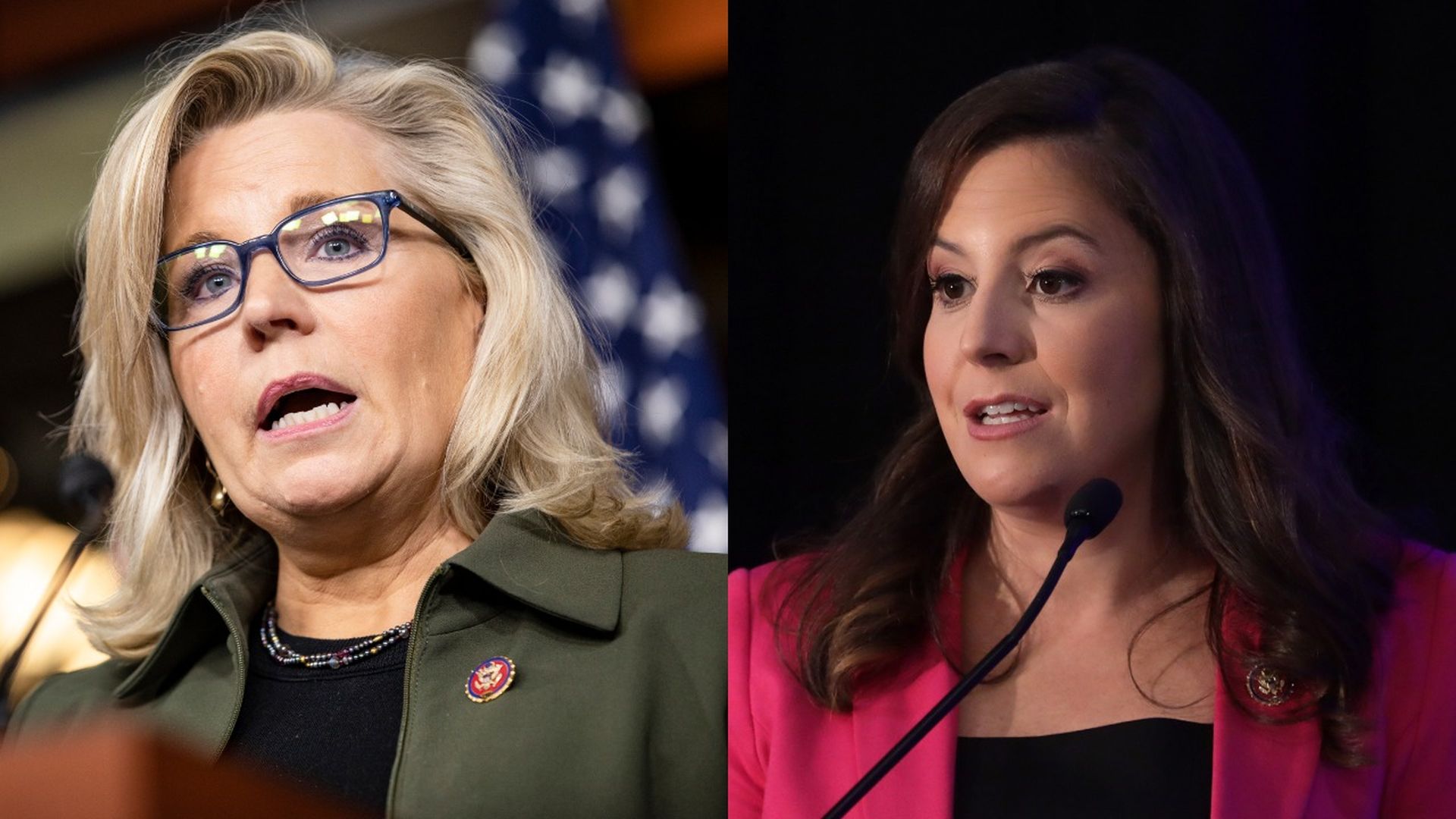 Former President Trump and House Minority Whip Steve Scalise are openly supporting Rep. Elise Stefanik (R-N.Y.) to replace Rep. Liz Cheney (R-Wyo.) as House Republican conference chair.
The latest: "Liz Cheney is a warmongering fool who has no business in Republican Party Leadership," Trump said in a statement. "Elise Stefanik is a far superior choice, and she has my COMPLETE and TOTAL Endorsement for GOP Conference Chair. Elise is a tough and smart communicator!"
Why it matters: The public endorsements of Stefanik mark a new escalation in Republicans' internal feud over Cheney, who voted to impeach Trump for inciting the Jan. 6 Capitol riot and has continued to criticize the former president.
The rift has threatened to derail Republicans' chances of taking back control of the House in the 2022 elections. Rep. Jim Banks (R-Ind.) — the leader of the largest conservative caucus in the House — suggested to Axios last week that Cheney could be ousted within a month.
House Minority Leader Kevin McCarthy (R-Calif.) was caught on a hot mic on Tuesday saying he's "lost confidence" in Cheney and "has had it with" her behavior.
What they're saying: "House Republicans need to be solely focused on taking back the House in 2022 and fighting against Speaker Pelosi and President Biden's radical socialist agenda, and Elise Stefanik is strongly committed to doing that, which is why Whip Scalise has pledged to support her for Conference Chair," Scalise's spokesperson Lauren Fine said in a statement.
Scalise told Axios late last month that the "idea that you just disregard President Trump is not where we are, and, frankly, he has a lot to offer still."
The other side: "Liz will have more to say in the coming days. This moment is about much more than a House leadership fight," Cheney spokesperson Jeremy Adler said in a statement.
Between the lines: While Stefanik rose to prominence in part due to her defense of Trump during his first impeachment, she only voted in line with the former president's positions 77.7% of the time — compared to Cheney's 92.9%, according to FiveThirtyEight.
What to watch: The House GOP conference will meet next Wednesday, May 12, at which point most members expect the process to oust Cheney will begin.
It would take up to a two-thirds vote of the 212 caucus members to replace her — a relatively high bar if a secret ballot is held, and one that Cheney cleared in a previous vote to remove her in February.
Stefanik, Ann Wagner (R-Mo.) and Jackie Walorski (R-Ind.) are among the women that House Republicans are considering to replace Cheney, congressional aides tell Axios.
Go deeper