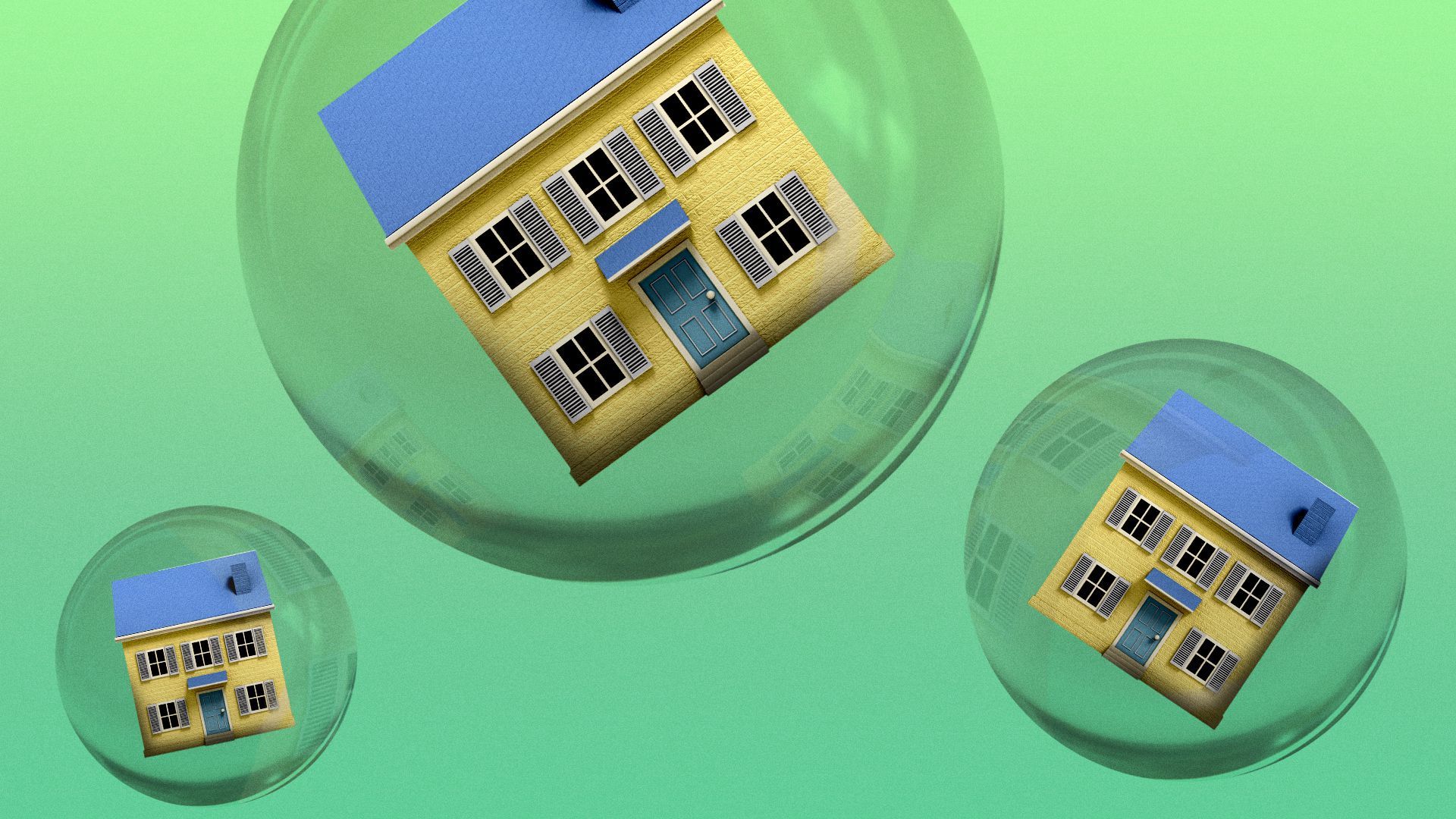 Today's mortgage market is much more regulated and has much stronger fundamentals than during the housing bubble of the mid-aughts, but it's not a story that's as simple as rising demand and low supply.
What's happening: Unlike the environment ahead of the 2008 crash, housing prices are not being driven higher by a raft of underqualified borrowers getting mortgages they can't afford from unscrupulous banks.
They're being driven by government and central bank intervention — radically increased money supply, mortgage forbearance, stimulus checks, low taxes and low interest rates.
Driving the news: Mortgage applications decreased for the second week in a row, down 0.9% from one week earlier, according to data from the Mortgage Bankers Association (MBA) for the week ending April 30, 2021.
Both conventional and government purchase applications declined, but average loan sizes increased for each loan type.
Applications have fallen in 8 of the past 9 weeks and 13 of the 18 weeks so far this year, according to MBA's data.
Yet prices have only risen higher, with existing homes reaching a record high average sales price of $329,100 in March.
By the numbers: CoreLogic's latest report finds housing prices increased 11.3% in March over March 2020 — the most in 15 years — and were up 2% from February when prices jumped by 10.4%, which had been the largest annual increase since 2006.
Boise, Idaho, led all metropolitan areas with a year-over-year increase of 27.7%.
What they're saying: "This is a sign that the competitive purchase market, driven by low housing inventory and high demand, is pushing prices higher and weighing down on activity," Joel Kan, MBA's associate vice president of economic and industry forecasting, says in a statement.
"The higher prices are also affecting the mix of activity, with stronger growth in purchase loans with larger-than-average balances."
Between the lines: Economists have been quick to point to a lack of housing stock as the reason for rising prices, but homebuilders already have ramped up new home construction.
In fact, new homes made up more than a quarter (25.7%) of single-family homes for sale in the U.S. during the first quarter. That's up from 20.4% a year earlier and represents the highest share on record, according to Redfin.
New home prices are only expected to rise further as prices for homebuilding essentials such as lumber, steel, copper, aluminum and corn jump.
New homes are on average more than $35,000 more expensive than they were last year.
The bottom line: This isn't your older brother's mortgage bubble. It's a paradigm shift in the market that could be here for quite some time.
Go deeper