Ingenuity's future on Mars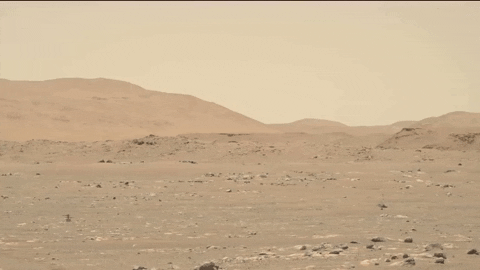 NASA's little helicopter on Mars passed its first tests with flying colors, and now it's about to embark on the next phase of its mission on the Red Planet.
Why it matters: The 4-pound helicopter named Ingenuity has quickly become a fan-favorite robot on Mars. NASA is using it to prove out technology that could one day help the agency further explore the Red Planet and other objects.
Catch up quick: Ingenuity made it to Mars in February nestled within the Perseverance rover, which landed in Jezero crater.
Since detaching from Perseverance's belly, the helicopter has flown four test flights, with the most recent seeing the helicopter fly 16 feet up and about 436 feet south before flying back and landing safely.
Ingenuity's fifth flight will be a one-way mission for the drone, transitioning it into a new, "operations demonstration" phase for the sixth flight.
"We will now concentrate on the utility of the aerial platform and work on operational products, such as aerial observation of specific science targets or looking at context features from places that are not accessible by rovers," MiMi Aung, a lead engineer at NASA for Ingenuity, said during a press conference.
The big picture: This mission change for Ingenuity will also mean changes for the Perseverance rover as it moves south, searching for interesting rock formations to study.
Mission managers for the rover won't need to support Ingenuity quite as much, freeing up Perseverance to get on with its scientific mission.
NASA expects the helicopter will be able to fly around, not far from Perseverance, scouting ahead and even landing in areas the rover may soon visit.
Yes, but: This new phase for Ingenuity isn't without its risks. The little helicopter is expected to fly with more precision and NASA will be pushing the limits of what the robot can achieve.
Go deeper: NASA's InSight lander feels Mars quake beneath it
Go deeper