Report: CVS and Walgreens have wasted over 128,000 COVID doses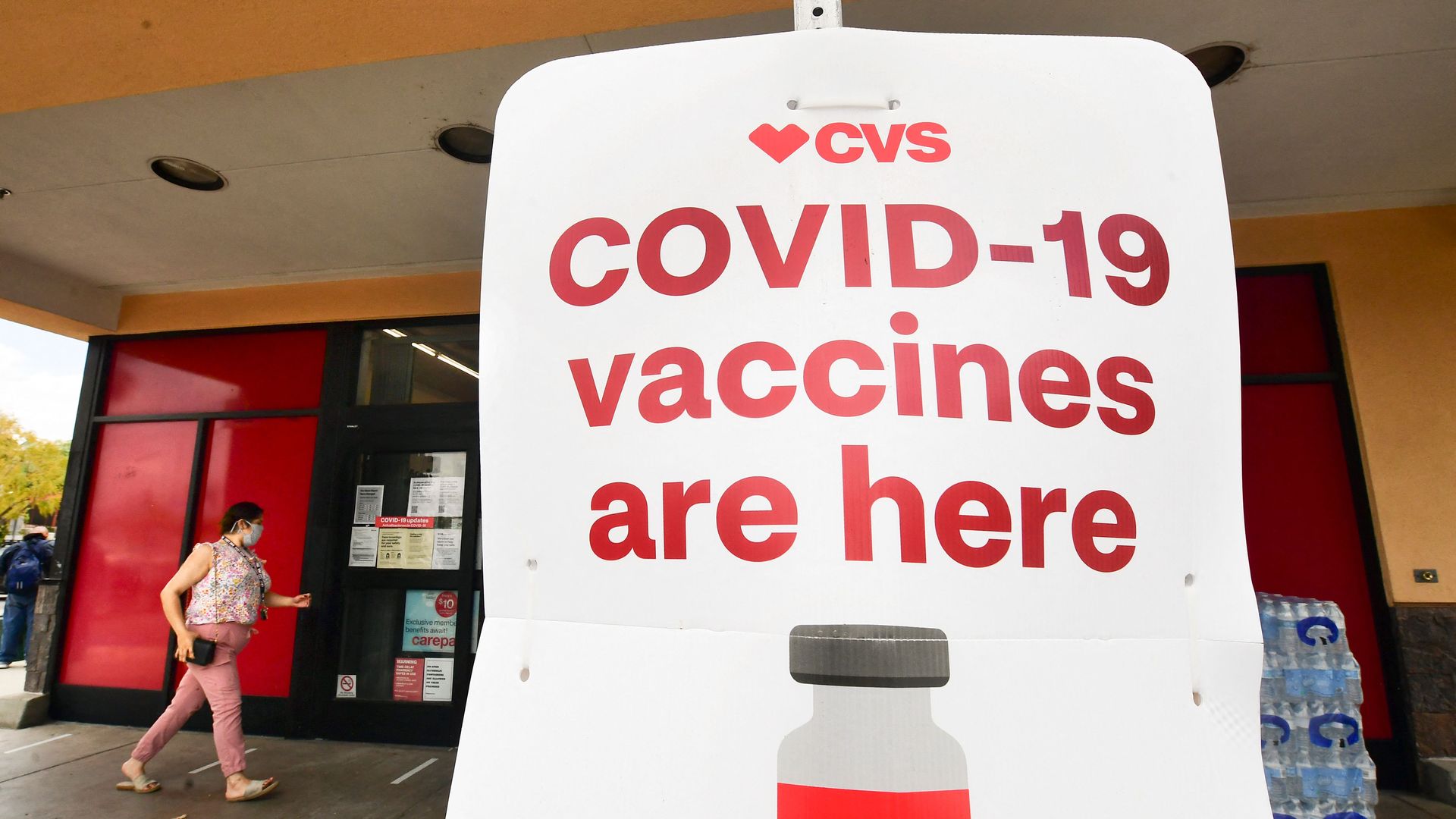 CVS and Walgreens, two pharmacy chains that have worked with the federal government to administer COVID-19 vaccines, wasted more doses than most states combined, per government data obtained by Kaiser Health News.
Why it matters: The wasted doses raise questions about the efficacy of the vaccine rollout, especially now as the U.S. starts sending extra doses to India and other COVID-stricken countries.
By the numbers: The Centers for Disease Control and Prevention (CDC) reported 182,874 wasted doses as of late March, per KHN.
CVS accounted for nearly half of the doses, while Walgreens was responsible for 21% — nearly 128,500 wasted shots altogether.
Pfizer made up nearly 60% of wasted doses.
The other side: CVS spokesperson Mike DeAngelis said in an emailed statement the waste is a product of "transportation restrictions, limitations on redirecting unused doses, and other factors."
"Despite the inherent challenges, our teams were able to limit waste to approximately one dose per onsite vaccination clinic," he added.
"Vaccine waste in our retail stores is extremely limited, accounting for less than 0.1% of vaccine doses we've administered at retail, so less than 1 in 1000 doses have been wasted."  
— DeAngelis
A Walgreens spokesperson said in a statement: "Of the nearly 8 million doses Walgreens administered through March 29, the 0.5% percent of discarded vaccine is well under the anticipated discard rate and was related to vaccine handling, including broken vials or temperature fluctuations in our cold storage."
A CDC spokesperson said "a higher percentage of the overall waste would not be expected," given early vaccination efforts heavily depended on the two pharmacies, KHN reports.
Another caveat: KHN's findings are based on CDC data that does not include reports from 15 states, D.C. and multiple U.S. territories.
The big picture: The U.S. has administered over 247 million vaccines, according to the CDC.
Experts say it's important to track wasted doses to help identify where officials might need to make distribution adjustments, per KHN.
Any waste is essentially "throwing [taxpayer] money down the chute," Bruce Y. Lee, professor of health policy and management at the City University of New York, told KHN.
Both the Pfizer and Moderna vaccines have limited shelf lives.
The bottom line: "One thing is clear: Months into the nation's vaccination drive, the CDC has a limited view of how much vaccine is going to waste, where it's wasted and who is wasting it, potentially complicating efforts to direct doses to where they are needed most," KHN writes.
Editor's note: This article has been updated with comment from DeAngelis and Walgreens.
Go deeper