A $2B Capitol security mystery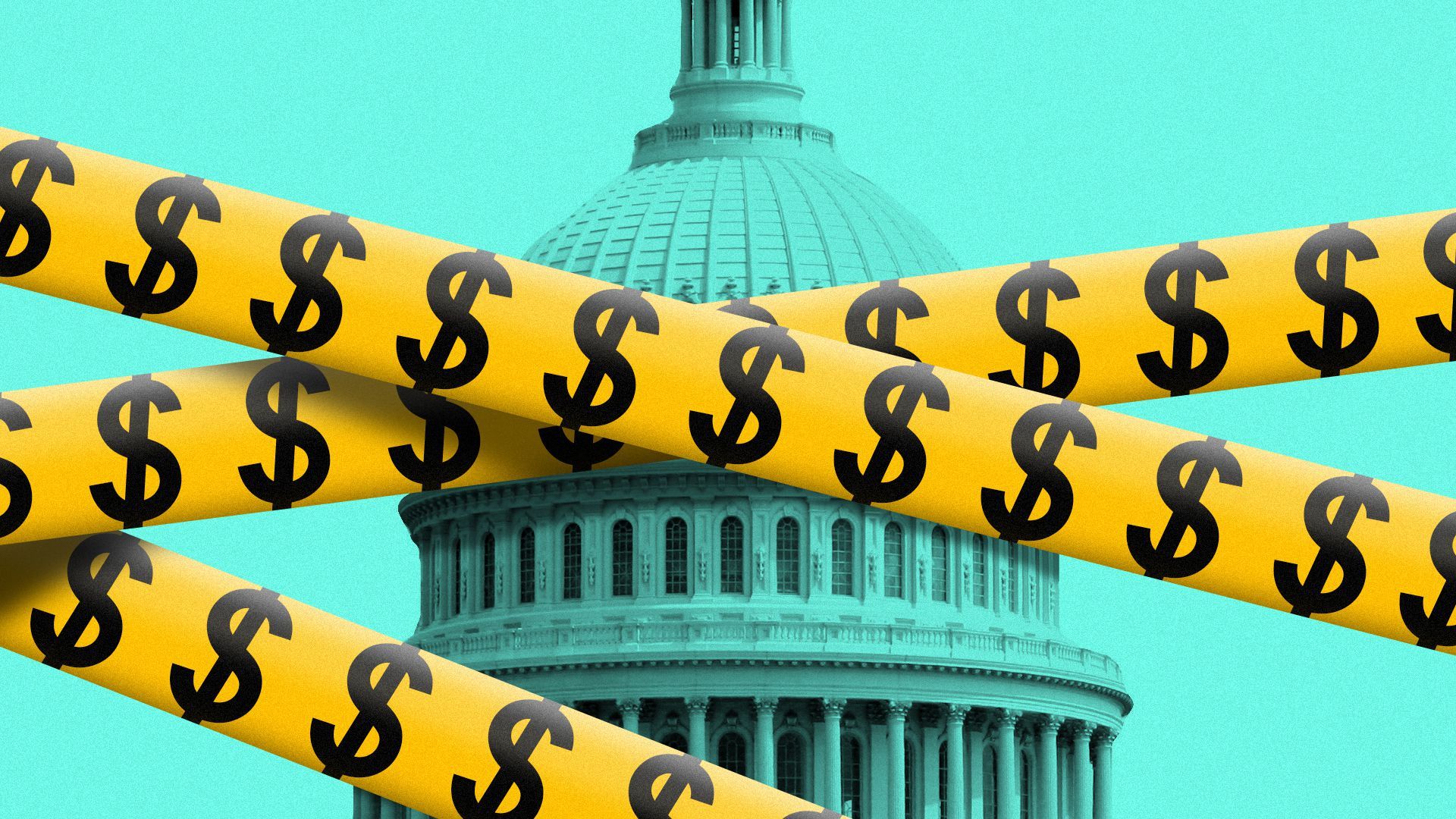 More than 100 days after the Capitol insurrection, members of Congress don't have or won't provide details about what's going into a promised $2 billion emergency supplemental appropriation meant to protect their workplace.
Why it matters: Members of Congress have a history of proposing measures to safeguard the Capitol and themselves that result in member perks and restrict public access to the People's House.
After two police officers were shot and killed by a gunman who stormed the building in 1998, Congress created the Capitol Visitor Center.
The six-year, $600 million project added an underground security checkpoint, public auditorium and cafeteria — and allowed construction of a members' TV studio, safe rooms and private "hideaway" offices.
It was the largest expansion of the Capitol ever; the new bill is more than three times as large.
Sen. Patrick Leahy (D-Vt.), chair of the Senate Appropriations Committee, told reporters he'd prefer to assess the current needs before appropriating money.
"I told everybody, 'Step back and let's see exactly what we need,'" he said. "But let's not just spend the money and then ask what we do with it."
What we're hearing: Not much.
A House Democratic aide confirmed the emergency supplemental appropriation will have a $2 billion price tag.
Yet the aide, as well as numerous members, could not provide even general spending allocations adding up to that figure — or say if it was a number picked at random.
One House source told Axios the bulk of the money would cover the "costs incurred and necessary expenditures related to Jan. 6."
But, but, but: The architect of the Capitol said damage repairs had topped $30 million, according to a February NPR report, though he did add that more money would be needed.
There's also talk of replacing the temporary fencing that's been erected around the complex with a retractable fence that could be deployed based on the threat assessment.
Yogananda D. Pittman, the acting chief of the Capitol Police, requested a 21% funding increase to better train and equip officers during a House Appropriations subcommittee hearing last month.
In a statement last month, House Appropriations Committee Chair Rosa DeLauro (D-Conn.) addressed the framework of the proposal but did not give details — despite its substantial price tag.
"We have come away with a clear conclusion: We must improve intelligence collection and review, bolster the capacity and training of the Capitol Police and make physical security improvements to the Capitol complex," DeLauro said in an April 5 release.
Rep. Tim Ryan (D-Ohio), who chairs the Legislative Branch Subcommittee overseeing funding for the Capitol Police, declined an interview about the topic.
A senior House Democratic aide attributed the lack of specifics and comments to the sensitive nature of security spending.
Members have publicly requested to use their House spending allowances for extra security during their travels to and from the Capitol.
Last month, the Federal Election Commission approved a request from lawmakers to use campaign funds for personal security.
Punchbowl News also detailed member security spending in FEC reports filed this month.
Be smart: Democrats won't want to pass this legislation until they can assign blame for the Jan. 6 attack through a 9/11-style commission, congressional aides tell Axios.
Go deeper