Administration hits road to sell infrastructure plan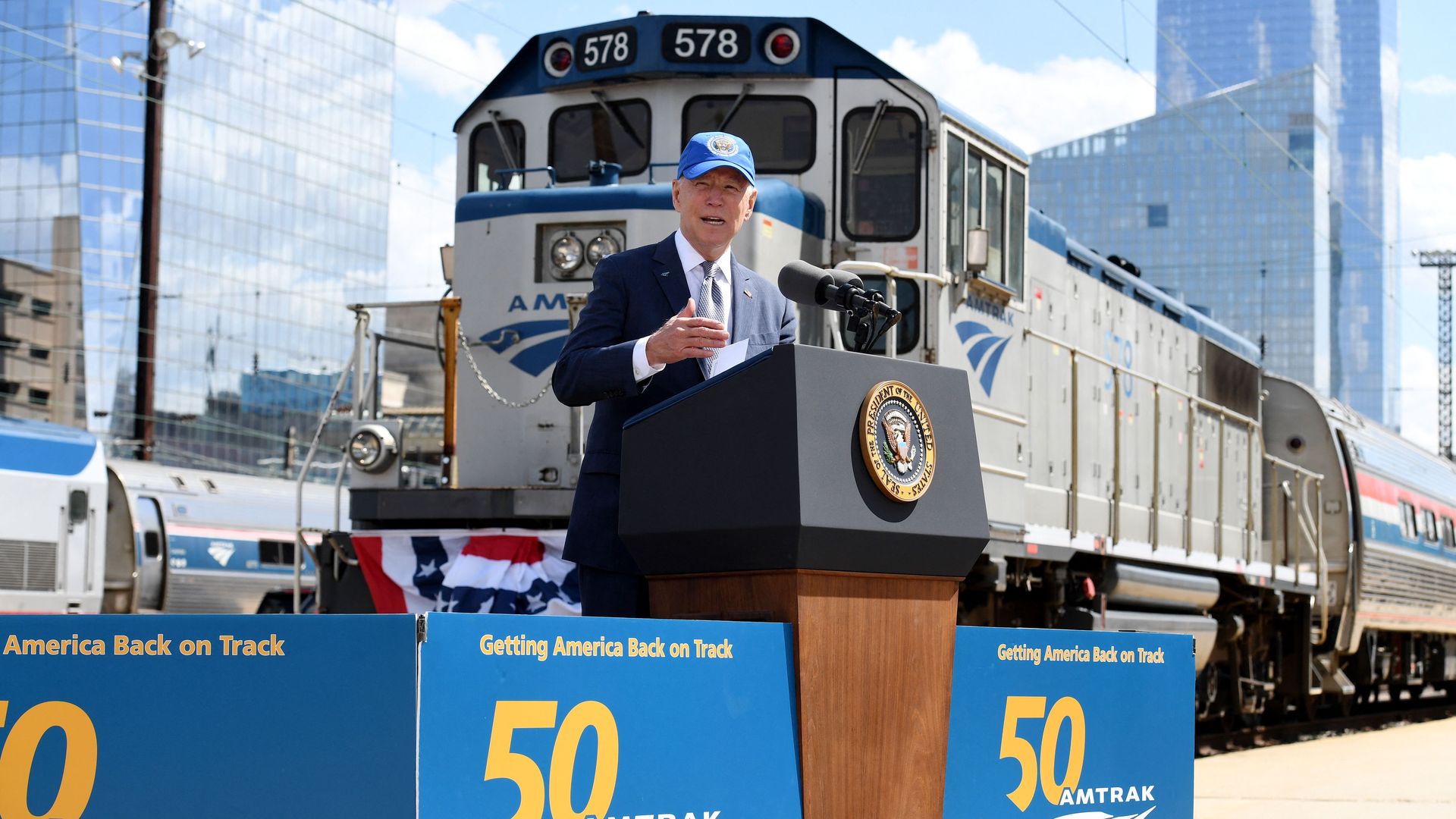 President Biden, Vice President Kamala Harris and members of their administration are fanning out across the country to sell their nearly $4 trillion infrastructure proposal as they move beyond their first 100 days in office.
Why it matters: The all-hands-on-deck, "Getting America Back on Track" tour comes as key administration officials also are trying to court a bipartisan group in Congress to back the legislation.
Some of the tour's destinations — Georgia, Ohio, Virginia and North Carolina among them — coincide with key 2022 and 2024 battlegrounds.
"The Jobs Plan and Families Plan already have wide bipartisan support, and the president and his team are going to build on that by carrying the message to red states and blue states alike in the coming weeks," a White House spokesperson said Sunday.
Between the lines: On Thursday, the day after delivering his joint address to Congress, the president flew to Atlanta.
A day later, he visited Philadelphia to celebrate Amtrak's 50th anniversary — the kind of infrastructure he's used personally and believes will benefit the country.
On Monday, he's traveling to Yorktown, Virginia, before continuing on to Lake Charles, Louisiana, and New Orleans on Thursday.
The vice president visited Baltimore last Thursday and Cincinnati on Friday. She'll head to Milwaukee — where the Democrats' held their COVID-reduced convention last summer — on Tuesday.
Second gentleman Douglas Emhoff traveled to North Carolina on Friday.
Members of the president's Cabinet will have their own surrogate travel schedules in the coming days, the spokesperson said.
Agriculture Secretary Tom Vilsack is visiting Colorado for events involving the nutrition components of the American Family Plan, and Health and Human Services Secretary Xavier Becerra flew to Seattle to kick off a series of conversations with working families.
The bottom line: The administration's itinerary doesn't just tell its travel destinations but its political strategy.
Wisconsin, Ohio, Pennsylvania and North Carolina not only are presidential battleground states but have critical Senate elections coming up in the 2022 midterms.
Go deeper