FDA moves to ban menthol cigarettes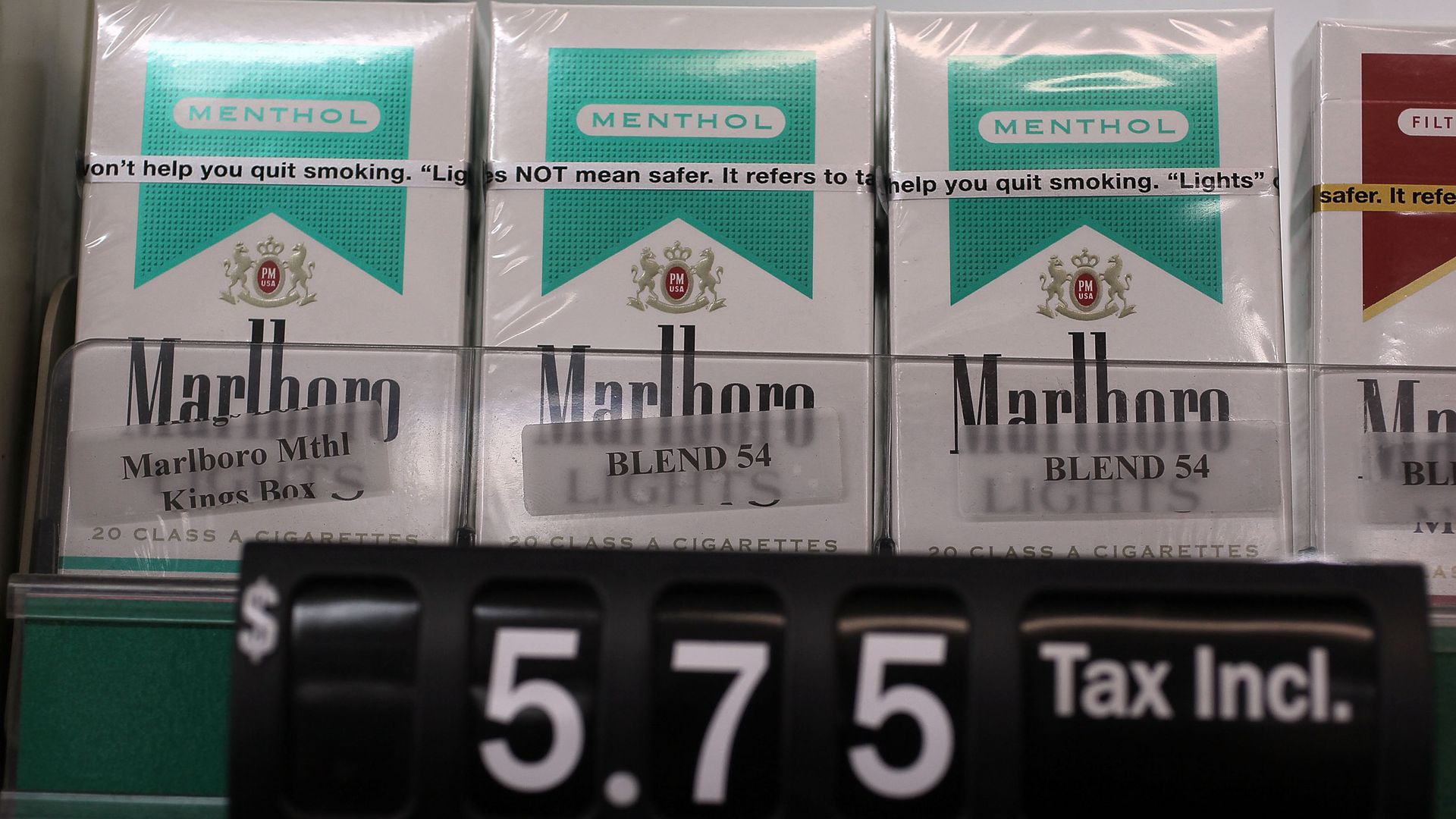 The Food and Drug Administration announced Thursday it will move forward with a nationwide ban on menthol cigarettes and other tobacco products, a blow to the tobacco industry that has lobbied for years to keep sales legal.
Why it matters: The decision, which could take years to implement, kicks off the official rule-making process and comment period by the agency. Tobacco companies are expected to challenge any final regulation in court.
The decision left out banning menthol-flavored e-cigarettes.
"With these actions, the FDA will help significantly reduce youth initiation, increase the chances of smoking cessation among current smokers, and address health disparities experienced by communities of color, low-income populations, and LGBTQ+ individuals, all of whom are far more likely to use these tobacco products," acting FDA commissioner Dr. Janet Woodcock said in a statement.
The big picture: The debate on whether to ban menthol cigarettes has been touch and go through multiple administrations.
After years without a response to the 2013 citizen petition that sought out a menthol cigarette ban, a lawsuit was filed by public health groups last year, including the African American Tobacco Control Leadership Council and Action on Smoking and Health, to compel the FDA to issue a decision.
What's happening: Anti-tobacco activists and some members in Congress saw a real chance for a federal ban in recent months with President Biden's promises to reduce health disparities exacerbated by the pandemic and the Black Lives Matter movement's spotlight on institutional racism in the U.S.
Tobacco opponents and public health groups have said a ban is critical to curb tobacco use, which remains a contributor to the leading causes of illness and death, especially among people of color.
Civil rights groups have also found that menthol tobacco products disproportionately targets and hurts Black communities.
Menthol and mint tobacco products like vapes and mass-produced cigars have been shown to significantly increase youth tobacco use and fuel addiction.
By the numbers: Menthol tobacco products have become an important portion of tobacco industry sales.
More than a third of cigarette purchases in the U.S. are for menthols, the largest proportion of sales, according to the Centers for Disease Control and Prevention.
The share of smokers who use menthols has risen continuously, from 30.5% in 2005 to 40.2% in 2019, according to data from the National Survey on Drug Use and Health, analyzed by the Wall Street Journal. 44% of children ages 12 to 17 who smoke say they use menthols, according to the data.
What they're saying:
Joelle Lester, director of commercial tobacco control programs at the Public Health Law Center at Mitchell Hamline School of Law in Minnesota: "It's a really exciting day to have the FDA arrive at a moment where it's had a lot of evidence and authority for a long time but I think there's a lot of momentum to consider carefully health disparities and how to address those now in the current climate."
The other side:
Philip Morris International: "As FDA examines how best to address combusted cigarette use, we believe it is critical that the agency continue recognizing the important role that innovative products play in addressing the burden of tobacco use and the need for policies that can accelerate switching to FDA-authorized alternatives, thus promoting public health."
ACLU senior legislative counsel Aamra Ahmad said the organization is concerned a ban "will eventually foster an underground market that is sure to trigger criminal penalties," and disproportionately affect communities of color.
Go deeper