"Disaster girl" makes $500,000 in NFT sale of her viral meme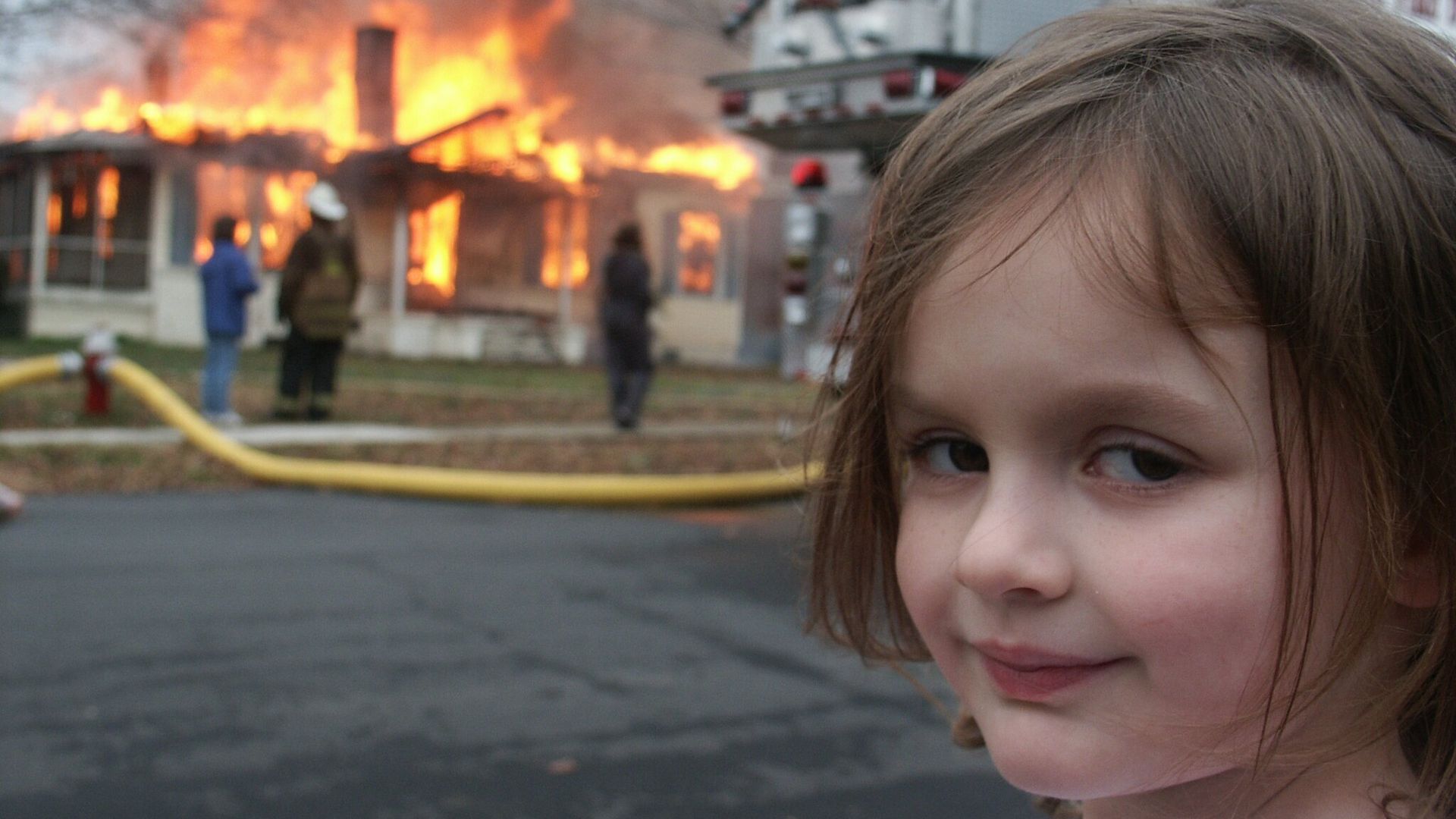 Zoë Roth, the centerpiece of the "Disaster Girl" meme, has made nearly half a million dollars after selling the original copy as a non-fungible token (NFT), the New York Times reports.
Why it matters: The market for ownership rights to digital art and media as NFTs has recently soared in popularity.
Roth's photo was taken in 2005 when she was 4 years old. Her family went to go see a controlled fire in their Mebane, North Carolina, neighborhood.
Her father entered the picture in a photo contest in 2007 and won, and for the past decade the "image [has been] endlessly repurposed as a vital part of meme canon," the Times writes.
The big picture: Most Americans are not at all familiar with NFTs, though they have become major buzzwords among asset managers and market participants.
All NFTs contain a unique segment of digital code as an identifier of authenticity and are stored on the blockchain, a public digital ledger.
Memes have become a particular cash draw. Ben Lashes, who manages the Roths and subjects of other memes including "Grumpy Cat," "Success Kid" and "Doge," told the Times his clients have cumulatively made over $2 million in NFT sales.
What they're saying: Now 21, Roth studies peace, war and defense at the University of North Carolina and plans to use the money from her NFT sale to donate to charities and pay off student loans.
"People who are in memes didn't really have a choice in it," she told the Times. "The internet is big. Whether you're having a good experience or a bad experience, you kind of just have to make the most of it."
"Once it's out there, it's out there and there's nothing you can do about it," Roth's father added. "It always finds a way to stay relevant with whatever new kind of awful, terrible bad thing is happening, so I've laughed at a lot of them."
Go deeper... Axios Re:Cap: CryptoKitties, Grimes and the rise of NFTs
Editor's note: An earlier version of this article misattributed a quote from Roth's father to Roth. It has been corrected.
Go deeper